The pine tree grown from the seed from the Lone Pine at Gallipoli is surely the star vintage feature of Warrnambool Botanic Gardens. The octagonal 'rotunda' is also a star of these gardens.
---
My experience at the gardens
My favourite vintage feature of Warrnambool Botanic Gardens is actually a tree, rather than any gates, lamps or bandstands there may be, which would normally be my pick.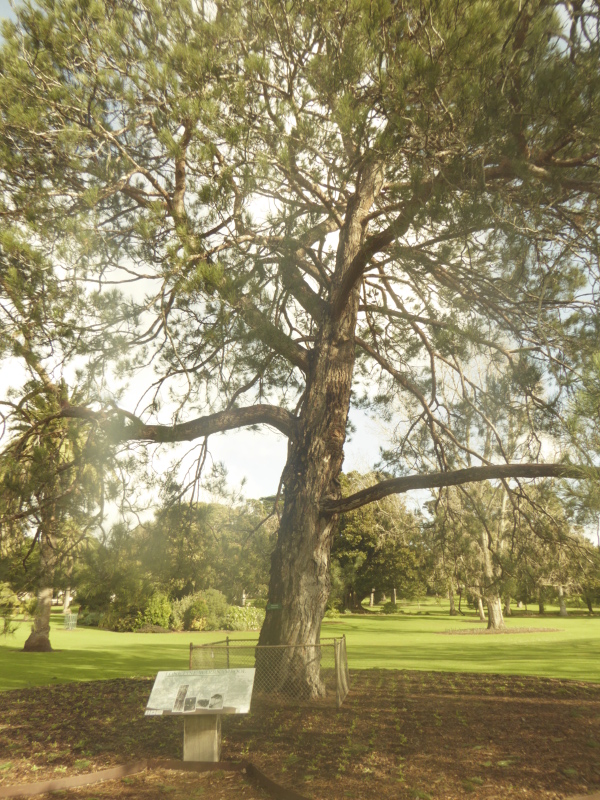 This pine tree has an extraordinary story to tell, having been grown from a pine cone brought back from Gallipoli by a returned soldier after World War One. Apparently, they harvested five seeds from that cone and one survived, being finally planted in the Botanic Gardens in 1934. The information board by the tree tells the tale of the Lone Pine at Gallipoli which stood in the middle of a deadly battlefield, where thousands of ANZAC troops lost their lives. An amazing connection to Australia's past.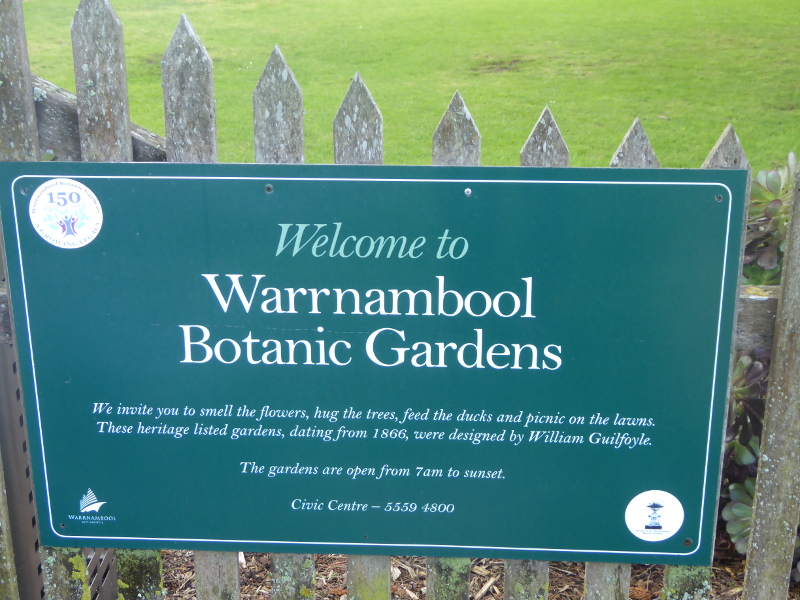 The gardens were deserted when I turned up on a windy Sunday morning just minutes after a heavy shower that would have sent anyone in the gardens dashing for shelter. I got lucky, with bright sunshine for my wander round the place, the stay only cut short by the next deluge which came on about 45 minutes later.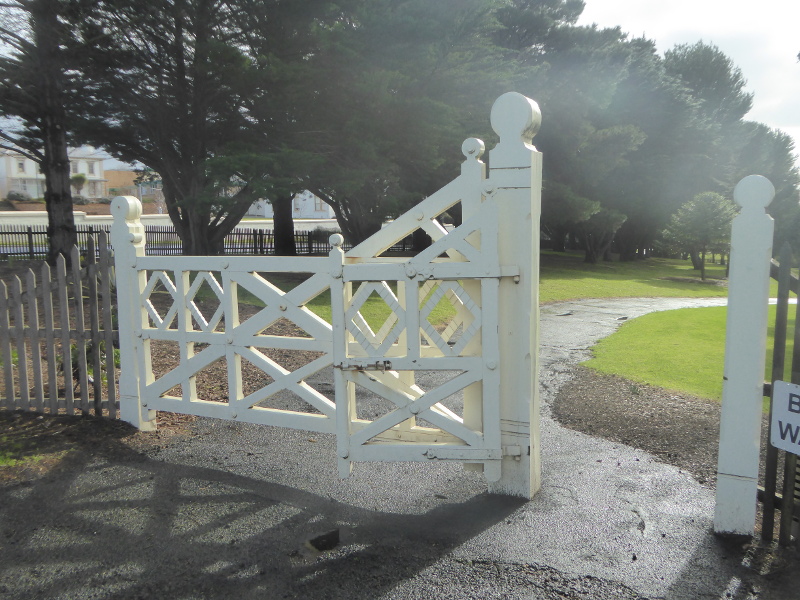 I entered by these wooden gates which resembled more a railway crossing gate than a botanic gardens entrance so I'm not sure what their story is (and the 'main' gates I found later were further along this road).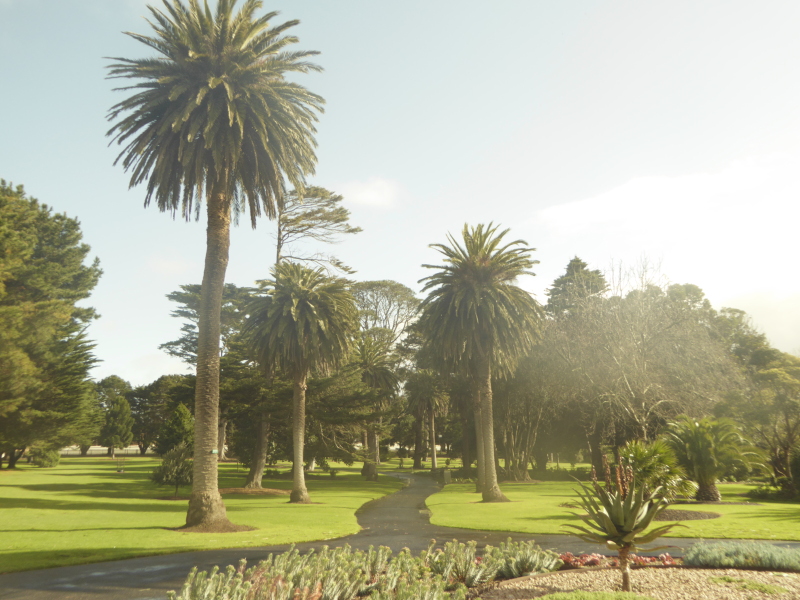 These are quite sizeable gardens, covering 20 acres so would make a lovely place to come for a regular run around those sweeping curved pathways (brought in by Guilfoyle of course – see history below).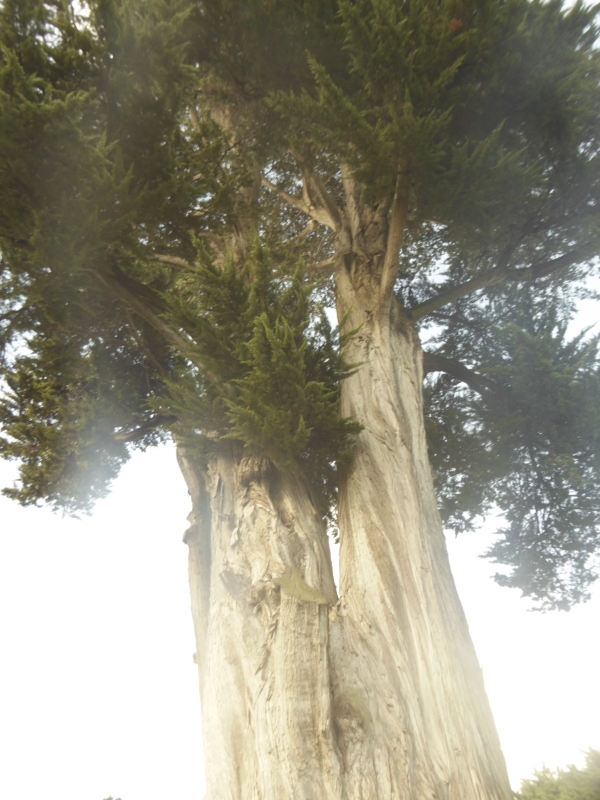 There are some immense trees which must be over 100 years old – this one unmarked sadly, but towering over the path near my entry point.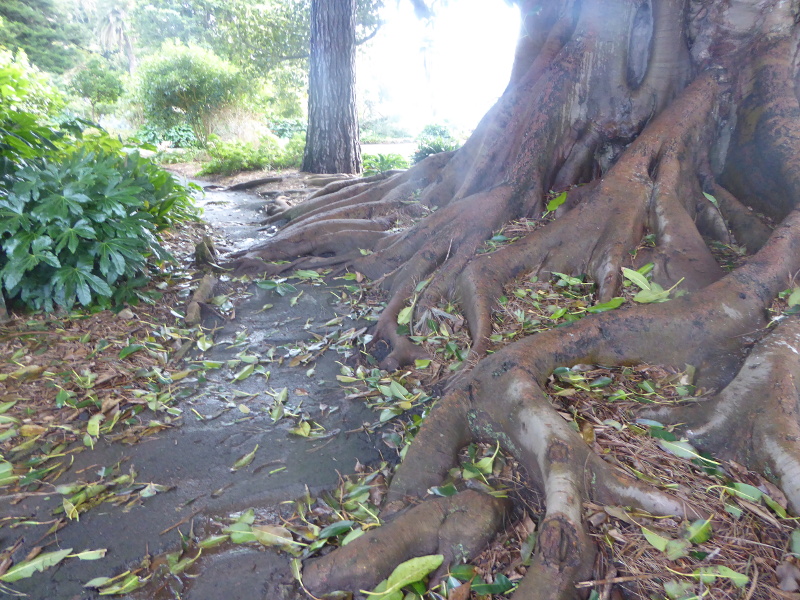 Then there's a Moreton Bay Fig so big and with roots spilling out over the path, reminding me of those jungle trees in Angkor Wat which have spread their limbs through the ancient buildings.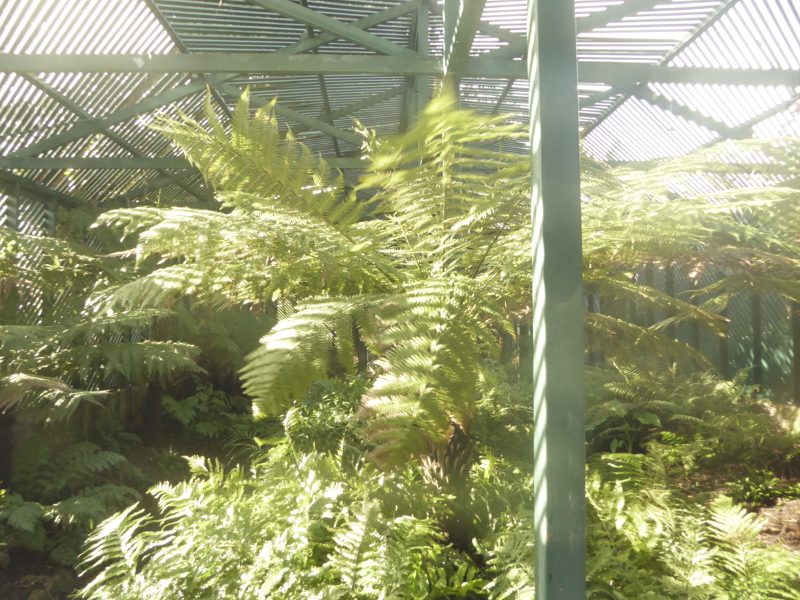 I'm not really a fan of ferneries (do they actually have a plural – can you have more than one?), but the one in the gardens in Warrnambool had a 'come inside and see me' feel, with some rather impressive trees (?). This is not the vintage original fernery, though – built in the 1980s, this one.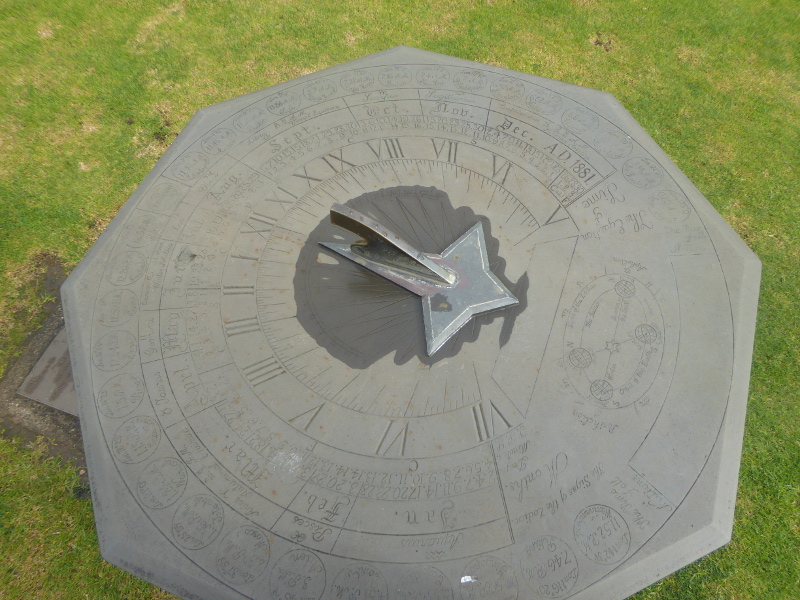 The sundial is an impressive object, with timelines set up for all parts of the (mainly British Empire) world: from Aden to Bombay and from Rio to Istanbul (OK, more imperial trade than Empire there). Donated by a former Mayor of the town, who was in officer from 1895-7, so presumably it dates from somewhere near that time.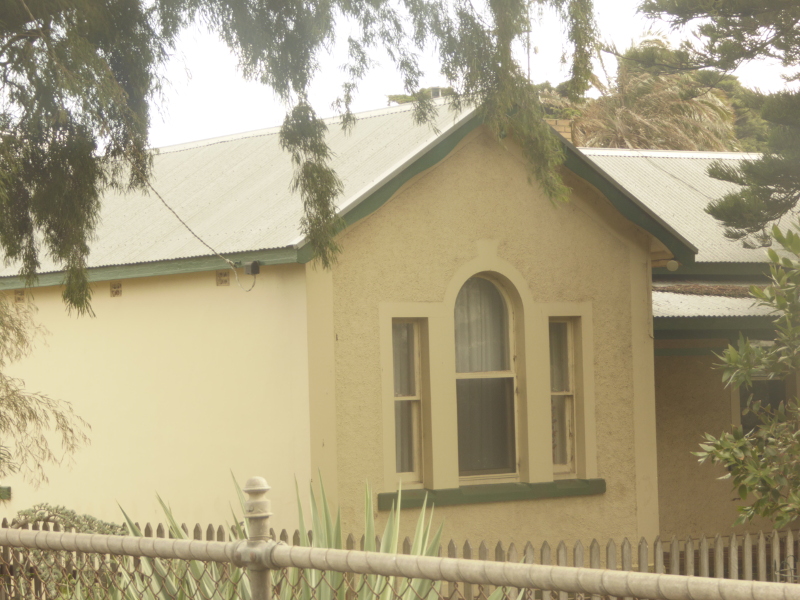 The stone building up at the top of the Gardens might well have once been the curator's cottage, but I found no signage to confirm this.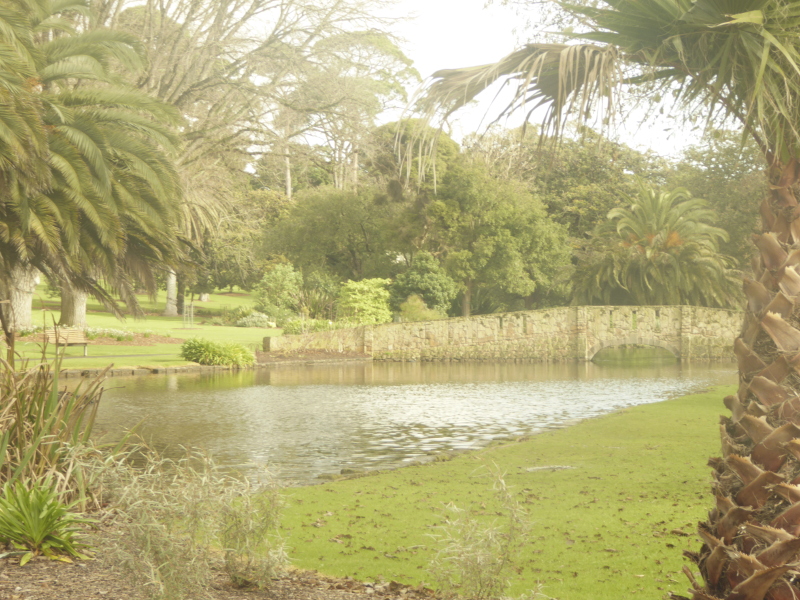 And next to the house, a covered well, which dates from 1882, and was used to supply water to the ornamental lake when that was built.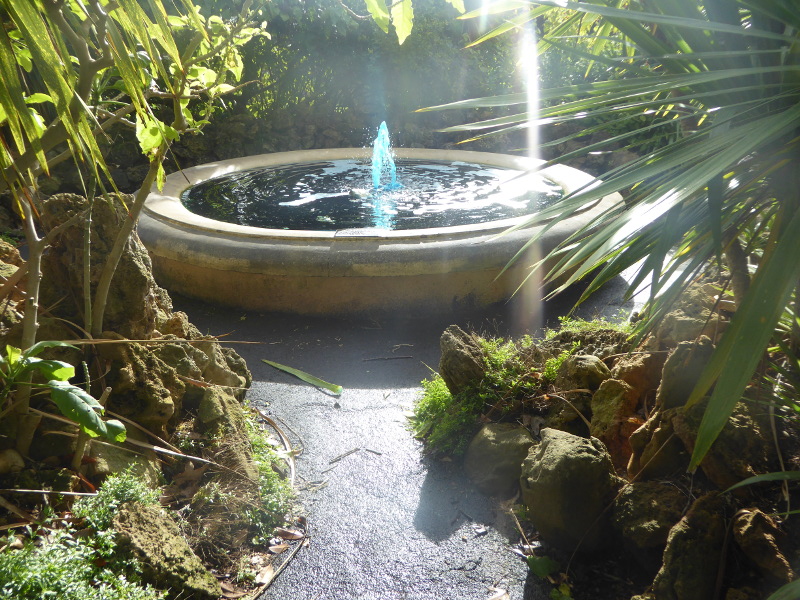 The fountain is nice enough, though I'm not sure why the water was coloured blue – reminding me of the White House fountain dying the water green for St Patrick's Day, but what does Blue signify? Also no signage to give me an idea of when the fountain was installed, so signage is a bit lacking overall in Warrnambool, I'd say.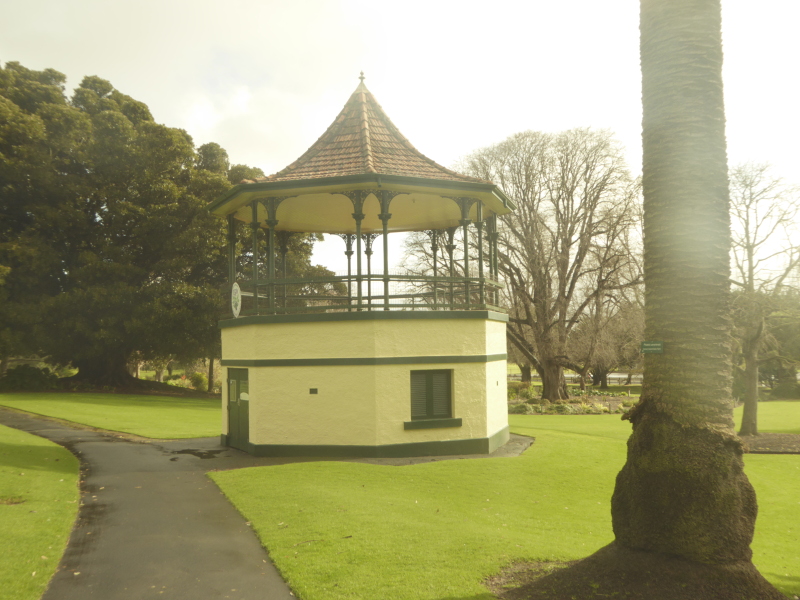 The rotunda – or bandstand – is impressive, though. Installed in 1913, it is not only truly vintage, but has a rather unique shape. In fact, being octagonal, doesn't that mean it actually isn't officially a 'rotunda', which surely has to be round (or am I getting my semantics mixed up?).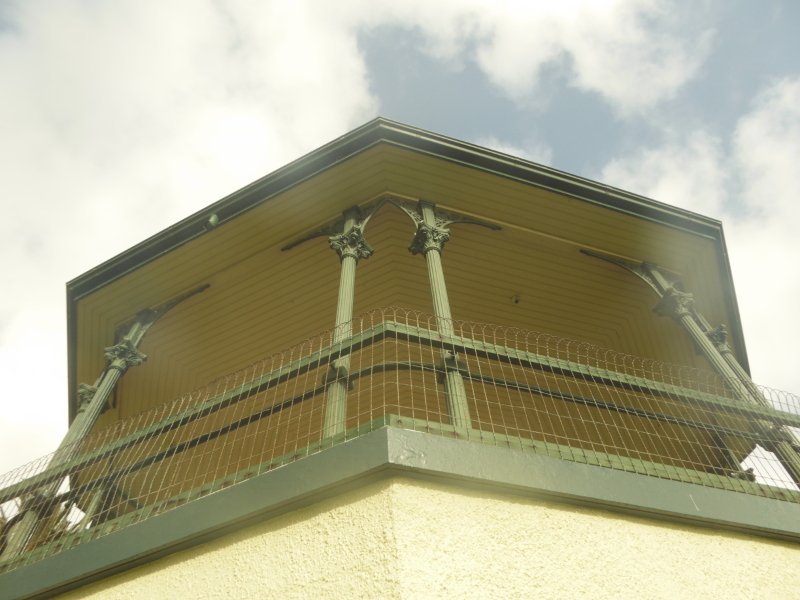 The George V memorial gates, installed in 1937, are also genuinely vintage. They're just not quite as impressive as the gates into, say, Hamilton or Williamstown Gardens.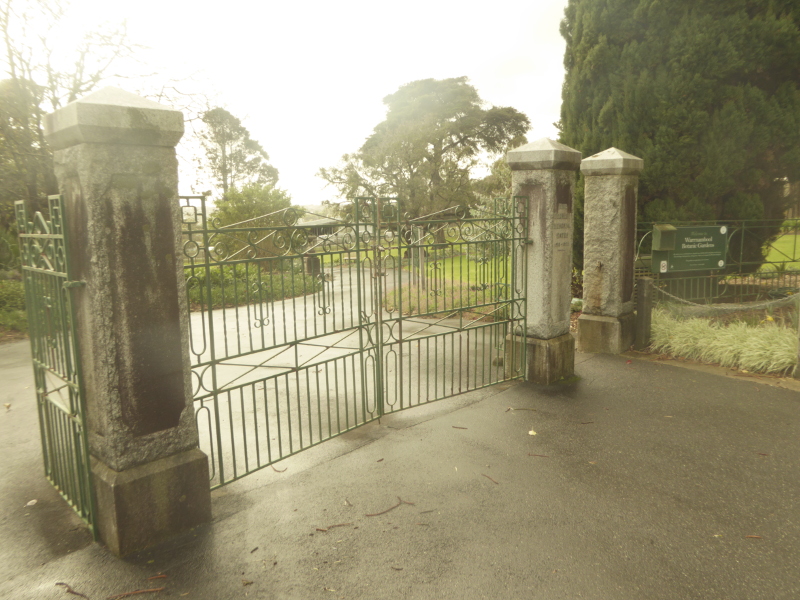 The path then sweeps down (Guilfoyle style) to the lake. Again, no real signage I could find about the history of the lake, but it's a lovely addition to the Gardens, and the birds seemed happy, wandering over the pathways or paddling over to the islands in the middle.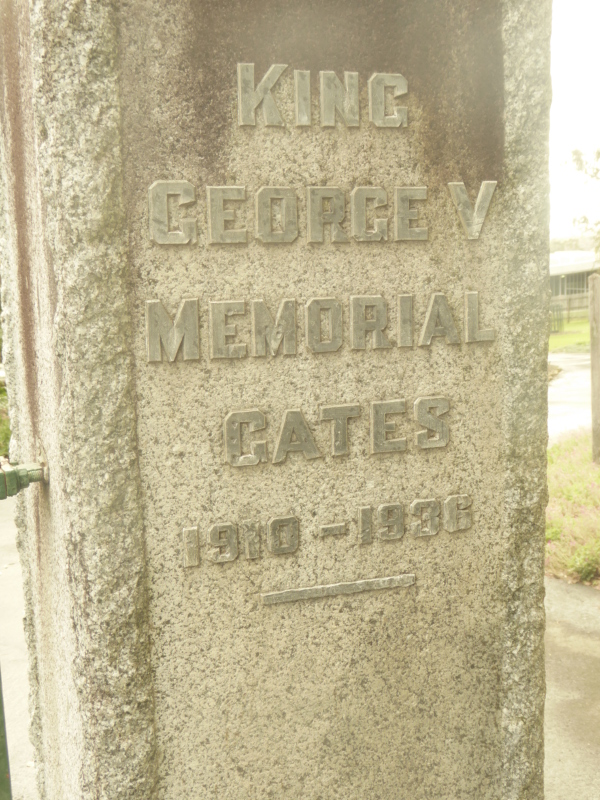 It's nice that there are still two vintage gas lanterns in the Gardens, and good that they have been lovingly restored. Just a shame that some obviously don't share the love since only one pane remained intact within the two lamps.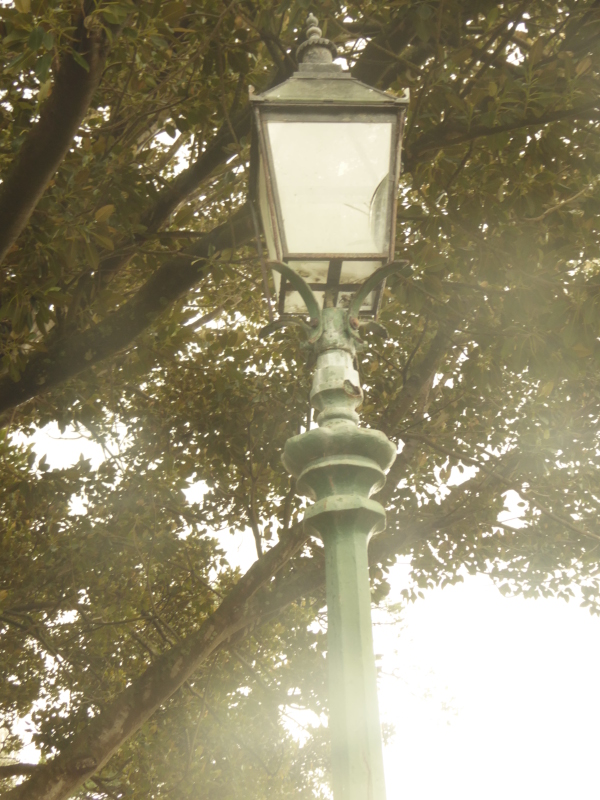 The Dutch Elm is always a pleasure for me as a European (where they've all died off) to see, and in Warrnambool, they've added protection to this old specimen by fencing it off so you can only see from a distance.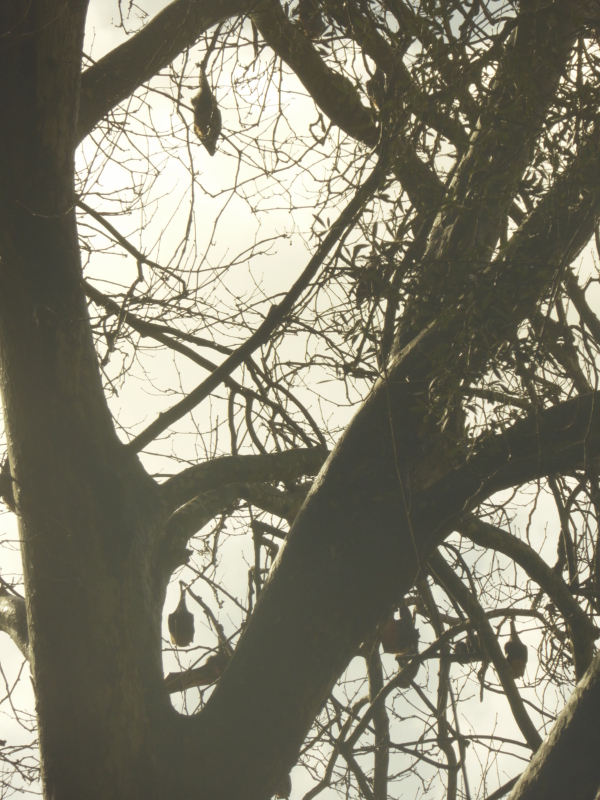 And finally, the flying foxes. I mention them last only because I gave them such a high profile at Colac Botanic Gardens. Maybe it's the time of year and they prefer warmer climes, but there were just a handful hanging up there in a couple of trees.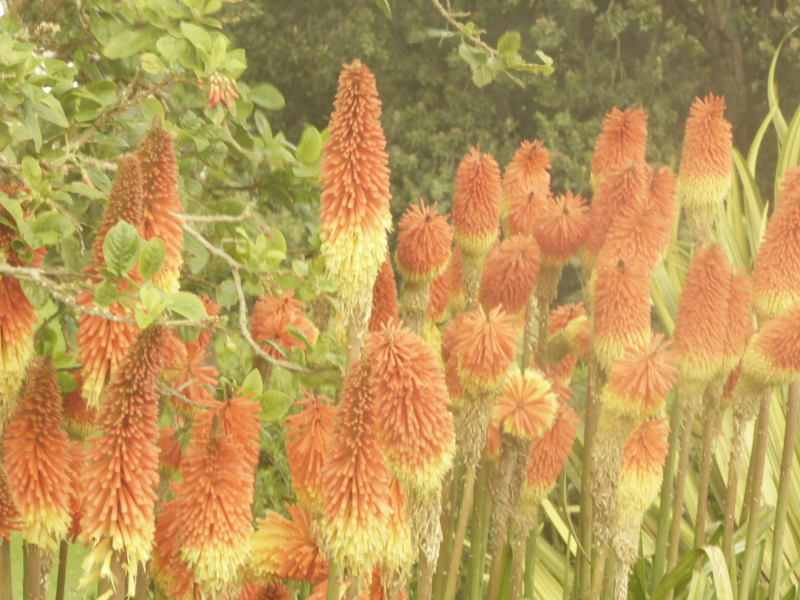 There isn't much colour in botanic gardens in winter, but there are the occasional flashes of orange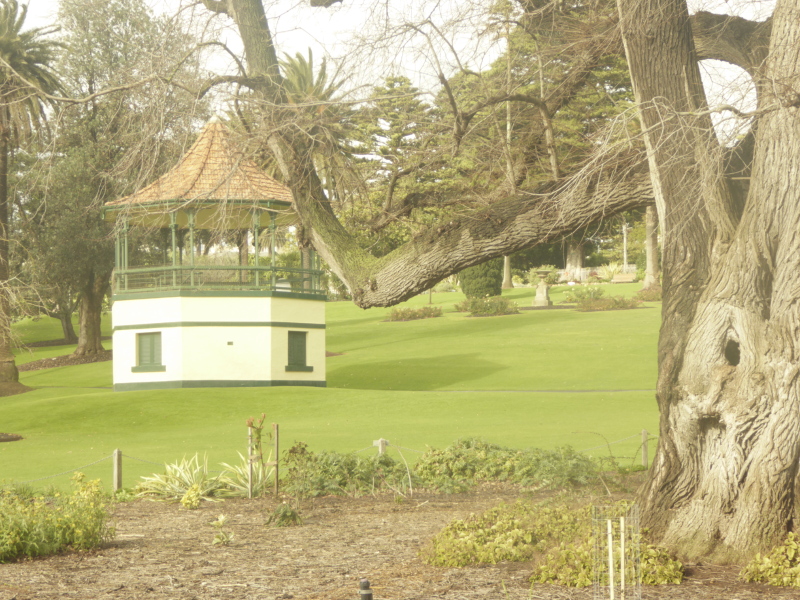 As ever, I'm grateful to the local communities for prioritising their botanic gardens. They're a credit to Warrnambool. Not my favourite botanic gardens in Victoria by a long way, but much better than some of the others I have seen recently in the Western District of the State.
Practicalities
Lots of benches dotted around the Gardens
Public toilets near the Botanic Road entrance to the Gardens.
History and stories
Warrnambool Botanic Gardens were officially established in 1859.
In 1876 Mr Guilfoyle came to visit the Gardens. He approved of the site but had a few suggestions for improvements, preferring bold, sweeping curves to straight, narrow ones along dark avenues. He proposed a lake be installed, from which water could be pumped in the dry days of summer.
In 1889 an albatross was seen walking through the Gardens. It was captured, with the idea of caging it for display. But in spite of the curator's efforts to domesticate it and feed it, it at first refused any food. A week later, though, news reports spoke of it 'thriving' on the curator's delicacies…
Another bird story cropped up in 1897 when The Age reported on a 'cannibal' in Warrnambool Botanical Gardens. This just turned out to be a large and greedy pelican, which ate so many other birds – ducks, gulls its favourites – that it got 'indigestion' and refused any of the meat offerings the curator came up with for it. (Amazingly, this story made it across Australia, with articles appearing as far away as Perth and Hobart).
A letter from a schoolgirl to The Weekly Times spoke of the lake in the gardens having swans in it; also of a fernery, a sundial and a maze. This was in 1905. Are any of these left there today?
In 1906 it was proposed that 'handsome ornamental gates' be placed at the entrance to the Gardens to commemorate the (75th year) jubilee of Warrnambool. Later in the same year 175 roses were planted in the new rose garden.
By October 1914, possums had become so numerous in the Warrnambool Botanic Gardens that they were becoming a pest. "Choice roses and other plants have been stripped quite bare of leaves and buds," said one newspaper report.
1937 opening of wrought iron memorial gates to honour George V who had died a year earlier.
10,000 people attended Christmas Eve Carols by Candlelight in the Botanic Gardens in 1952. Another report suggested there were in fact 4,000 present. Whichever is correct, that was a big crowd in the Gardens for a big community event – was it a one-off or an annual event in the 50s?
Another musical event attracting thousands happened on the eve of Elizabeth II coronation in 1953.
What are your experiences at Warrnambool Botanic Gardens?
Does anyone know why the water in the fountain is dyed blue? Is it always like that or was it for some reason during winter 2021 when I visited?
Has anybody got their own memory to share from a visit to Warrnambool Botanic Gardens – recently or decades ago?
Do they still organise Carols by Candlelight in the Gardens before Christmas, or has that become another victim of the Covid restrictions?
Other links and writings on the Warrnambool Botanic Gardens
The ABC reported on a November 2021 theft from the Gardens…
The blog post from Sarkology Travels in 2015 suggests the flying foxes are more active in autumn than they were for my visit in July.
Melbourne Playgrounds has an entry on Warrnambool Botanic Gardens.
I liked this 2015 YouTube video tour of the Gardens at Warrnambool.