Thousands used to come to Vaughan Springs for a day out when the swimming hole was first created in the late 1920s, with bathing beauty contests and brass bands in the 50s. Very quiet now.
---
My experience in the pool
What better place than Vaughan Springs to cool off on a sweltering afternoon in 38C.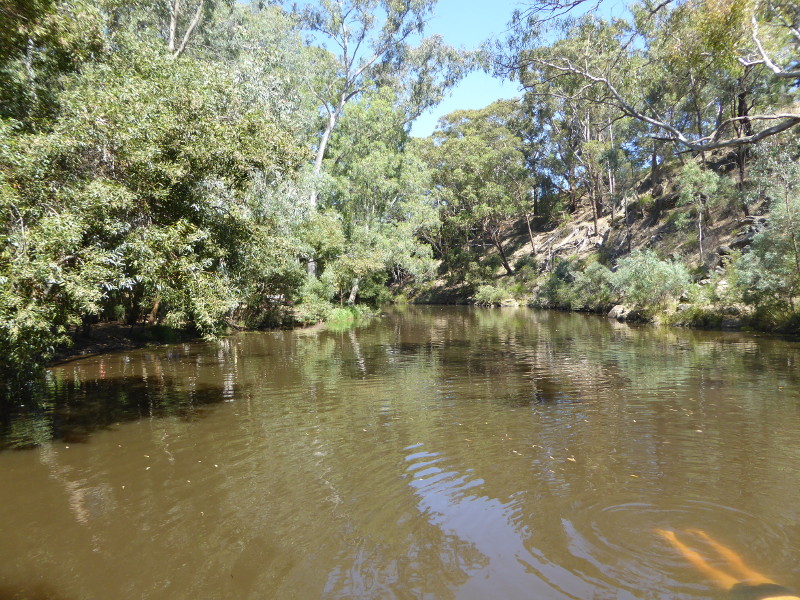 Although we live only 10kms from this beautiful spot in the Central Goldfields area of Victoria, it took us almost a year to visit, and we've now been back three times, finally getting into the water on Boxing Day 2018.
We were glad to see a dozen or so other people already in the water – and keen to tell us the best spots to enter or get out – because it was a bit brown and murky in the Loddon River here, and that may well have put us off if we'd been the only folk around.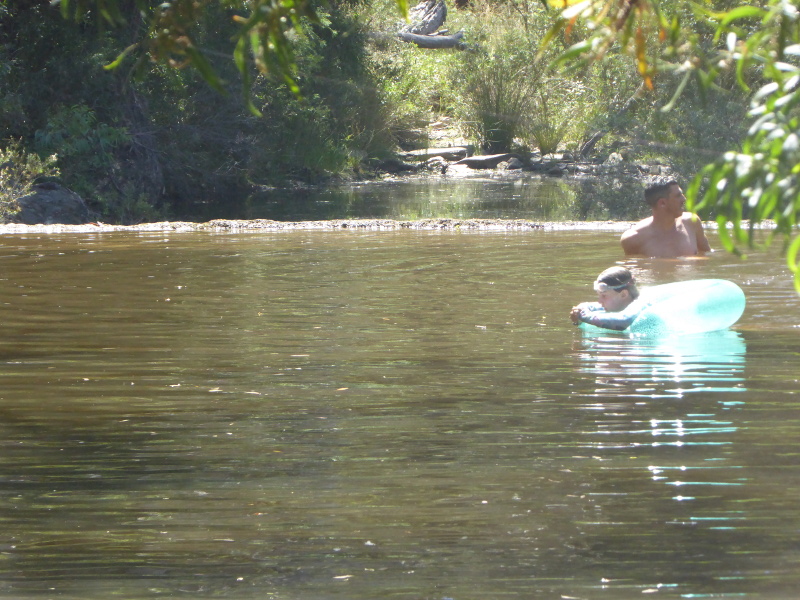 It's a far cry from Vaughan Springs' heyday when – I gathered from press reports found on the Trove website – 1,500 people visited the place on Boxing Day in 1939. It was more like 25 people on the day we pitched up, but everyone was chatty and helpful, with one older lady sharing an almost mischievous grin with us for sharing the joy of taking a dip in the river here.
There are no signs up to indicate that this is officially a swim hole, but equally there are no annoying notices like at nearby Hepburn Springs, where they specifically forbid swimming in what was clearly a purpose-built lap pool.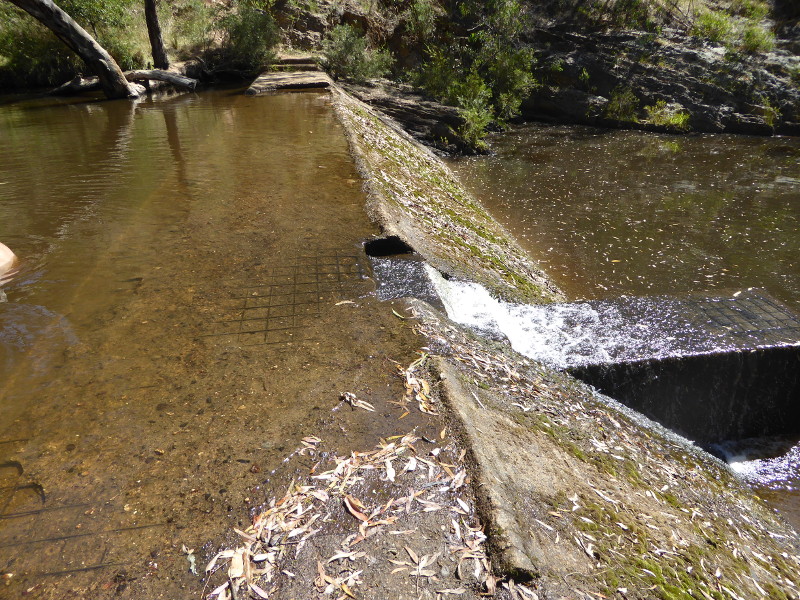 I thought the wall across the Loddon River was just some sort of weir built – I assumed – to help the gold miners in the area sift through the muck of their diggings. But no, my research on Vaughan Springs showed that the weir or wall was actually built in the late 1920s to aid swimming, boating and fishing here. The two ropes hanging off the branches of a low-slung gum tree also give a clue that this is indeed a recreational swim spot.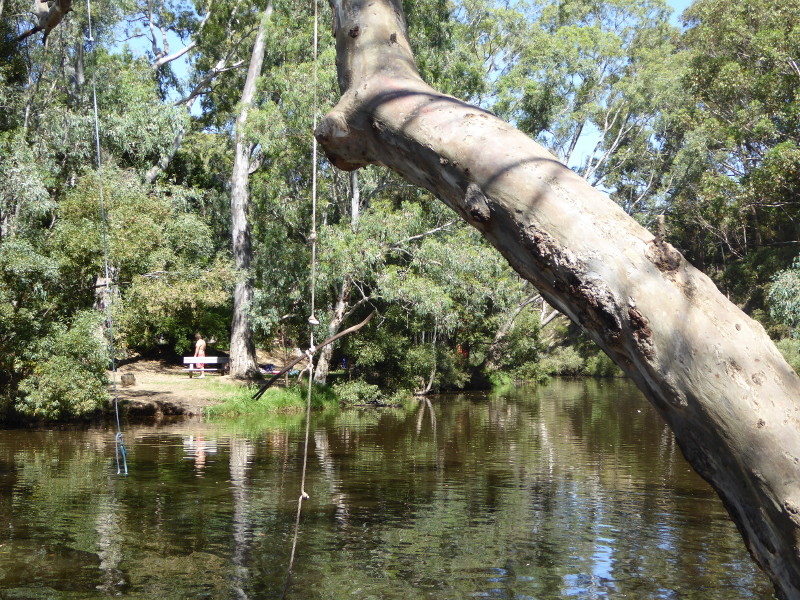 We entered the water via the shallow muddy bits some 50m from the weir, just at the spot where three generations of one family were getting out. The ten year old girl in that group was explaining to me how to grab hold of the ropes for a splash, and her Dad reckoned the water was about 2m deep at that point. Her grandmother was the one with the conspiratorial smile, and I wondered how many summers she had been coming here for, given the history of this place going back probably for most of her life.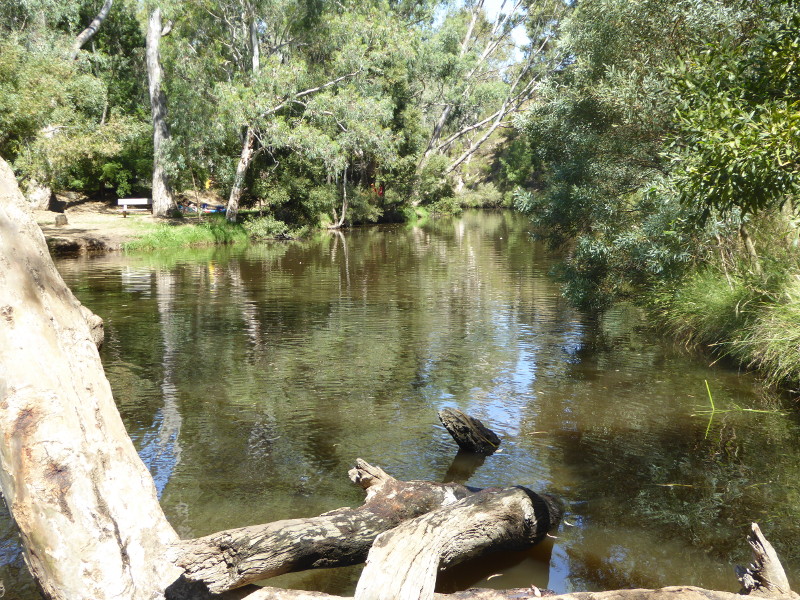 The river here is surrounded by beautiful tall gum trees, so it is a joy just to lie back and look once you have drifted away from the bank. A line of people were also just lounging in the water against the weir wall, and as we got out a new family arrived with a little kayak, so the 'boating' aspect of those initial plans for this spot were still being put to good use.
There is a small paddling pool divided from the main swimming area by a concrete wall, but that was dried up and empty, and if the only other blogger I found is to be believed, that toddlers pool is rarely in use. In fact, it may only fill up in winter when the rainfall increases round here, but in those months I imagine it would be icy in here.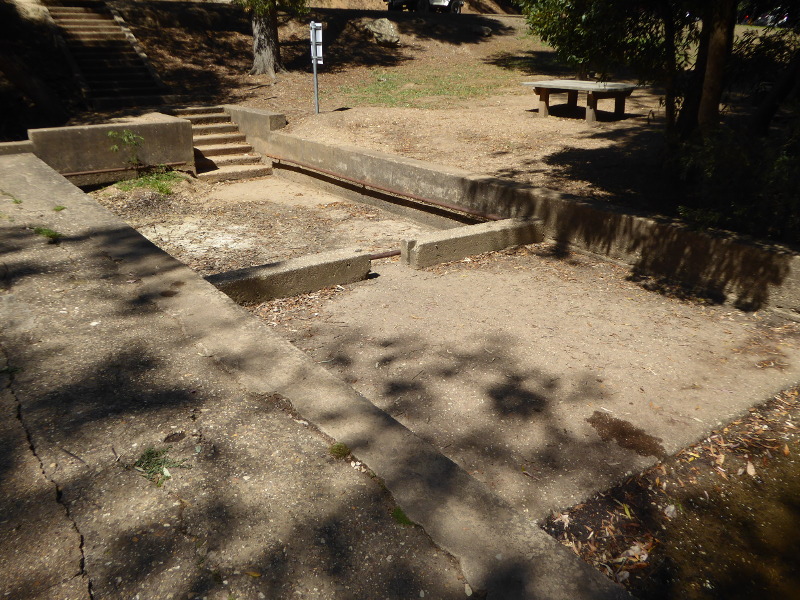 Vaughan Springs is a great place also to go for bushwalks, with well signposted tracks leading to Castlemaine and even as far as Ballarat (I think).
But I love this place also for its overall vintage feel.
The oblong fenced off area confused me at first. I imagined it was for pony rides or something similar, but in fact it was a running track for sprint races for holidaymakers (no circuits in those days, I guess).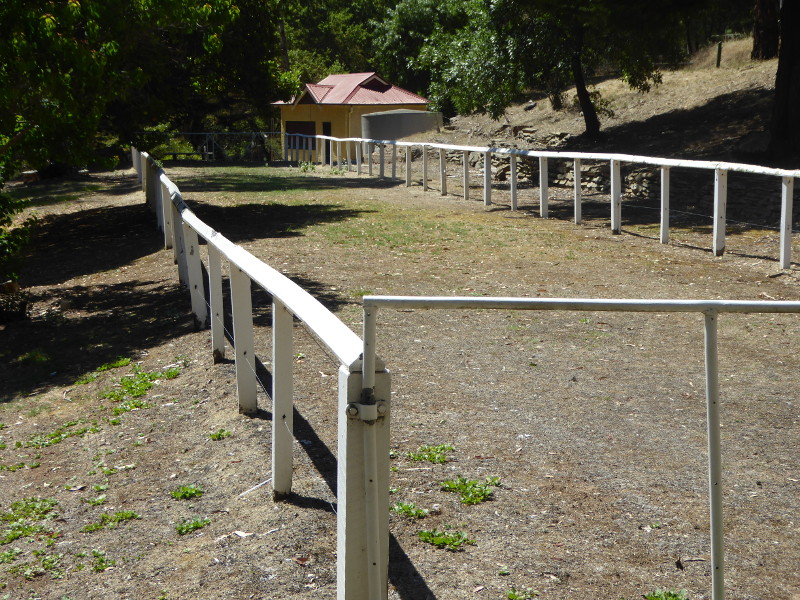 The tiny narrow gauge railway is apparently still there, so I guess I could one day come down and see it to include that on the Vintage Victoria site, too, but I don't think it often leaves the little green shed that lies dormant by the track most of the time.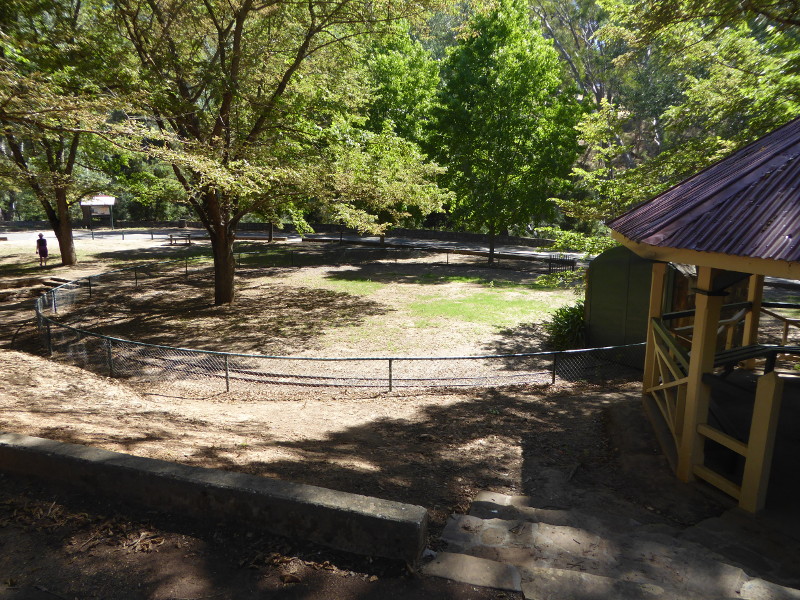 And I'm not sure how Vintage the slide is at Vaughan Springs, but when nobody was around on our first visit here, we did all give it a go, and quite fun it is, too. I'm guessing that some of the crowds that gathered down here for the concerts in the bandstand in the 1950s must have sat on those slopes to listen to the music in those bygone days.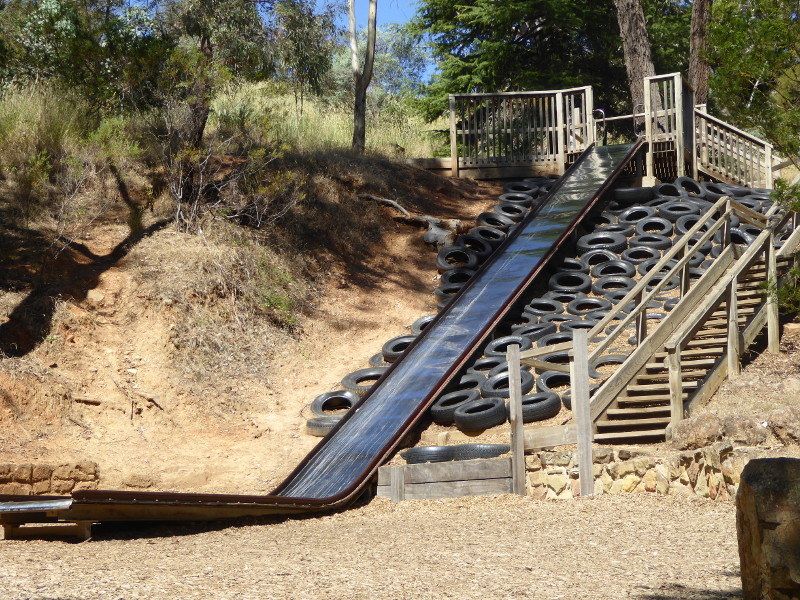 Oh, and of course, don't forget to sample the waters. There are two pumps that still work (though one is easier to get water out of than the other); it's not often you get fizzy spring water from pumps like this, but it really is quite tasty. I read somewhere that the 'springs' were 'discovered' in 1910, and certainly there were no Trove mentions of Vaughan Springs prior to that year.
Of course, Vaughan itself was a big mining community fifty years earlier, and the Chinese Community cemetery at the top of the hill is an interesting place to visit, also.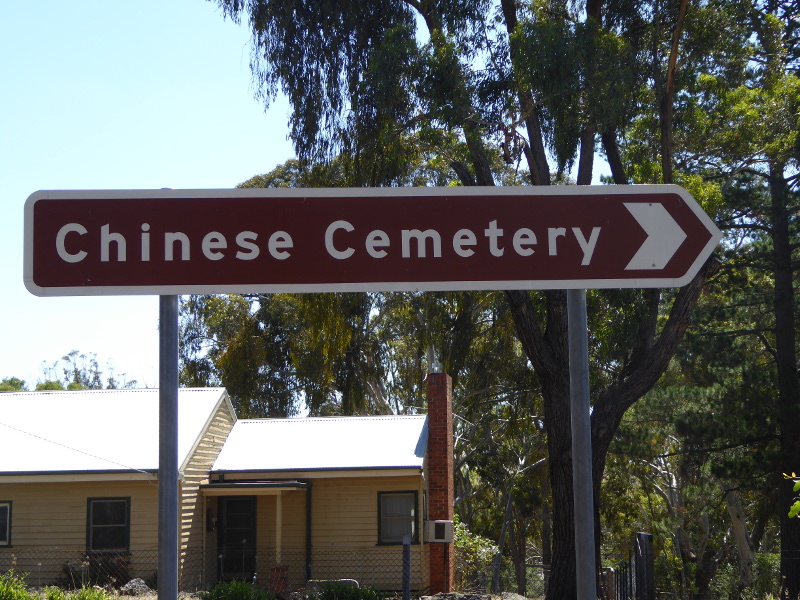 But I can't help wondering if the 'discovery' of the mineral springs at Vaughan was a bit like the 'discovery' of Australia itself in 1788. Surely the local Aboriginals knew all about the waters here for thousands of years before that…
Practicalities
Free entry and parking free near the pool area.
There are toilets on the site but a few hundred metres from the swimming hole. There is only a bench by the water for your things if you need to leave stuff somewhere while you swim.
There is a toddlers paddling pool but it is bone dry most of the time. Try after heavy rain but then the actual swimming spot might be fast flowing too, so take care.
History and stories about the Vaughan Springs pool
I learned from The Age of 14 May 1929 of the plans to build a weir across the Loddon River at Vaughan Springs to allow for 'boating, swimming and fishing'. It was to be publicly-funded under the unemployment relief scheme which led to so many swimming spots being built during the Depression.
By Boxing Day 1939 between 1000 and 1500 were at Vaughan Springs, according to press reports on this increasingly popular 'resort'.
The Central Victoria Bathing Beauty contest was held at Vaughan Springs in the early 1950s. More on that in the People section below.
A 1954 concert at Vaughan Springs attracted an audience of 6,000. This state-sponsored event was part of a series attempting to overcome the notion that music and culture only belonged in the City. Hard to imagine in sleepy Vaughan Springs today.
In December 1952 a new wishing well was installed at Vaughan Springs – what happened to that? And to all the coins dropped into it?
And the problem with Trove's fantastic database is that the articles thin out after about 1957, so there aren't many stories available to fill this blog with more narrative. If anyone wants to send me some tale of Vaughan Springs from mid-50s to 21st century, just drop me a line via the comment box.
People linked to Vaughan Springs swimming hole
One Ida Kruger from Castlemaine won the Central Victoria Bathing Beauty Contest in 1952 and lined up again in 1953. She was born in 1935 so would be 83 now. Anyone know her? Or maybe Joan Compe, who was the eight year old drafted in to escort the contestants across the lawn to parade before the judges. She was dubbed 'Miss Central Victoria 1962' as she was considered so pretty it was likely she would win ten years later. Photos in the newspapers show crowds of thousands sitting all the way up the slopes above the river to watch.
By the way Ida Kruger was a woman after my own heart, with her passion for swimming in summer – she swam regularly in the Vaughan Springs waters and at Castlemaine pool – tennis, and dancing in winter. Her winnings were to go towards buying a new 'frock' for dancing that winter.
Other links and writings on the Vaughan Springs
I only found one other blog-style article on Vaughan Springs, though this does include some lovely footage of the writer attempting to use the rope swing to jump in to the water…
Swimming Hole Heaven is a pretty nice website anyway with lots of other tips on where to get a wild swim in Australia, with lots of spots in Victoria.
What are your memories and stories about swimming at Vaughan Springs?
Do you swim in the Vaughan Springs swimming hole? Has anyone been swimming here for years and can they share some memories on changes they have seen to the area?
Does anyone know what happened to the wishing well installed in 1952?
Can anyone fill us in on Ida Kruger and Joan Campe – are they still with us today to help trigger some memories, and if they married what are their names now?
Coffee before your dip or after?
Not much chance anywhere near Vaughan Springs so bring your own flask might be the best bet. If you don't mind a short drive the general store at nearby Guildford does a very decent coffee, and there are lots to choose from in Castlemaine.