The Scenic Railway at Luna Park in St Kilda has been on the go since 1912. Mostly works by gravity and the skills of the brakeman who stands for every ride.
---
My experience on the Scenic Railway
I've always loved fun fair rides so the Scenic Railway at St Kilda's Luna Park gave me a chance to get back in touch with the inner child and find a new entry on Vintage Victoria, given my very broad definition of 'railways'. This 1912 rollercoaster is supposedly the oldest in the world that has been running continuously since it opened.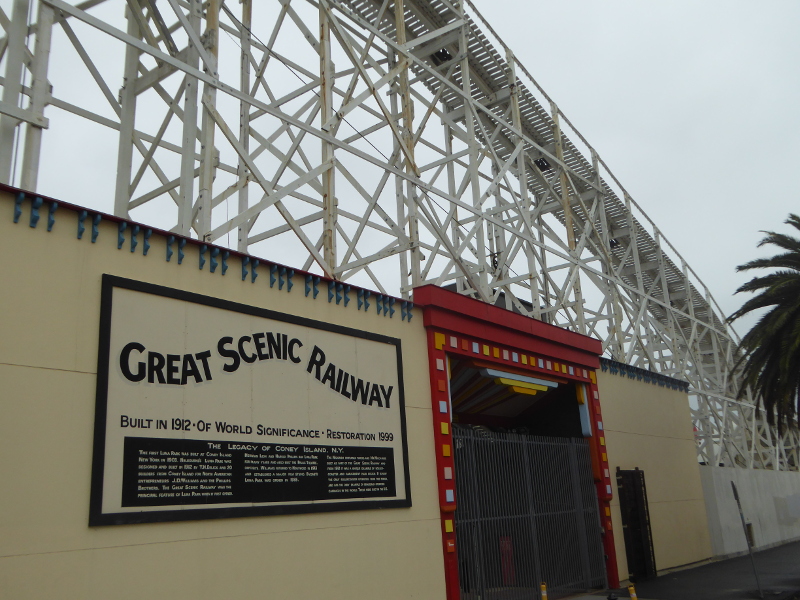 Mind you, I say continuously, but as my history search found out, it was forced by dry rot to close for a few months in 1923, and in 2018/9 it took us three visits to Luna Park before we got a chance to ride the Railway (the whole complex was closed on one of the days we came, and heavy rain forced the shut-down of the Scenic Railway when we visited in December – friends who tried to go a few days after our visit were told it was too windy…).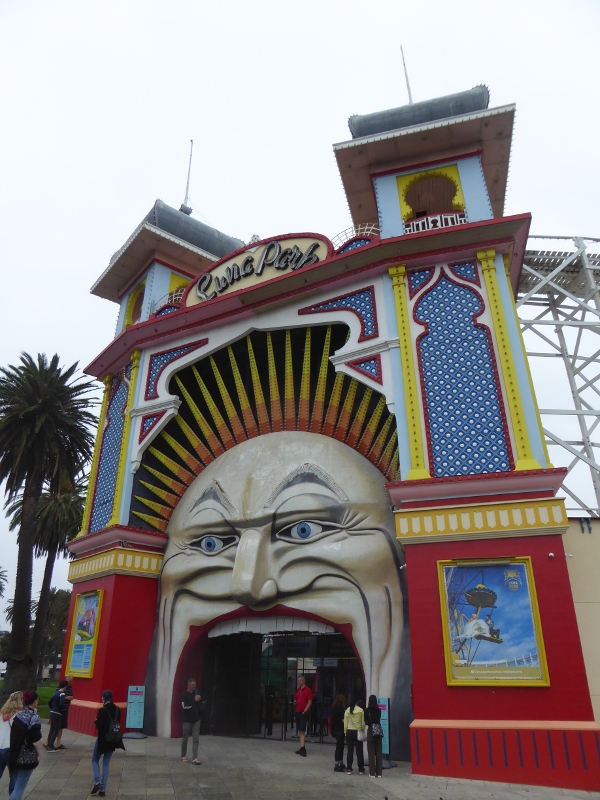 It was a bright sunny public holiday when we joined the queue to get into Luna Park, so we could hardly have picked a more popular day to visit, but the ticketing process was fast and efficient and we were inside within 15 minutes in spite of the queue snaking its way over the concourse when we joined it.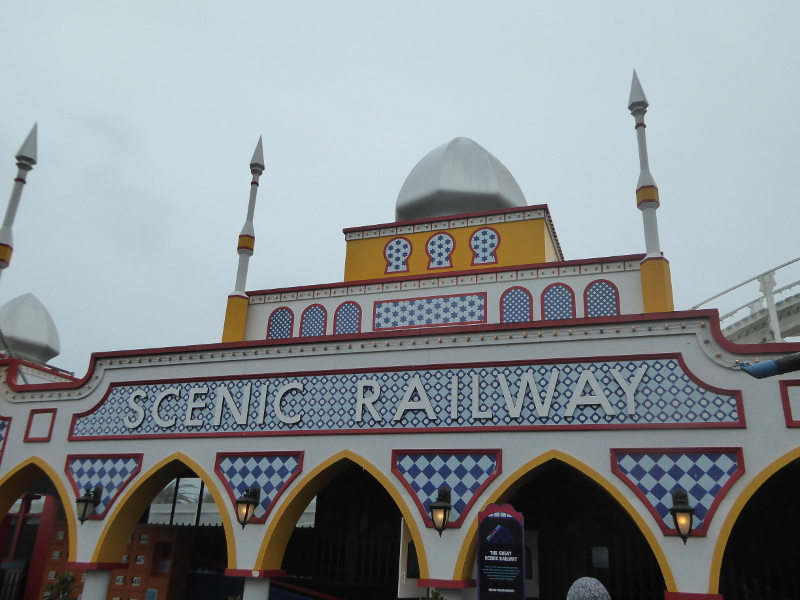 There was another queue to get onto the Scenic Railway, probably Luna Park's most iconic ride, which rattles its way around the whole park. Its fame had extended as far as the German couple I got chatting with as I waited: they had turned up with luggage bags, all set for the airport and home, with the Scenic Railway one of their last acts before they headed back to Tullamarine. My sort of people!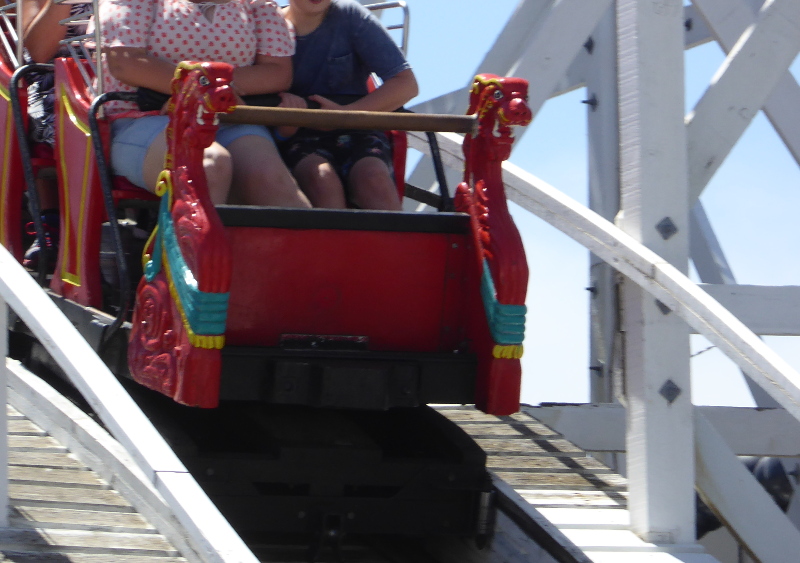 The dragon head front of the carriage reminded me of fun fair rides as a kid at Hull Fair. The seating similarly – I guess there weren't many lanky 6ft plus people 100+ years ago, so why build them any bigger.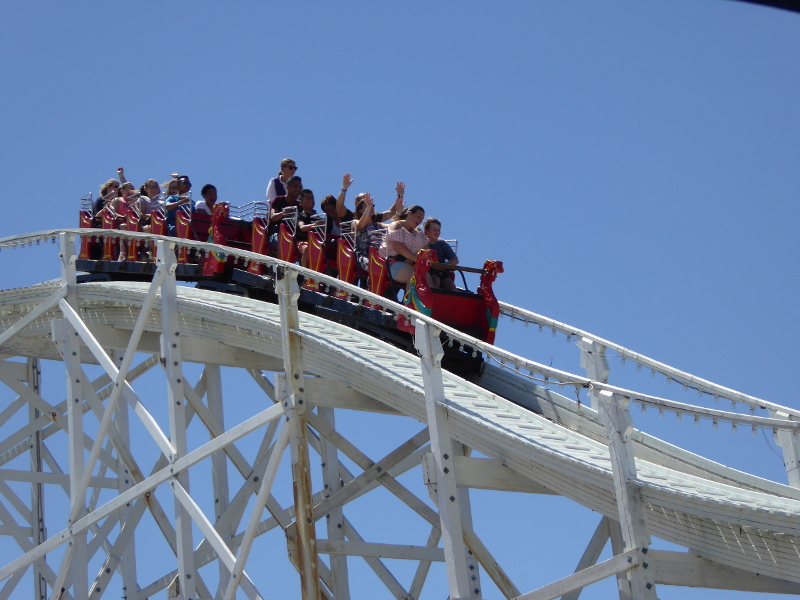 There is a maximum of 20 passengers on board, at a time, sitting in the two cars, with a brakeman (or woman) in the middle. I sat alone and needed to really spread my legs to fit so was glad I had nobody with me, in fact.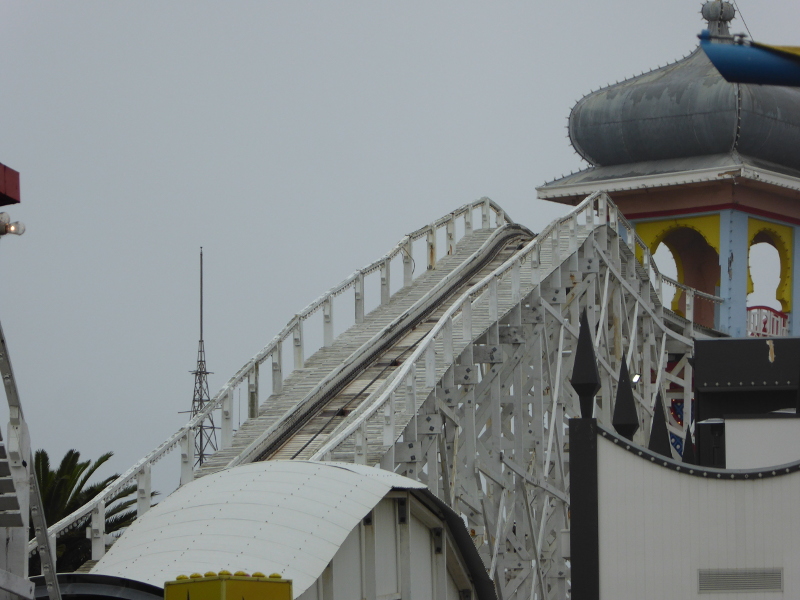 Sean, our brake man, was right behind me; he strained to push the carriage to get it moving. No light work here then. But then the train climbs to a high point (presumably by some sort of electric power?), before gravity does its job as the track bobs up and down, round the complex twice before finishing back where we started.
The slow climb to that high point allows time to take in the great views across St Kilda and the bay; there were beautiful blue seas and lots of people bathing on this hot summer's day.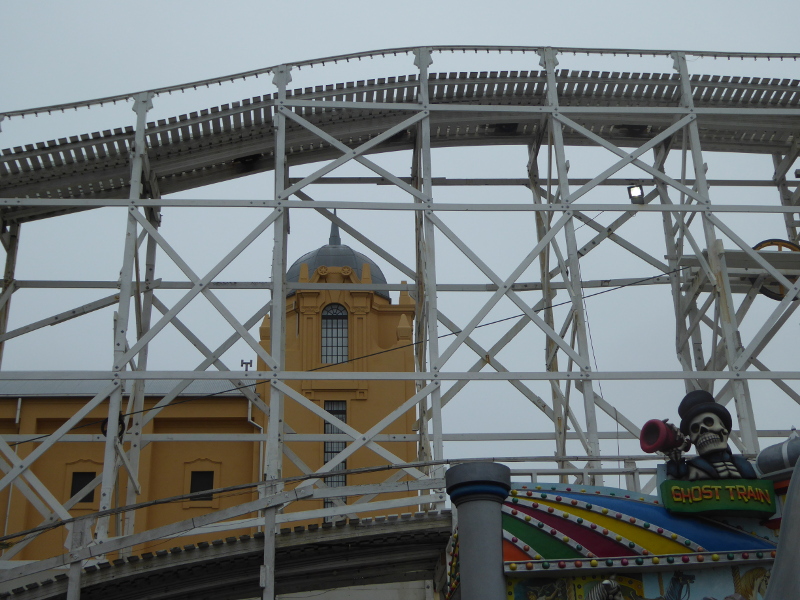 The climb takes you up to a point alongside the turrets of the magnificent Palais Theatre across the road (and I couldn't help thinking of those stories from 1926 – see history below – when embers from the massive fire at the Palais had people scrambling to hose down the Scenic Railway woodwork for fear it might catch fire).
Then the focus changes as the carriage switches to drop mode…
The first drop is probably biggest, to get momentum, maybe? There were screams all round, and hands in the air outstretched to feel the effect.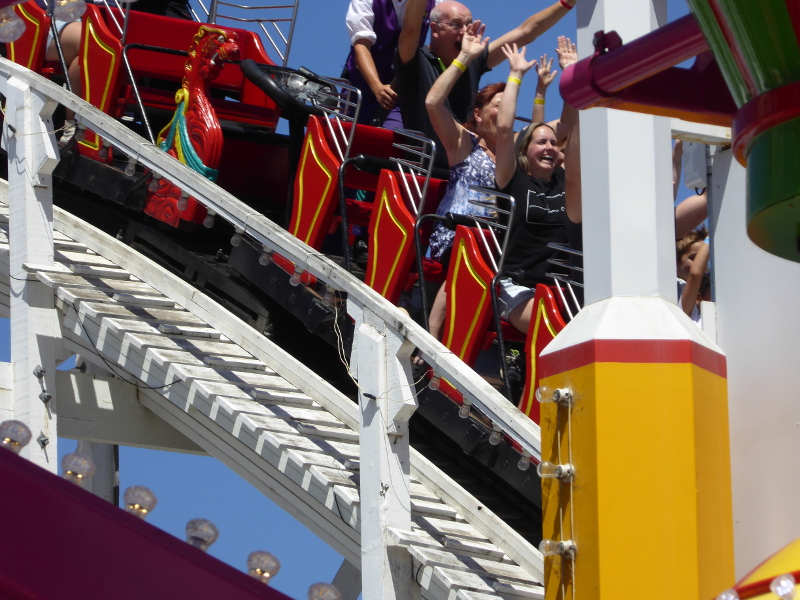 I didn't pay much heed to Sean by this time, standing behind me with his hands working the brakes but according to A. he was busy for much of the ride, I guess adjusting the speed as needed, so that is quite a skilled job (and I noticed Sean shifted later to the more gentle carousel, allowing his own brain some down time, literally as well as metaphorically…).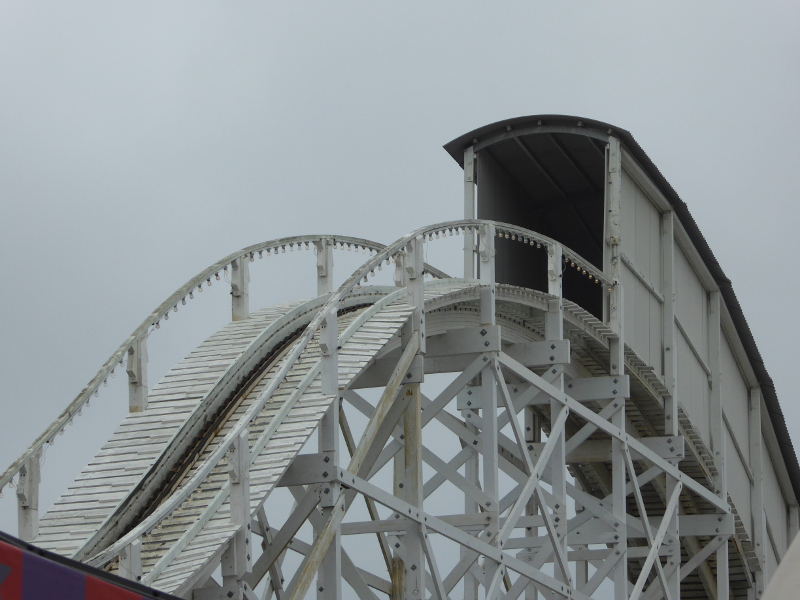 I love the thrill of the steep drop (I have been known to do loop the loop on some fairground rides, but not on the scenic railway – I don't think they had thought of how to do loop-the-loop back in 1912), though my height always makes me a bit nervous when we zoom towards a tunnel, just in case the roof is not quite high enough to take my head – or rather it might one day take my head, literally…
But all was well, five or six downhill swoops later we were at the end, with smiles all round. The Scenic Railway had not disappointed, though I'm not sure I'd manage the 14 goes one boy reckons he did back in the 1920s in one newspaper report I found.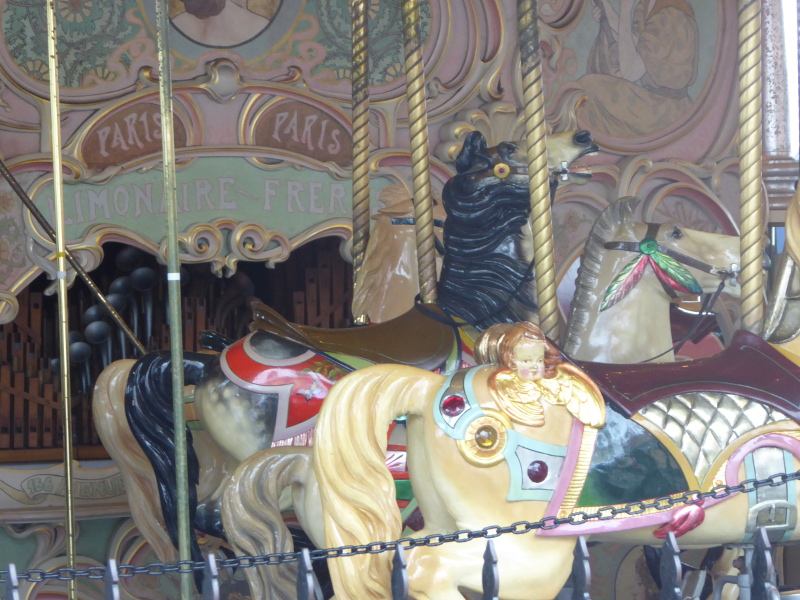 We still had time to look around the rest of the park. The Ghost Train is supposed to be good, though I'm not sure I'll stretch my Vintage Railway definition that far…The carousel is magnificent, even if I thought the old Paris organ could have been a bit louder; there were some rather good looking rides we had no time to try, and I loved the look of the big pirate's ship, which honestly looks exactly the same as a similar ride used to be at Hull Fair in the 1970s (though then I'm sure the kids used to roll around unsecured). We had a brief giggle at the distorted mirrors, which were another favourite of mine when I was a child at the funfair. And then headed back to town for our next appointment.
Another satisfied customer of Luna Park.
Part of the Park is the fabulous entry face you walk into as you enter which is so iconic also from my visits to Luna Park in Sydney before. I had no idea there were so many around the world, though. I wonder if anybody has mapped the remaining Luna Parks yet??? Maybe that'll be my next project…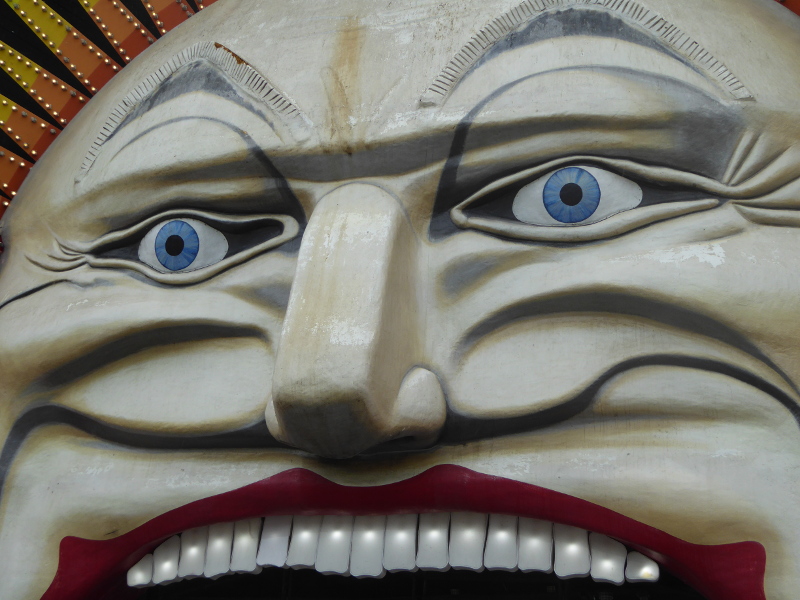 Practicalities
Luna Park is not open every day outside the summer holiday period so check the website for exact opening hours. Also keep an eye on the weather. It may not stop you wandering around the Luna Park site, but some rides will not operate if it rains or gets windy or thunder is in the air.
It costs $5 just to enter Luna Park and not go on any of the rides. About $10 for an adult to go inside and have one ride (that was our pick); different pricing for kids according to age brackets. And As Many Rides as You Like for about $150.
There are toilets inside Luna Park round the back of the complex, but they also have a good vantage point for watching the Scenic Railway whizz past.
History and stories from the Scenic Railway
The oldest continuously running roller coaster in the world – opened in 1912 (so I'm not sure why the intro you get as a passenger in 2019 speaks of it being 150 years old?).
I rather liked the review of the new Luna Park in the Malvern Standard of 2 November 1912 in talking of the scenic railway: "This railway journey is going to be very popular. Its exhilarating effect will put everyone in good humour and good health." I'm not sure about the health aspect, but yes everyone seemed in a good mood getting off when I went there 106 years later!
The Luna Park concept was so new then that The Age of 5 October 1912 even spelt it wrong, headlining about the Lunar Park…
A 19 year old fell off and died from his injuries in 1921 – the inquest recorded 'misadventure'; but it sounds like he jumped on last minute and wanted to stand and wave it (reminded me of people – even myself sometimes – at the Hull Fair in the 1970s).
Another crash in 1926 resulted again in a death of a young man. At the inquest it was reported that this was only the second such accident in 14 years and nearly 3 million rides.
When the Palais Theatre across the road was totally destroyed by fire in 1926, some of the wooden tracks of the Scenic Railway were scorched but they continued to run the ride anyway, and all was well. Some press reports noted that Luna Park employees swarmed over the railway, though, with hand held fire extinguishers to make sure nothing smouldering burst into flames on the structure. Must have been a scary moment.
11 years after it opened there was a court order to close the Scenic Railway until dry rot and other structural safety issues had been addressed.
But in 1923, Table Talk magazine was glowing in its review of the 'New Luna Park', which had just reopened: "The scenic railway, which has been strengthened until it almost resembles a cobweb of timber, is practically the only outward reminder of the park which was opened with so much eclat years ago…"
What are your memories of the Scenic Railway?
Did you ever have a go on the Scenic Railway? Or did any of your relatives ever speak of earlier days when the railway was still relatively new?
Have you been on the Scenic Railway and got a good story to tell?
Any comments or stories would be welcome – just fill in the comment box below.
Other links and writings on the Scenic Railway
Katie Smiley's blog only briefly mentions the Scenic Railway at Luna Park in St Kilda, but it has a fascinating history of roller coasters which is well worth a read
Fabulous Femme has some nice pics and some good practical tips for a visit to Luna Park
There's a nice bit of history on this holidays website Australian Explorer.
Six Little Hearts blogger tucked the Scenic Railway away down the bottom of their visit to Luna Park, but they had a good day out for sure.
Cuban American blogger Cosette has some nice night pics of Luna Park in her post.
Anne Whalley's blog includes some video footage of the ride on the Scenic Railway too.
And the guys at Luna Park itself sent me through a link to this fabulous footage from 1912 of the Scenic Railway in action.
Coffee before the journey or when you get your breath back?
Acland Street is St Kilda's famous Cake Alley, with a whole string of excellent cake shops just five minutes walk from Luna Park. Coffee is a bit variable, though, so we tend to go for our cuppa at an old vintage favourite, Monarch Cakes. The coffee is excellent and the cakes just keep on coming out of the oven, it seems, and they have been since 1934.
Just maybe best to go for your cake AFTER a few goes on the Scenic Railway, rather than before…