Now a favourite with divers seeking sea horses and stingrays, Rye Pier started life in the 1860s as a mooring point for boats taking lime from the nearby kilns up to Melbourne.
---
My experience on the pier
We weren't the only ones to decide this was the day to go for a stroll along Rye Pier, as we joined many other walkers out for a blow on this warm spring day, with a cool change due through that night. The waters in the Bay looked almost Caribbean in their colour (turquoise) and calmness, tempting quite a few bathers into the shallows along both sides of the pier itself.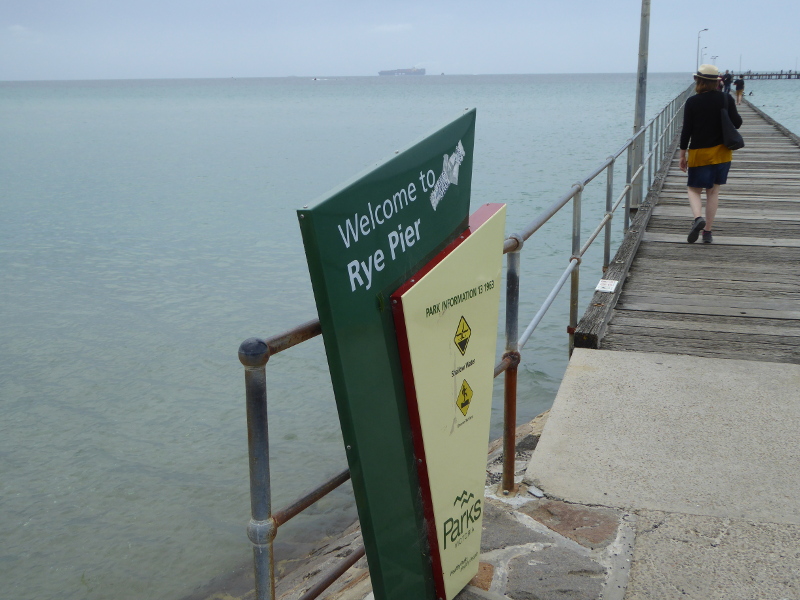 Rye Pier is long, taking me about 500 paces to reach the end from the shore, and once out so far there was a stiff breeze, meaning it was 'hold onto your hats' for a while.
This is the kind of pier I love, all boardwalk, with gaps between the planks wide enough to see the sea below, and some of those planks wobbly enough and worn in a way that made me wonder if some dated from the original jetty built in the 1860s.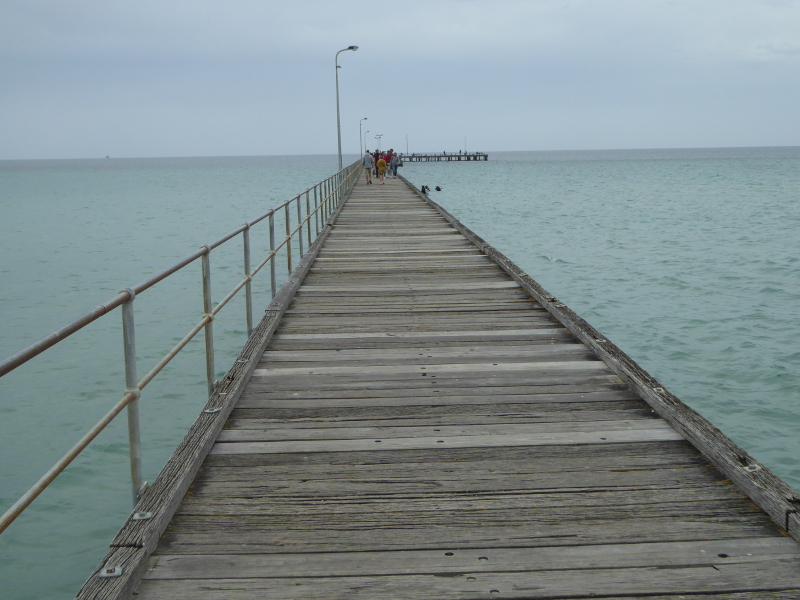 There is a handrail along the left hand side as you walk out but the other edge of the pier has just a minimal ridge a few centimetres high, making us marvel at how relaxed some parents were about their toddlers skipping along the planks a few yards away from their parents' clutches.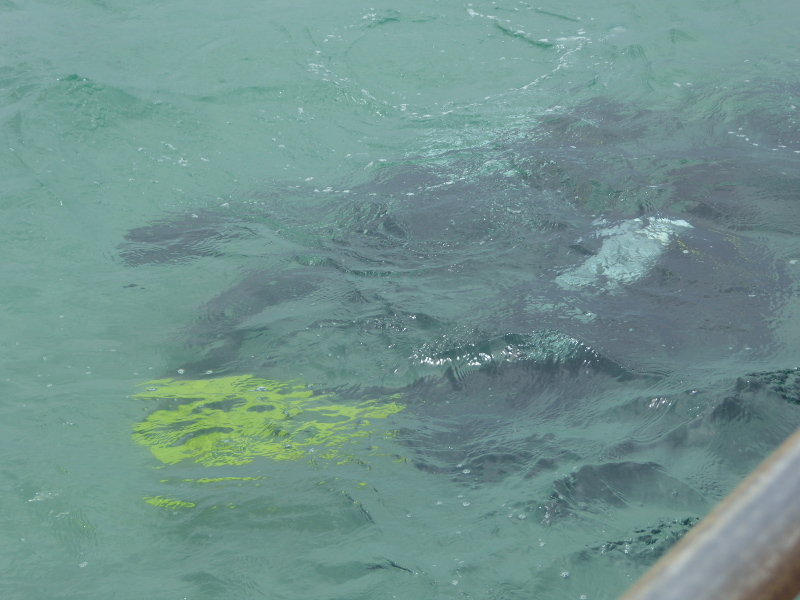 Half way along a bunch of divers were investigating beneath the surface, though we didn't spot anything remarkable ourselves; so nothing in the way of starfish, jellyfish or even fish at all – maybe they were all scared off by the very group of divers on the look out for them? Mind you, some of the links below speak of Rye Pier being a favourite spot for divers to see all sorts of living wonders…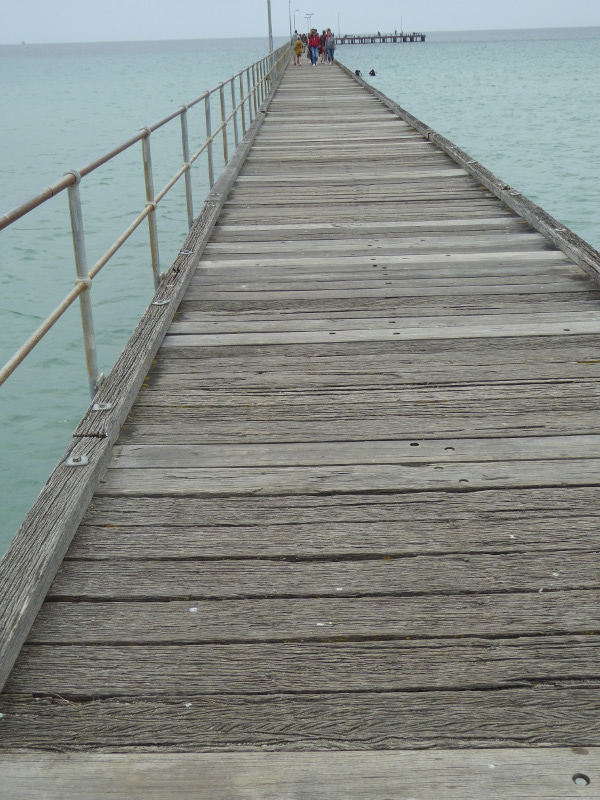 Down at the end of the pier was the usual cluster of people fishing.
And out to sea was the joyful sight and sound of speedboats jumping through the waves.
This really felt like a leisure or pleasure pier on the day of our visit, though I imagine it would feel very exposed out there on a stormy day.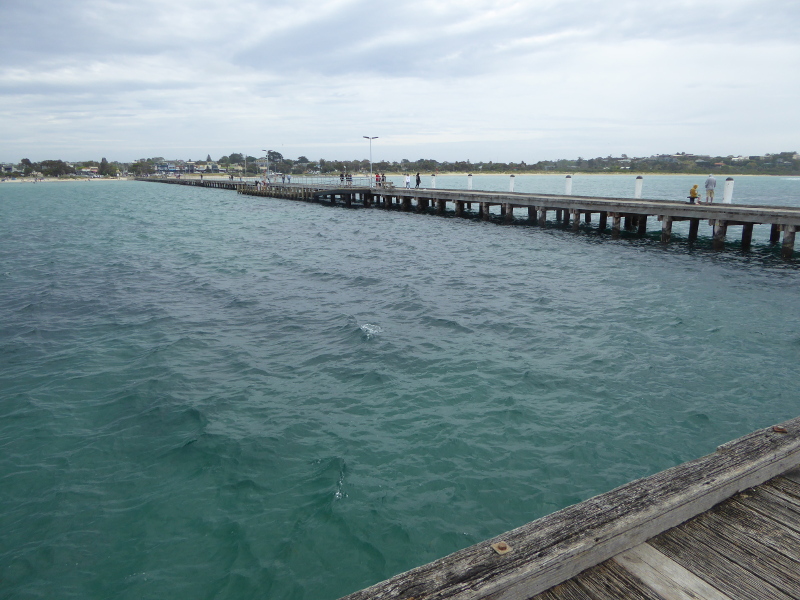 There are 6 lamps lining the length of the pier and three benches at the L-shaped section designed for fishing., but otherwise no shelter on Rye Pier, so beware of that if there's rain on the horizon (as we were to discover the following day on Flinders Pier…).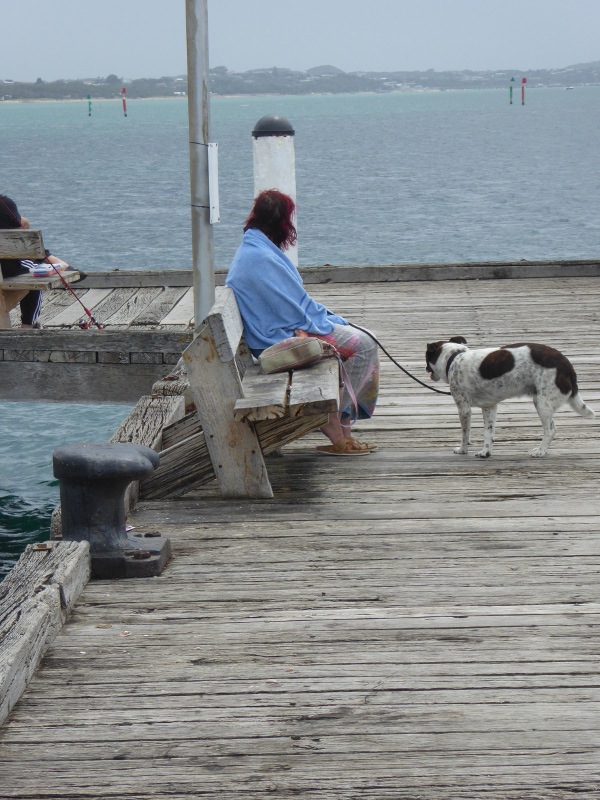 Out to sea on the horizon on this cloudless day was one of those enormous palatial cargo ships, heading out towards the Heads, so presumably heading back to China, with lot of empty crates, ready to fill up and return with yet more Chinese goods for the seemingly insatiable Australian market.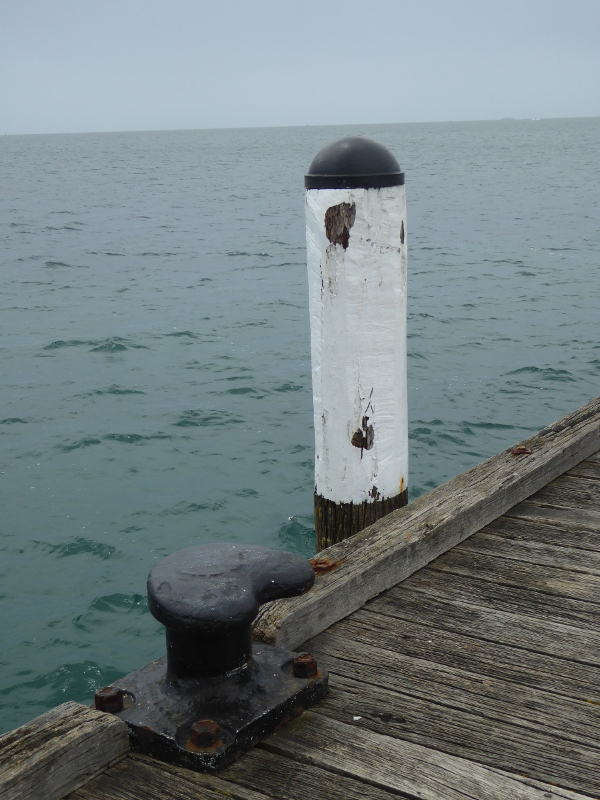 And on the pier itself half a dozen mooring irons, a relic of the days when the steamers used to dock here on their way to Sorrento or Melbourne.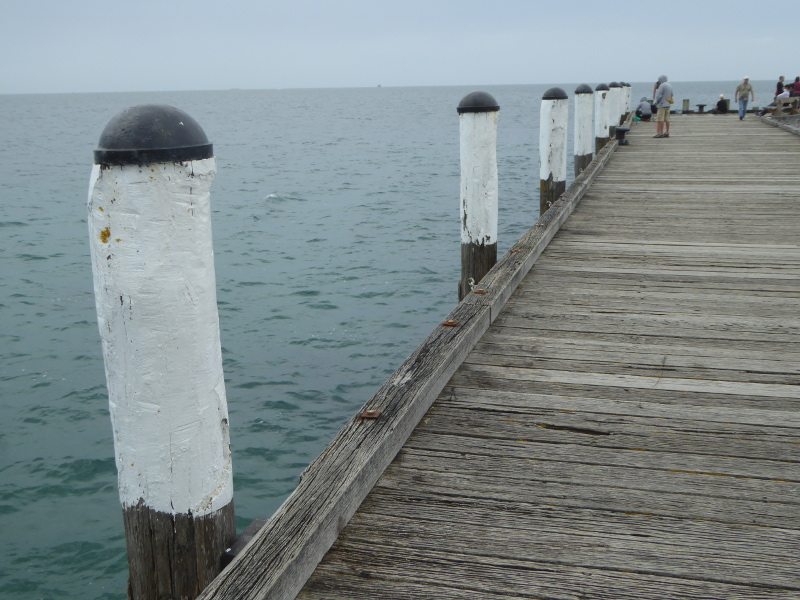 I always like the sturdy white-painted piles that stand alongside many piers in Victoria. I am assuming their function is to stop boats moored against the pier from bashing too hard against the pier itself. By the look of some of the piles, they have received a few batterings over the years.
Overall, we really liked Rye and its long pier. It was good to see the pier being used by all sorts of people, who felt like a mix of locals and visitors like us.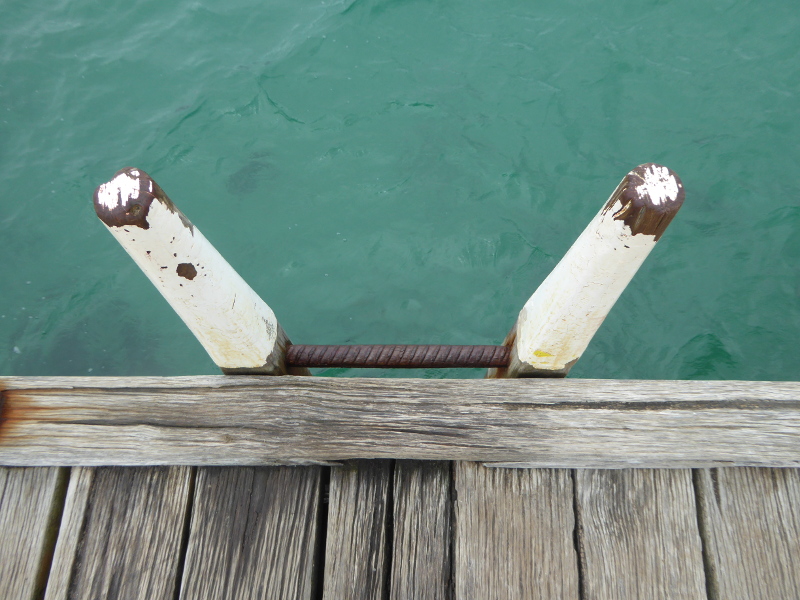 There's an interesting mix in the area too, with lots of quirky shops suggesting it has a bit of an 'alternative' demographic, as well as a good sprinkling of those 1950s and 60s migrants from parts of Europe beyond the UK. We finished off our visit by sampling the Italian gelati from Vulcano – it slightly misleadingly suggests it was established in 1960 (turns out that was the year the Sicilian family opened its first café back in Italy),  but we didn't care about how vintage the gelati were and we'd still highly recommended them if you need some sustenance after a walk on the pier…
Practicalities
Lots of benches on this pier but no shelter if a rain shower suddenly hits so keep your eyes peeled.
We didn't see any public toilets anywhere near the pier at Rye, but thanks to Kev in the comments here who put us right on this: There are toilet facilities by the car park to the pier, alongside the playground.
History and stories about Rye Pier
According to the information board at the shore end of the pier, the first jetty in Rye was built as early as 1860, for the transporting of lime from the local kilns to Melbourne.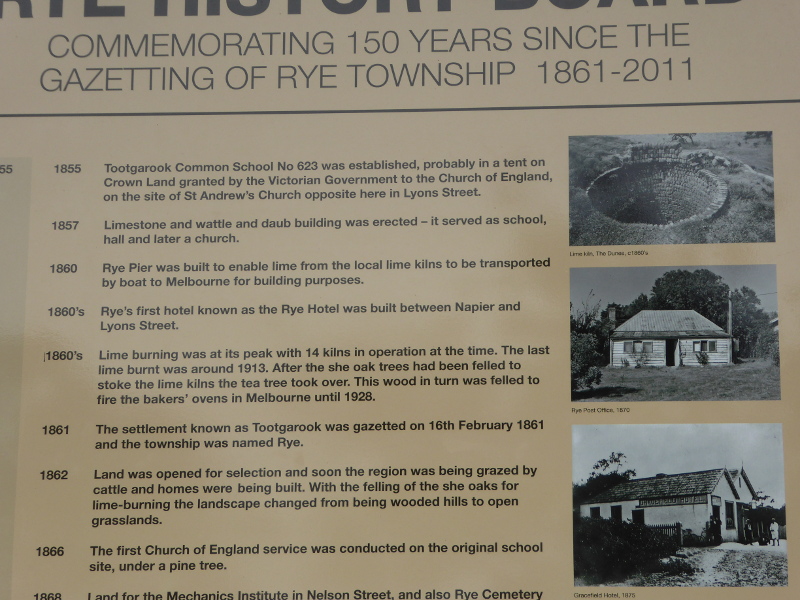 L3000 was agreed in the state budget for Rye Jetty in 1873, so I am assuming that was to extend the original structure. By 1875, there were complaints that it was not usable for transporting the quantities of goods needed so it was extended again in 1878-9; and then there was a further request to extend once more in 1880. But in 1887, the jetty was still not long enough to attract steamers, which chose instead to dock at Sorrento.
Even as late as the 1920s, it is said that transport from Melbourne involved a ferry as far as Sorrento, followed by horse and dray transport to get from Sorrento to Rye.
Some boats obviously did use the Rye Pier, though. In 1921 the schooner Woolamai got caught in a sudden wind after leaving Rye Pier. It ended up grounded on rocks not far from the nearby lighthouse. It needed a lifeboat rescue and crew members were taken to Queenscliff after 48 were exposed to the elements with waves crashing over the boat.
Another boat sank near the pier just 6 months later.
In 1924 a woman was found dead in shallow water near Rye Pier. Reports say she recently had lost her sight after years of suffering from 'nerves', but that she had had plans to travel to England and had tickets bought, before she drowned near the pier. There were no reports of any inquest into her death.
Just months later a local fisherman also drowned in just 2 feet of water near the pier. It was assumed he fell over in the water as he waded out to his dinghy and couldn't right himself.
A storm in April 1932 saw a small boat with 4 crew members get into difficulty 500 yards from Rye Pier. They had to cling on for 2 hours, tying themselves together until they were rescued the following morning.
In January 1934, a blue-nose shark was killed near Rye Pier. Inside it were found 26 babies, just waiting to be born. Do sharks really carry that many young? A small crowd on the pier cheered when the shark was shot, as it had stopped holidaymakers from swimming off the pier for the days it had been cruising around Rye.
There were more shark sightings in the bay near Rye Pier a year later which led to an extraordinary editorial piece in The Herald, questioning whether an increase in sharks close to shore might be due to 'modern trends in bathing costumes'. They speculated whether dark, neck-to-knee costumes with frills and flounces scared off the sharks, whereas the larger area of flesh revealed by the 1930s, tempted in the hungry predators. The article acknowledged that the argument was a false one but added that the cumbersome costumes led people to stay in shallow waters, whereas the light, figure-hugging costumes allowed for swimming in deeper waters off the piers, precisely in 'shark territory'.
More than 40 feet of the Rye Pier was carried away by waves in a storm in 1935.
In 1954, there was a dramatic incident involving a man and his 10-year-old son, which ended on Rye Pier after the two had drifted for 24 hours on the Bay and almost got sucked into The Rip. The pair had gone fishing down off Dromana, but their motor failed when they tried to head for home at Rye. They drifted for hours, and as it got dark they found themselves in the middle of foaming water miles from shore. The 10 year old seemed to be the one reassuring the father they would be saved. After a terrifying night, at dawn they spotted Swan Island near Queenscliff and managed to hoist a makeshift sail to steer onto it, where they were lucky to find a staffed army ordnance depot, from which they were rescued. I wonder if the lad, Robert Elliott, is still around to tell the tale…?
Other links and writings on Rye Jetty
The official Mornington Peninsula tourism site talks of stingrays, sea horses and other thing to see in the sea near the pier.
Some filming underwater in this Facebook video after 2019 work on the Rye Pier finished.
There is audio and a transcript in this oral history of Rye with reference to holiday steamers arriving at Rye Pier.
ABC footage of a banjo shark found dying near the pier.
These travel bloggers visited in 2011 with similar experiences to ours of creaking boards …
And another travel blogger visited Rye Pier back in 2010, with an experience also similar to our own 10 years later.
What are your stories and memories of Rye Pier?
Has anyone swum, fished, dived or launched a boat off Rye Pier and got a story to tell for us here?
Does anyone have any stories to bring us up-to-date after the last interesting Trove clipping from 1954?
Does anyone know if Robert Elliott, who'd be about 76 in 2020, is still around to tell the tale of the dramatic rescue of him and his Dad?
Has anyone seen a shark off Rye Pier? Or a sea horse? Or stingray? Tell us the story, if so…