79 years passed between George Bass landing here in 1798 and the jetty being built at Rhyll. It's certainly a peaceful spot on Phillip Island in 2021.
---
My experience on the pier
Rhyll Jetty has to be one of the quietest we have walked along in the years since we started our tour of Victoria's vintage piers. A couple of anglers stood silently at one end, some black swans drifted by in the distance, but we only saw a single boat leaving the jetty, and not many even motoring past in the half hour or so we spent here.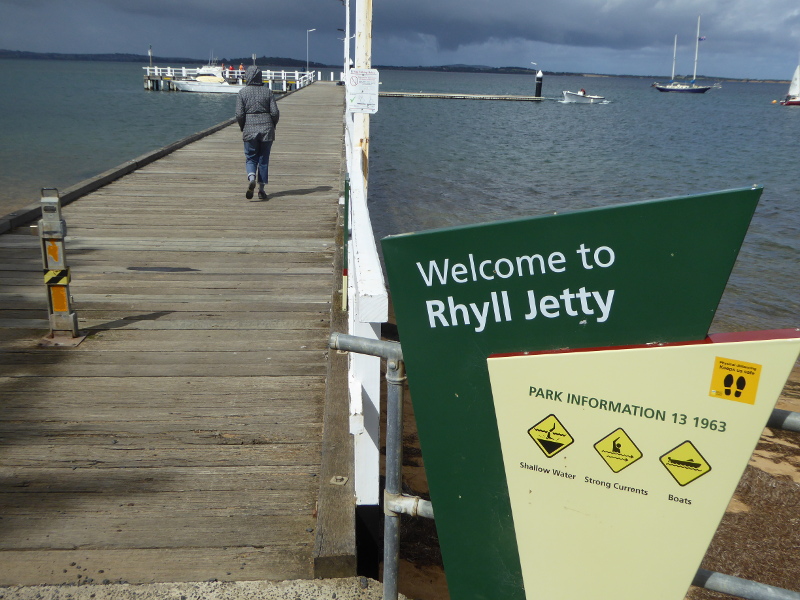 It's a lovely spot, mind, with lots of history.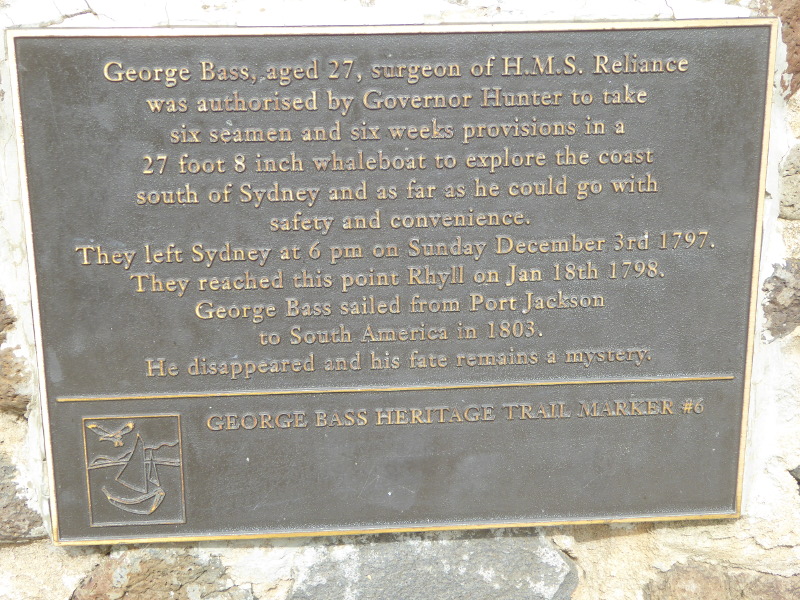 A cairn not far from the pier commemorates the landing here at Rhyll of George Bass in 1798, after he had been sent south from Sydney to explore other landing points.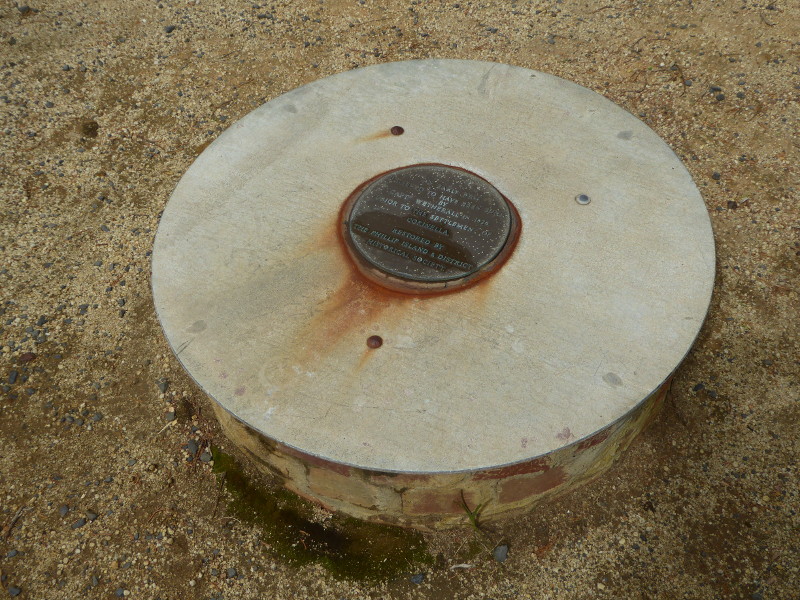 There is an old well, now covered up, but presumably a vital source of fresh water for those early white settlers.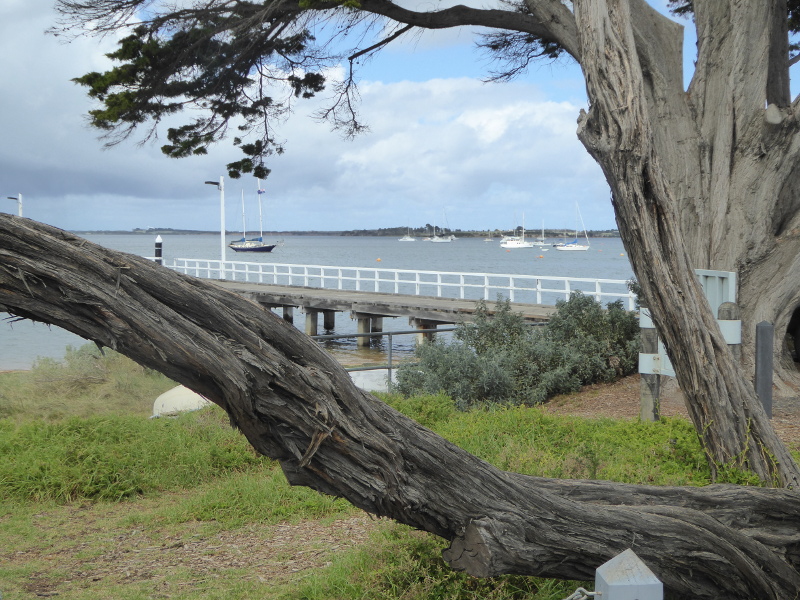 Three cypress trees used to line the shore here. One of them still provides a lovely frame for the pier from certain angles.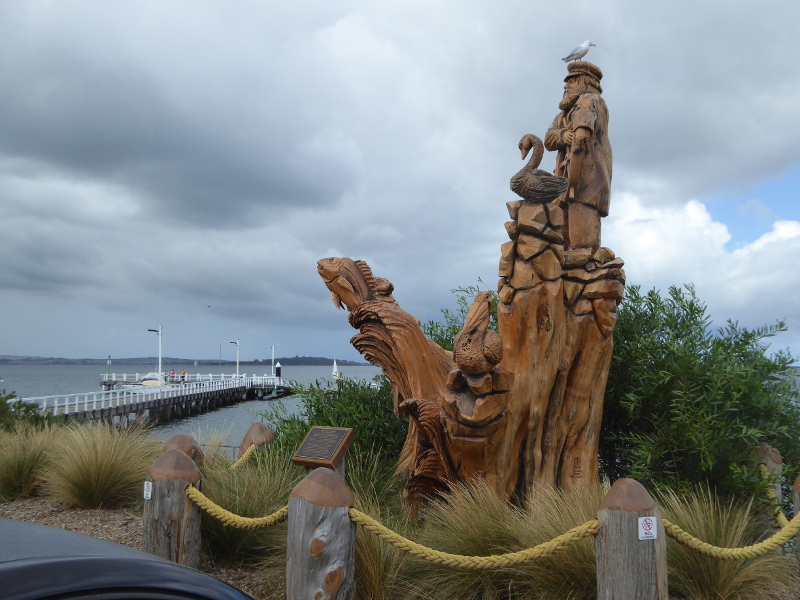 But this one blew down in a storm in 2016, and rather than destroying it completely, a local artist was asked to make a sculpture from the remaining stump and trunk. It makes rather a nice addition to the shoreline, and a modern touch to go alongside the much older points on this part of Phillip Island.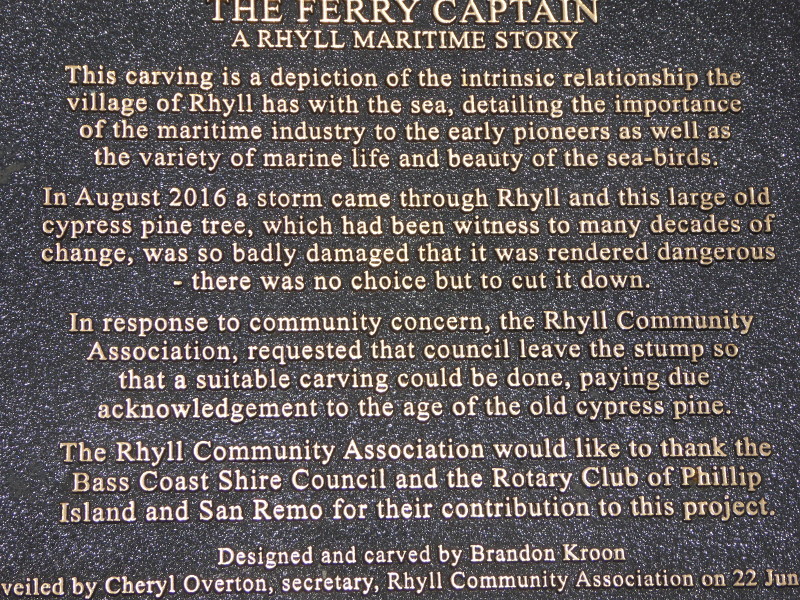 The shed at the beach end of the pier is clearly vintage to some degree, though it's hard to know when it was built, and whether it is the same goods shed as one noticeboard says used to hold dances on a Saturday night – surely you couldn't get more than three or four couples in here?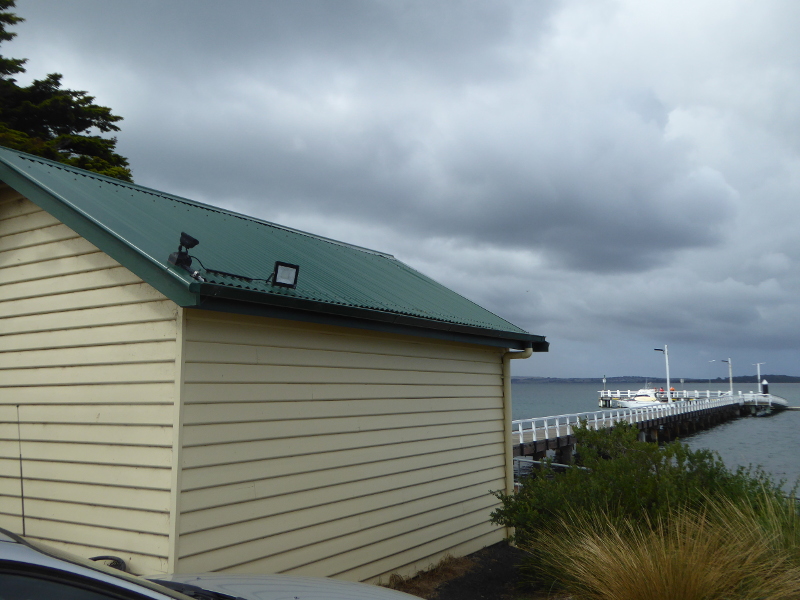 If it is the old shed, though, another information board talks of some old yachtsmen carving the names of their vessels in the weatherboard on the inside of the shed. Can anyone confirm this? In fact, has anyone reading this been inside the shed at all?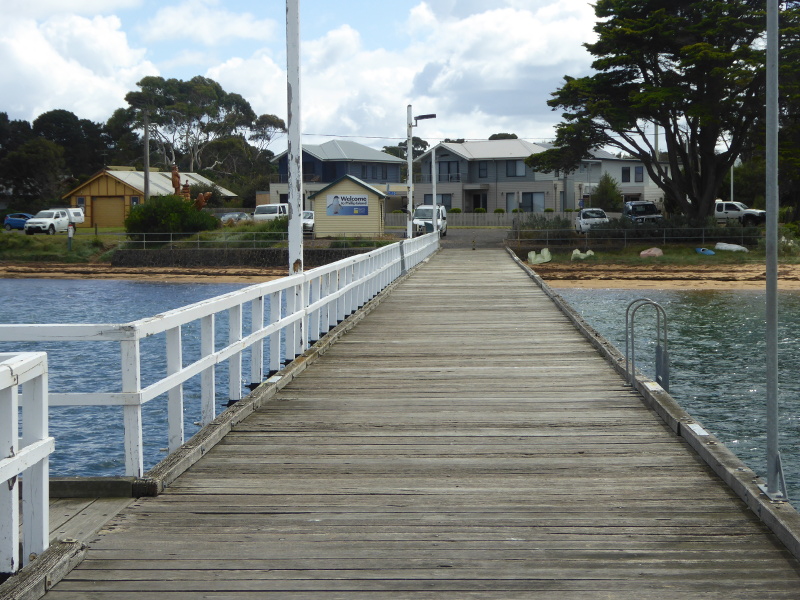 The pier is all boardwalk, about 150m in length.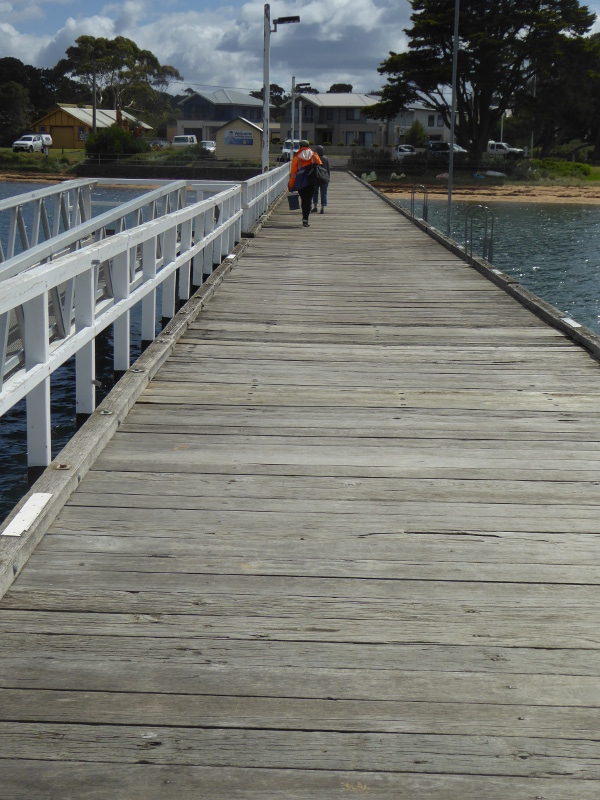 There is a white wooden fence down one side, and just a 5cm high ridge for safety on the other side. This seems quite common among Victoria's old piers, but I wonder how many people have tripped over and into the water this way over the decades?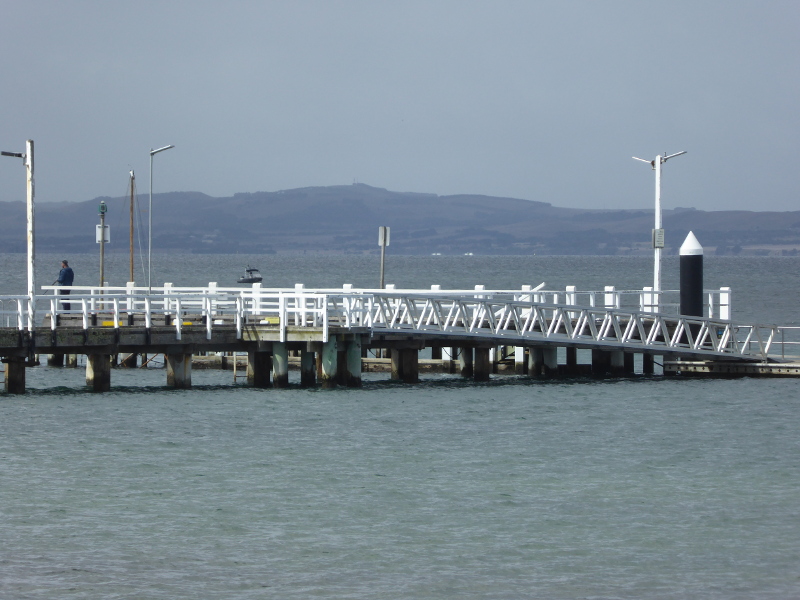 At the far end of the walkway is a cross section about 35m wide, which actually feels as if it might even be older than the current finger stretching out into the bay.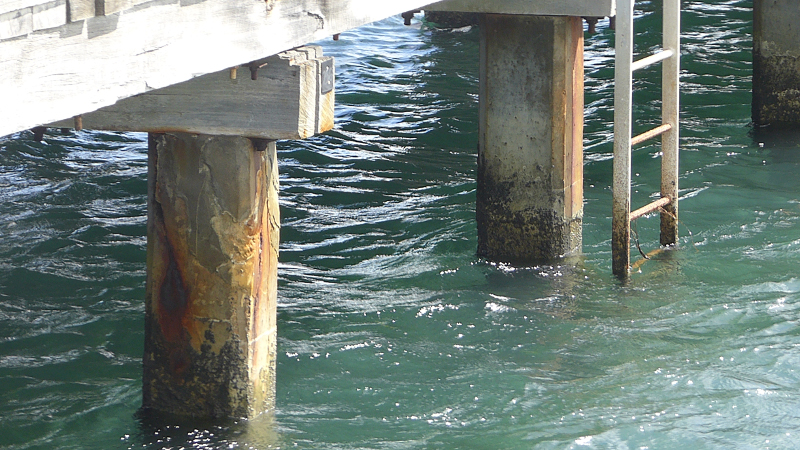 Again, the information boards suggest some of the original piles can still be seen under the jetty today. I took a pic of one apparently timber pile, but it's hard to be sure if this is one of the original ones from the 1870s.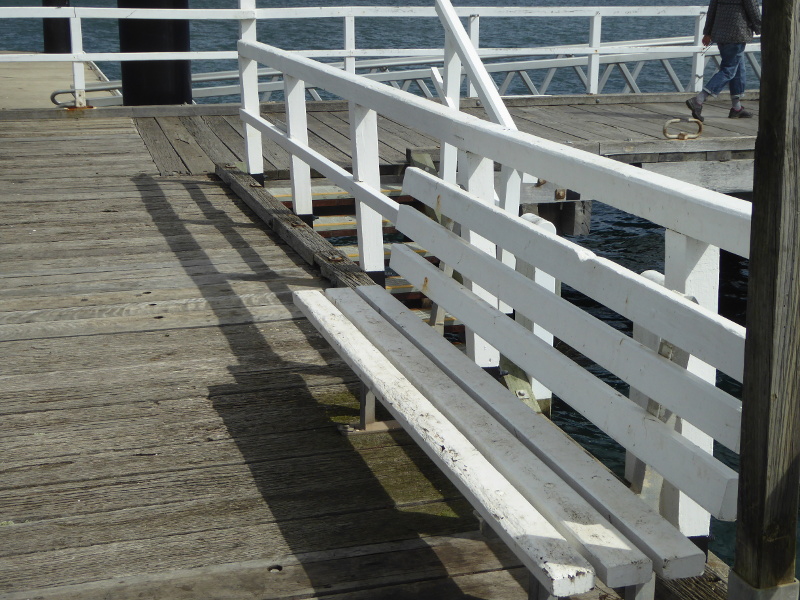 There are a couple of benches to rest up along that T-section of Rhyll Pier, but no shelter once you are out on the boardwalk.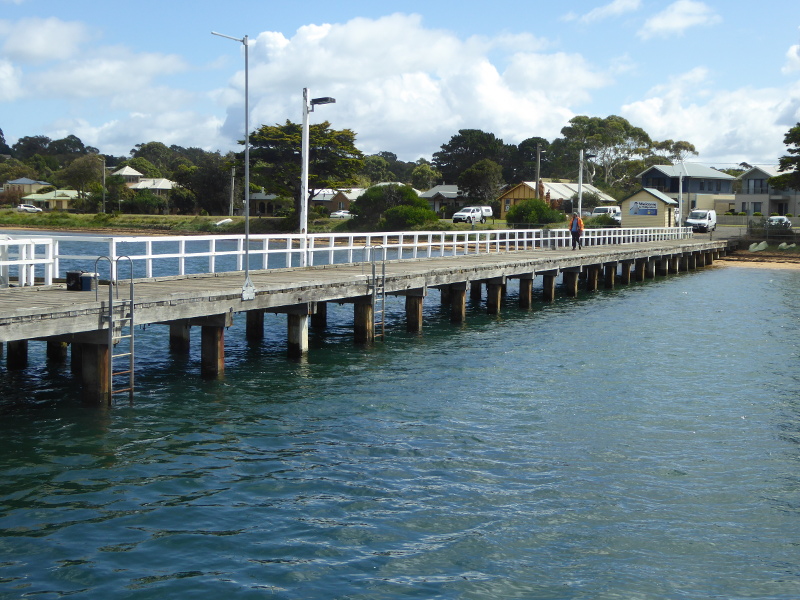 With barely a soul around, this is the perfect spot to come for some solitude. I'd be more inclined to bring a good book to read rather than a reel and rod, but it is certainly a quiet place, whatever you choose to do in the stillness.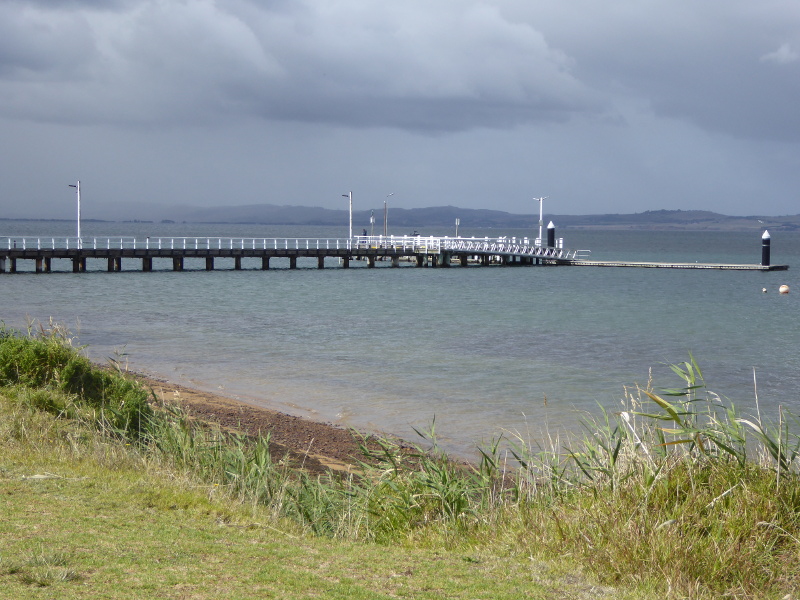 It was time for lunch by the time we had had our stroll up and down the jetty, and we fancied some simple fish and chips. We'd highly recommend Tides Fish & Chips, just 100m from the pier; very friendly service in there, and there's a room with lots of wonderful historical photos on the walls which we enjoyed inspecting as we waited for the food to come.
One showed a ferry lying extremely low in the water, making me wonder if there was some sort of ferry that sank in the vicinity? Nothing appeared in the Trove database, so I'll need local memories to help me out with any further information on that story?
Practicalities
Toilets back on the road near the shops and restaurant.
No shelter on the pier itself, but one bench on the T-section
History and stories about Rhyll Jetty
The decision to build a jetty at Rhyll must have been made late in 1876, as tenders were then put out for its construction. One newspaper over on the peninsula complained that there was no justification for having a pier at Rhyll, where hardly anybody except one Captain Lock had vessels, while places like Queensferry, which had ocean-going boats, were turned down for similar requests.
Lock was certainly a prominent member of the Rhyll community, his daughter being the first white person to be born there in 1861. His old cottage is still available for rental accommodation in 2021.
Maybe the complainant was right, though. Rhyll Jetty in 2021 seemed to be one of the most peaceful piers we have been to on this tour of vintage piers in Victoria. But the absence of Trove stories suggests that maybe there never was much traffic here, or if there was that journalists didn't cover it.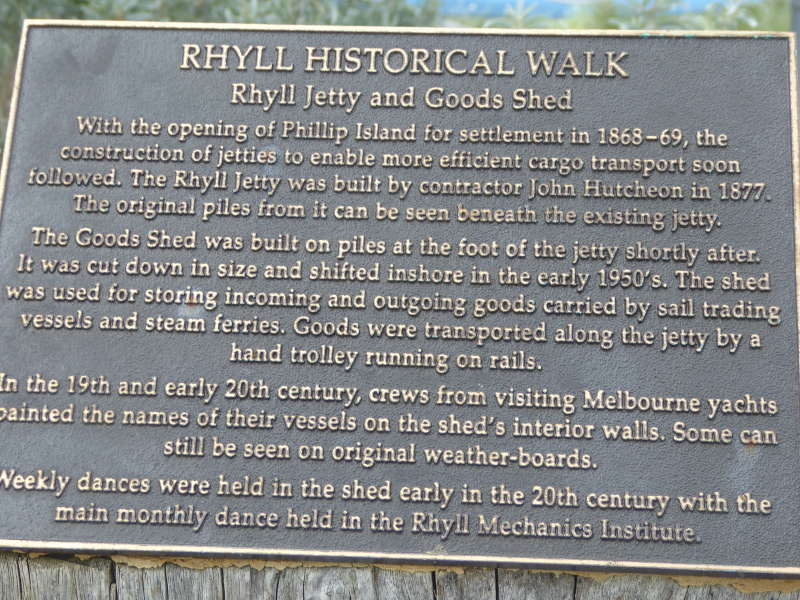 For my history of Rhyll Jetty, I can really only go by the information boards set up around the pier, and they are also a little limited.
One visitor in 1889 said of Rhyll, that it is 'very unlike the watering place on the north coast of Wales.' But he spoke of the pier being built by a 'paternal government', and that the 'charming embryo township' had just a couple of cottages and the old home of Captain Lock, whom he describes as the 'oldest trader along the coast.'
By 1897, there were enough families with children in Rhyll for the ss Genista to call here to collect kids for the annual picnic in Cowes.
In 1917 L71 was found in public funds for repairs and improvements to Rhyll Jetty. And in 1921, a further L6 a year was budgeted to pay for lighting on Rhyll Jetty. Further repairs were carried out in 1922. But still no anecdotes or accidents to enlighten us about life in general on or around this pier.
A group of whales took shelter from a storm in the bay near Rhyll and Cowes in 1925. Must have been a fine sight from the jetty.
The stone cairn to commemorate the landing of George Bass here in 1798 has been in place since at least 1931, when The Argus reported on some of the highlights of Phillip Island.
Sadly I found no reports in the Trove press clippings on the dances which were apparently held in the shed by the jetty (surely not the tiny shed in place today?). Does anybody have any memories of those?
Other links and writings on Rhyll Jetty
I didn't find many links to other people writing about Rhyll Jetty.
I found this beautifully-written piece on Rhyll by Linda Cuttriss, published in 2018.
What are your stories and memories of Rhyll Jetty?
Can anyone help clarify which was the shed near the pier where regular dances were held and where passing yachtsmen would carve the names of their vessels in the weatherboard on the inside?
Has anyone been inside the shed at the end of the pier? Or help clarify what was it originally built for? And when?
Are there any memories of people falling into the water off Rhyll Jetty?
Or just get in touch with a comment on your own experiences down at Rhyll Jetty.