Maryborough's art deco swimming pool opened in 1940 and was an inspiration to other towns in Victoria looking to improve their swimming facilities. Vintage grandstand and bandstand in view, too.
---
My experience in the pool
I first swam in Maryborough's beautiful vintage swimming pool when I was backpacking in the 1980s. I was staying with friends just outside town and cycled 13kms from their house to the outdoor pool in Princes Park for a cooling dip on a hot day. It was a fantastic experience and one I was keen to repeat when I moved to this part of Victoria two years ago.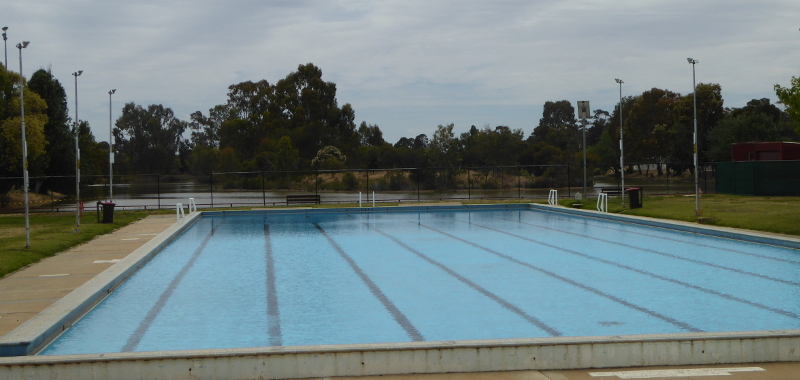 The trouble is outdoor swimming in country Victoria is governed by arcane rules on when you can and can't swim, so it took me a couple of summers to find a time when I was free and the pool was able to let me in.
The outdoor swimming season in country Victoria is short as it is: December to early March so just over three months. But add to that the bizarre opening times of early mornings twice a week and 1pm to 8pm most of the time. And the temperature line where any day not forecast to exceed 26C means the pool remains closed, and I struggled to make it in the water.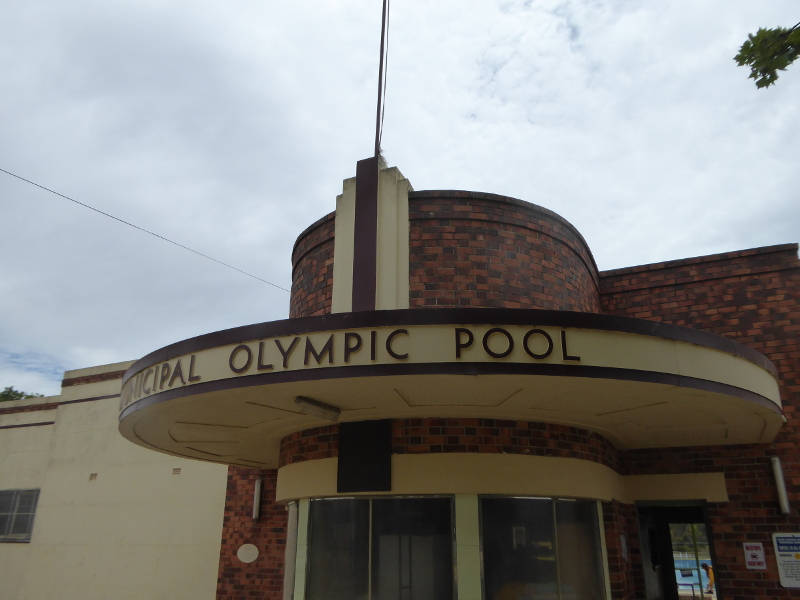 I was even turned away one day when I showed up without first checking that schools wouldn't be using the pool, and even though it was ten minutes till the first class was due and the pool lay empty, I had to go home without my swim.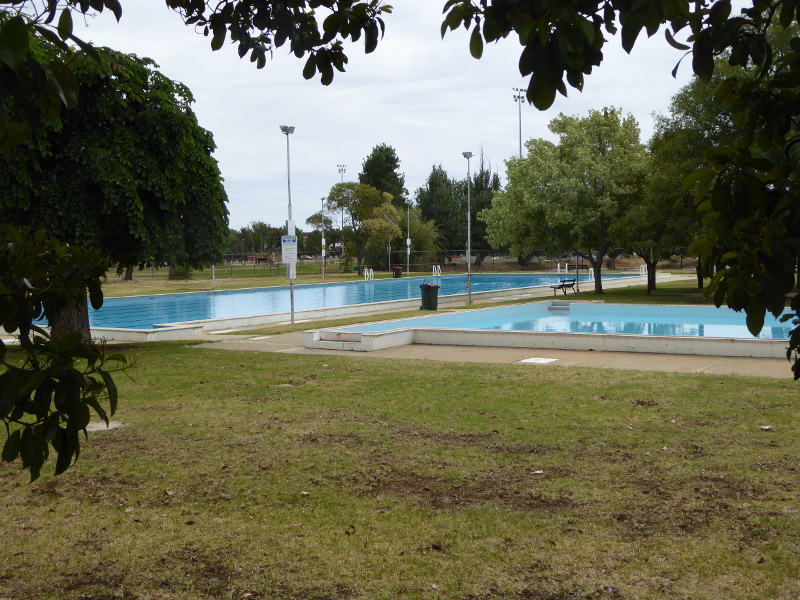 So it was with some trepidation that we turned up one Sunday at 1pm about a week into the season, with temperatures vaguely around the mid-20s, and were delighted to be allowed in, with three or four lifeguards on duty and happy to see their first customers of the day.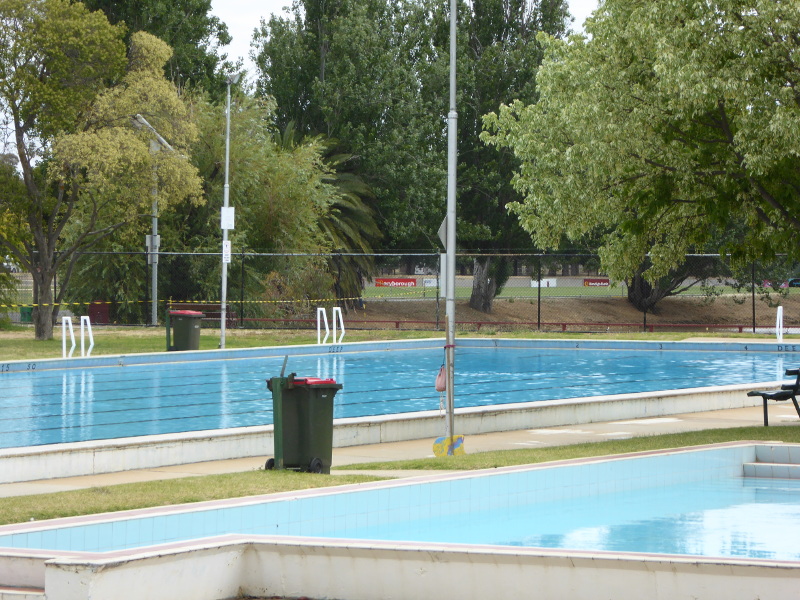 This is a lovely 50m pool, and what I almost like the most about it is how little it seems changed from when it first opened in 1940. So many outdoor pools have had to be remodelled because of issues like concrete cancer, or had their entrance and changing rooms knocked down to be replaced by soulless 1970s, 80s or 90s structures.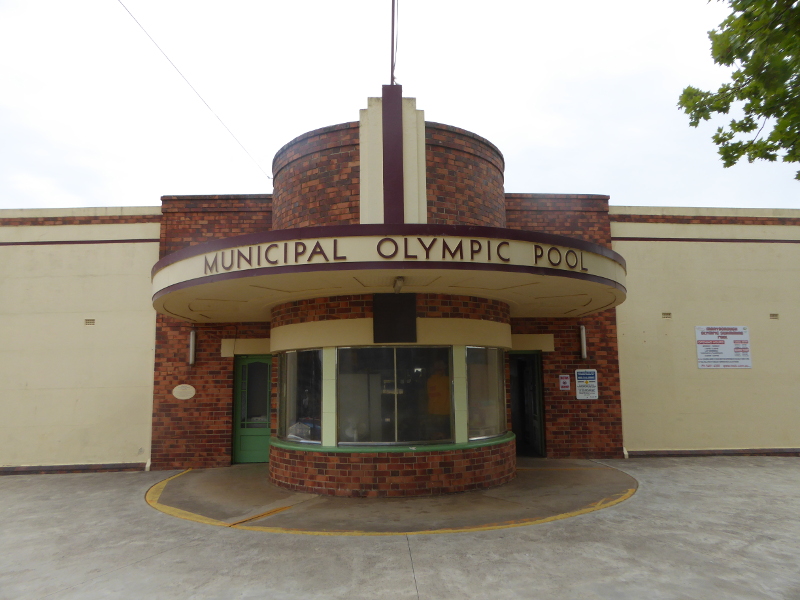 But Maryborough Olympic Pool has retained its art deco entrance; some of the changing rooms look as if they won't have changed much from the early days, and the pool itself is just a simple Olympic length, with a very deep end, where once there would have been a diving board, but other than that no high-falutin facilities to make it into a 21st century aquatic centre.\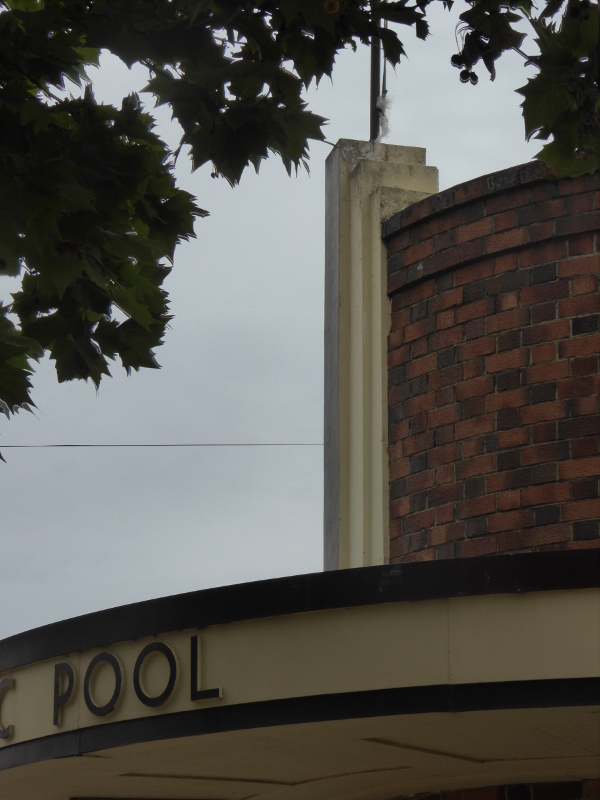 That's fine by me, especially in my Vintage Victoria quest, though it does mean the pool doesn't have things like easy access for people with disabilities.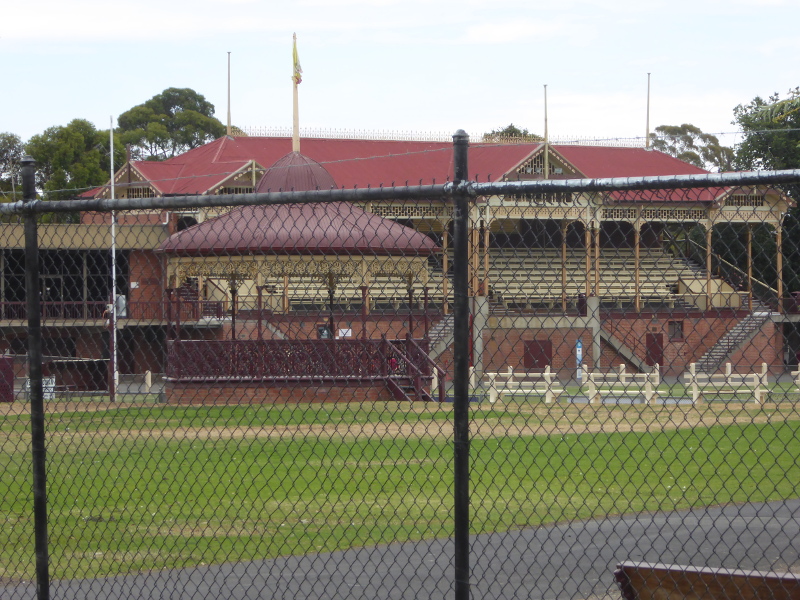 It's a great spot for a swim, though. Set in the lovely park area, with a vintage grandstand and vintage badnstand across the oval in view from the pool edge.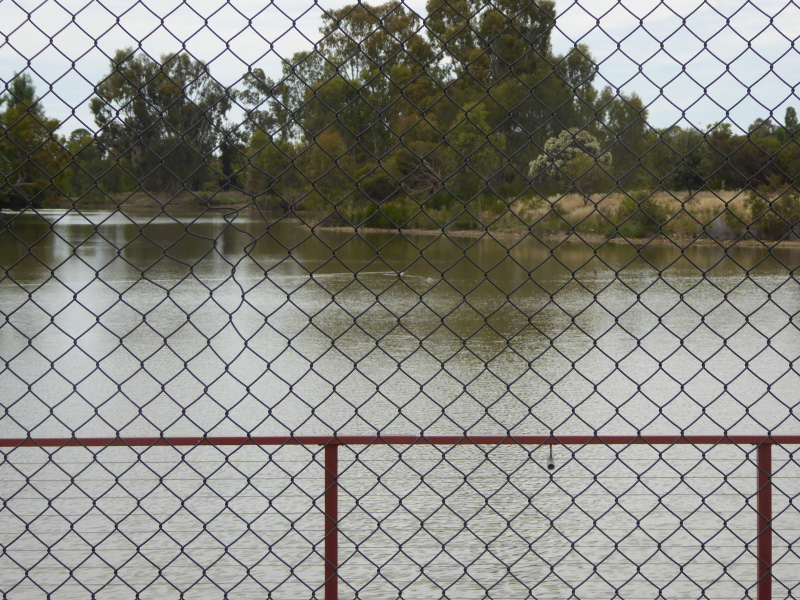 A lake behind the pool, which has stories of its own to tell, as I found from my historical search around the pool itself.
And the classic tall gum trees in view if you switch to backstroke.
The tiling around this vintage swimming pool is beautiful, with old depth sizes in feet and inches.
Lane numbers are also in vintage tiling.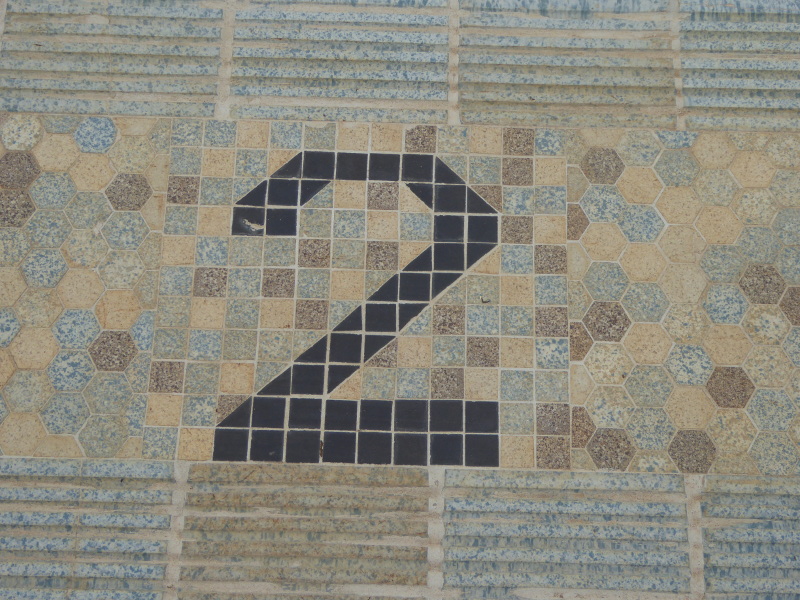 And there are some intriguing names in tiles built into the steps into the pool at the shallow end. I discovered after our swim that these were made by the pool builders to leave their personal mark on the pool for future generations.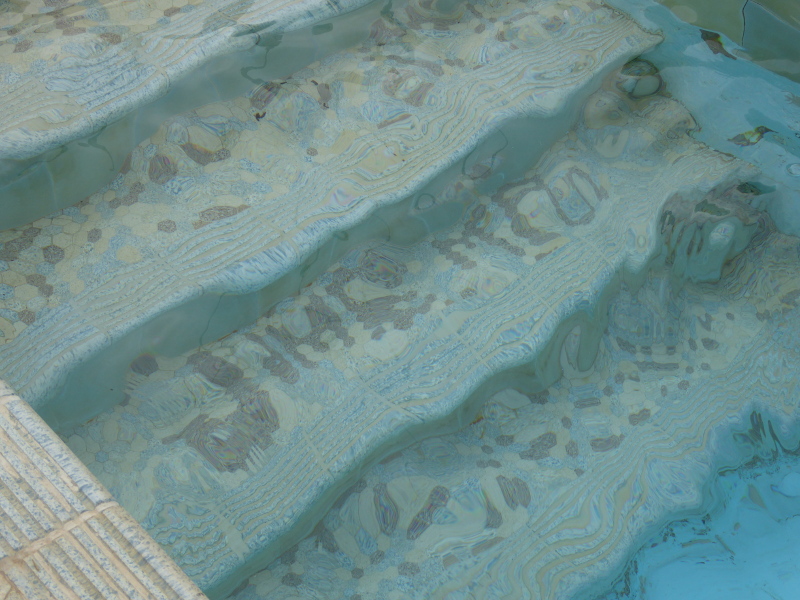 The water is not heated constantly, so the earlier in the season and the earlier in the day you go for a swim, the cooler the water. But after a few 40+ days in Victoria in early summer, the water felt perfectly warm enough once we'd done a lap or two.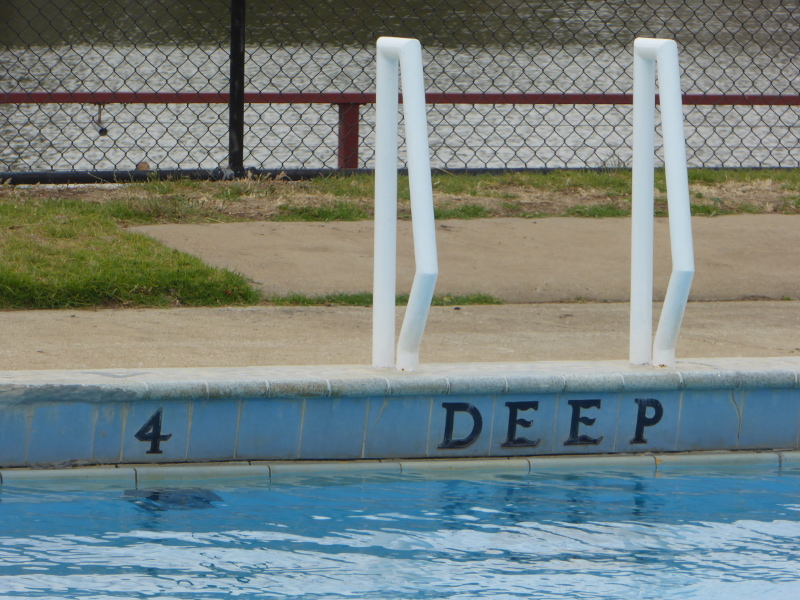 I don't know if they ever get the thousands attending to pool that they used to have in the early days; and we were still the only swimmers here by the time we left. But then the 10 beautiful tennis courts across the park were also empty even on a mild summer's Sunday, so maybe the people of Maryborough are not as sporty as they once were?
But the emptiness of Australian tennis courts across the country is an issue for another blog (though if anyone has thoughts on how this happened, I'd love to hear..).
I just hope the Maryborough pool stays open for the future. It's a fantastic resource and must surely still be the 'envy of all country pools', if people just have the chance to find out it's there!
Practicalities
50m outdoor pool – open only in summer (Late November to early March)
Learner pool and paddling pool also
Cost: $4 in 2019/20 summer
History and stories about Maryborough Outdoor Swimming Pool
Maryborough's Olympic Pool was opened in December 1940 in the depths of the second world war. The Mayor of Melbourne came up to Maryborough to open the facility.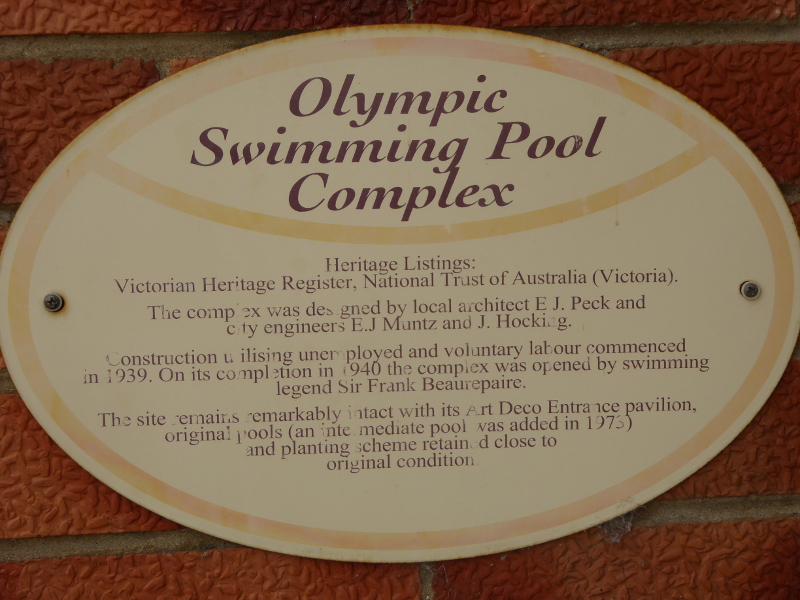 Melbourne's Mayor, Frank Beaurepaire, was a bit of a Sebastian Coe of his time, having won Olympic medals in 1908, 1920 and 1924 before turning politician, but using his political position to promote sport and public health, so giving his backing to a State-wide Learn to Swim programme in 1928.
The Mayor congratulated Maryborough for its water filtration and treatment system. He said he wished the Health Department would close swimming baths that didn't have such systems to prevent risks of 'epidemics'…
And the existence of a proper pool in town meant that young people in town wouldn't need to swim in local creeks, some even going as far as Creswick for a dip.
The local member of parliament said Maryborough's pool would be 'the envy of all country pools throughout Australia'.
The 1941 annual report of the Victorian Swimming Association said:  "it is confidently anticipated that within a period of two years the delightful appearance of this pool will be a source of inspiration to all municipalities throughout Victoria "
Interestingly, my search of Trove articles referring to the Maryborough pool, confirmed just that: A 1943 discussion in Horsham town council condemned the poor levels of swimming ability in the town and some councillors spoke highly of Maryborough's pool, stating that while only 4 per cent of kids in Horsham could swim, in Maryborough 95% of children swam, because of the pool. They also said that 1600 people had paid to swim in the pool on one hot Sunday (not counting season ticket holders).
And I loved the article I found in the Maryborough Historical Society archive from the pool's 50th anniversary, which interviewed two youngsters who were child users in 1940 and were still in Maryborough in 1990. Are George Boxhall and Harold Hubble still with us?
All the coverage of the pool's opening in 1940 spoke of the 'modern' facilities at the pool, with predictions that Maryborough would thereby produce some champion swimmers before too long…
The pool hosted the Victorian Country Championships several times in the 1940s and 50s, and sure enough, one Jack McGrath a local copper in Maryborough won the 220yards state swimming title in March 1945 – he had trained at the Maryborough pool, which he considered 'the best country pool in Victoria'.
The Weekly Times had a photo of the Maryborough Olympic Pool in 1950. It looked remarkably the same as the pool in 2019. We just seem to be missing the 'weeping elms' which were reportedly by the pool in those early days. The children's pool is still there but we have also lost the two diving boards, as we have in most modern-day outdoor pools, sadly.
The Argus in Melbourne wrote about Maryborough's Princes Park in 1954. The 'modern' Olympic pool certainly got a mention, but I loved the fact that paddle steamers used to ride the lake next to the pool in earlier years. No sign of those these days. Sadly, even on a reasonably warm summer Sunday in December, there was nobody playing tennis on the ten courts near the pool, either. Australian tennis has gone downhill since those heady 1950s days when courts like these would be 'used every summer weekend, and are favoured by many players from both city and country', said The Argus…
Things didn't always go perfectly for Maryborough Outdoor Pool. There was a failed campaign in 1949, wanting it to be maintained with water in it throughout the winter as a magnet to draw more in during summer. I guess with no heating for the water, it wouldn't have had that many takers, but I do think it's a shame swimming hours are so limited in Maryborough (and other country pools today).
There was a bit of an incident in 1950, when a temporary stand put up for the annual Country Championships collapsed with 400 people sitting on it. It didn't sound like anybody had serious injuries but it must have been quite a scare round the pool that day.
And in perhaps the most dramatic incident around the pool, in 1942 two kids called Henry and Betty Duffin were rescued from the lake next to the pool when a lifeguard at the pool spotted them in difficulty and cleared the 2m high fence between pool and lake before wading and swimming through the lake waters to rescue them. Alfred James was the hero on the day, but I wonder what happened to all of them. Are any of them still around to remember the incident?
The pool was awarded heritage status in 1997.
Links and writings on Maryborough Pool
Maryborough's Olympic Pool has an entry on the Victorian Heritage Database.
There is a brief entry on the Art Deco and Modernism Society of Australia website
The Maryborough swimming pool is included on this Art Deco Buildings blog.
Therese, the Swimming Pool Stories author and blogger, came to Maryborough a few years ago
The Maryborough Advertiser newspaper in May 2018 ran an article on the costs of repair and maintenance of the pools.
What are your memories and stories about swimming in Maryborough Pool?
Are you a regular swimmer there? Have you seen many changes at Maryborough outdoor pool over the years? I don't suppose anybody is still around who'd have been there – in a pram even? – when the pool opened in 1940?
I'd love to hear from anyone who knows more about the story of the 1942 rescue in the lake next door. Is anyone around who was related to the Duffin kids (I'm your namesake if so, but no close relation I'm afraid) or knew the lifeguard called Alfred James, the hero of the hour back then?
Or if you just have a good story to tell about your experience in the pool, let us know and get in touch.
Coffee before your dip or after?
I try a few places for coffee in Maryborough: Storm Cafe is down by the Post Office in town and Daily Dose in the High Street is good (though it depends a bit which barista is on duty). Some Maryborough locals like the cafe inside the Bull & Mouth Hotel in the High Street, though I've only had tea there so far.