In its early 1880s years, the Lagoon Pier in Port Melbourne was witness to a series of tragic drownings. These days it plays host to fishing & strolling, with the occasional acrobatic dive off the end
---
My experience on the pier
The Lagoon Pier sits on the Bay more or less where Port Melbourne becomes South Melbourne. It's a quirky little pier, much narrower than others round Hobson's Bay, with an interesting curve to it, which means you get a different perspective on everything around you as you walk further along.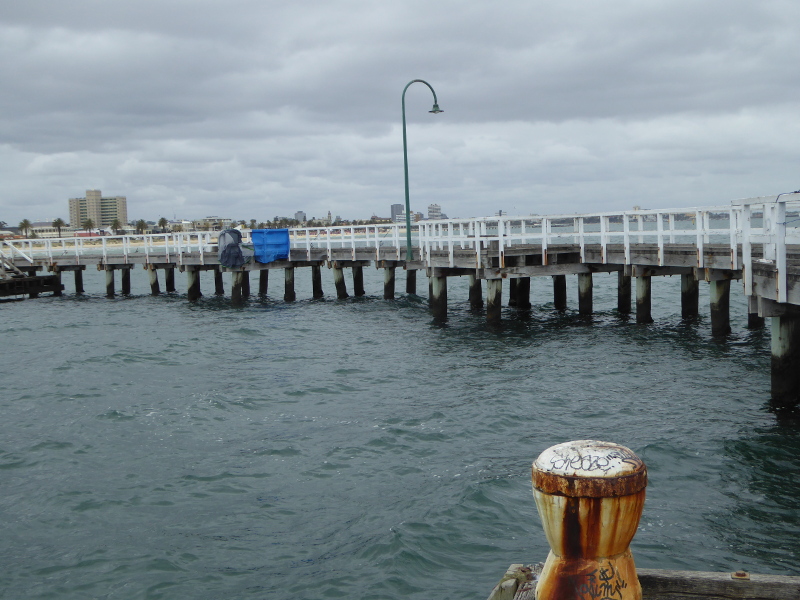 And when we got here on a cloudy spring morning, with not many others around, we actually had no idea why it was called Lagoon Pier, since there is no sign of a lagoon anywhere near.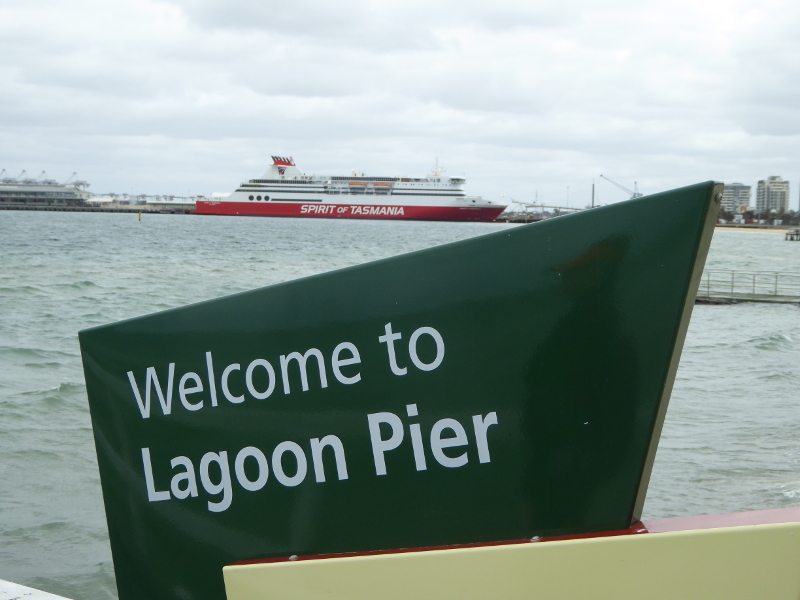 I haven't seen any old maps yet which show where the lagoon used to be, but apparently it got silted up in the years leading up to the Second World War, so I'm guessing that some of the scrubby, sandy foreshore that lies here now used to be the lagoon, and this pier used to be a jetty forming a kind of harbour leading into it.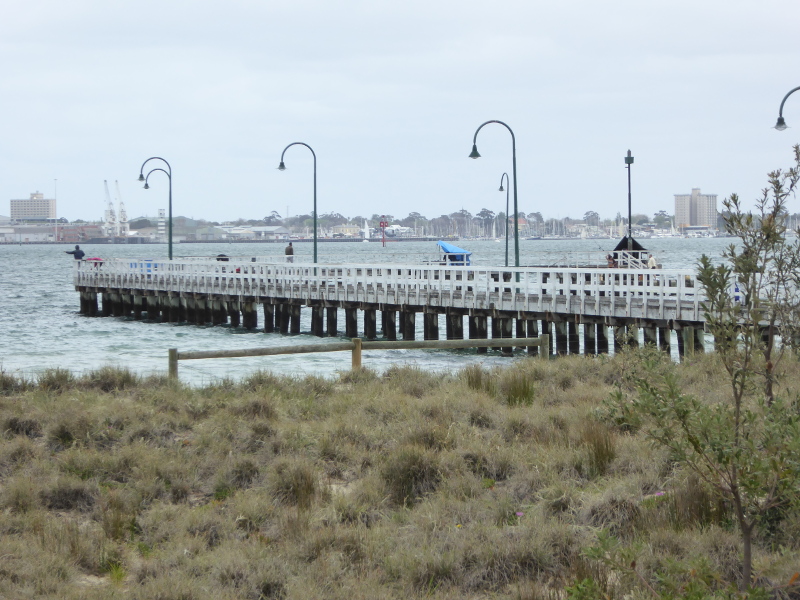 This pier has character, though. The boardwalk may be narrow (about 2m wide) but it has lovely gnarled planks, giving it a real vintage pier feel.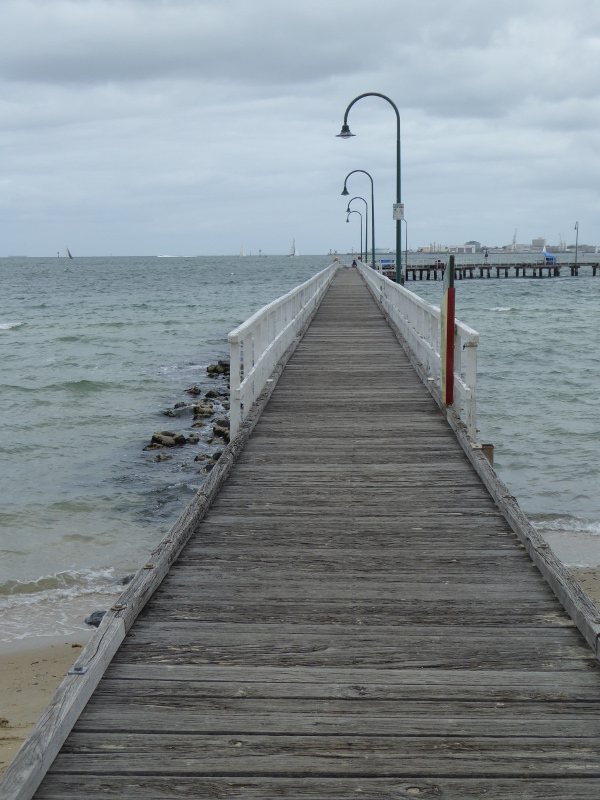 If you measure from the edge of the beach to the very end of that curve, Lagoon Pier is actually quite long, at about 300m.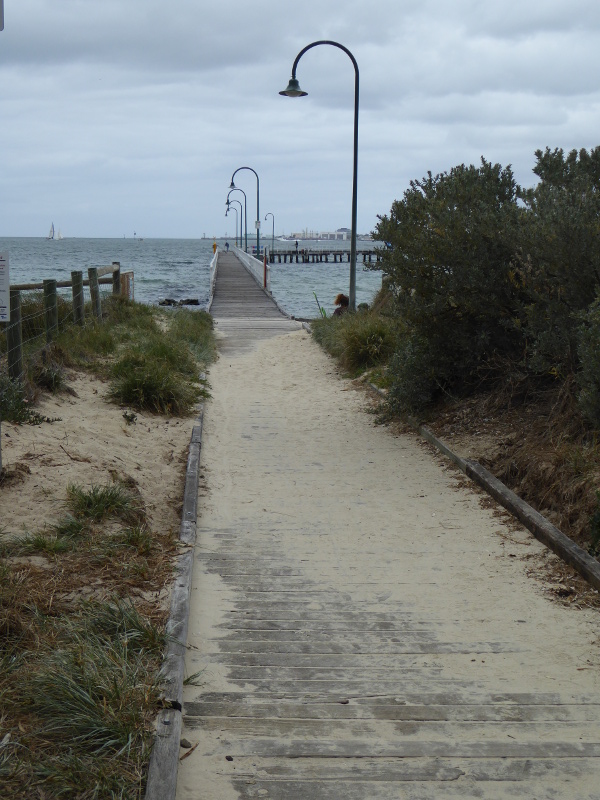 There are six benches placed on either side of the walkway in little extensions which make the pier a tad wider in those spots.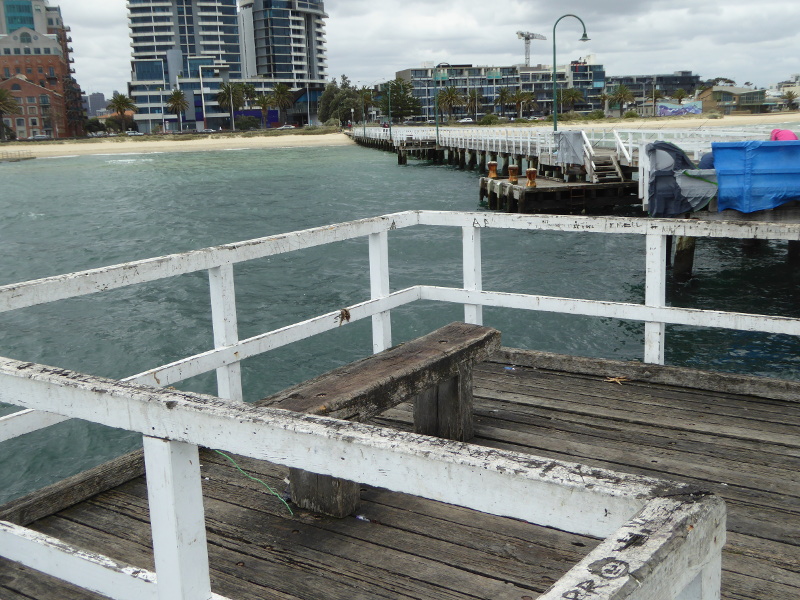 As the pier wound its way to the right on that curve, there was a row of fishing rods lined up looking for a catch, but nobody nearby to lay claim if a fish did bite.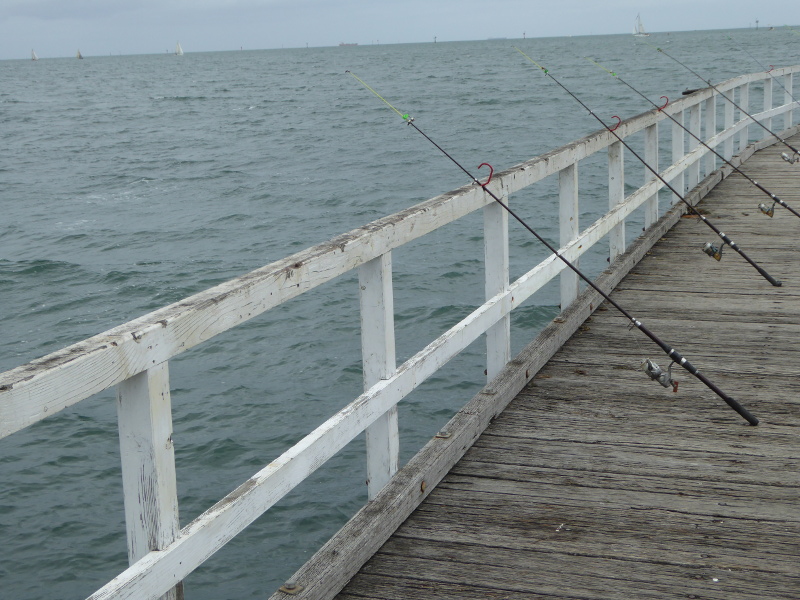 The rusting mooring irons showed that boats have – and probably still do – tie up here alongside Lagoon Pier.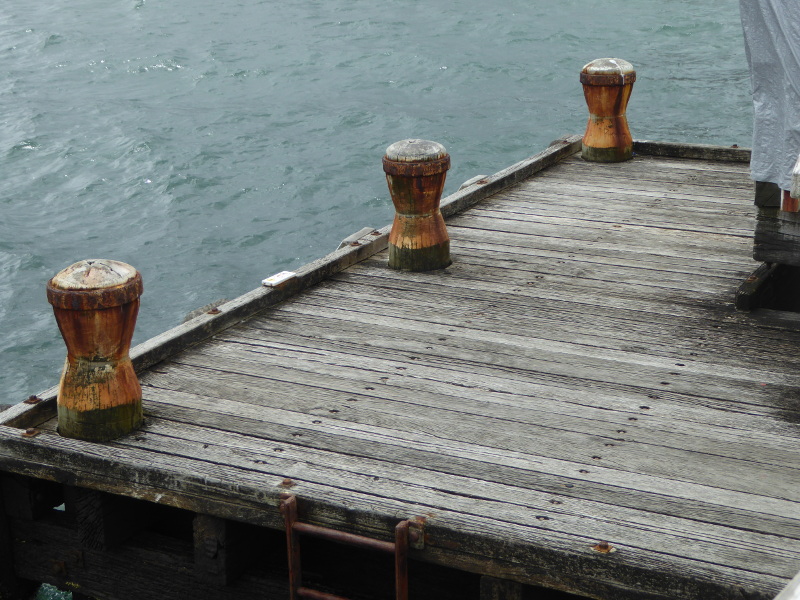 But the only boats visible on the day we were there were the yachts out on the bay, enjoying the stiff breeze, which forced me to hold onto my hat as I made my way along.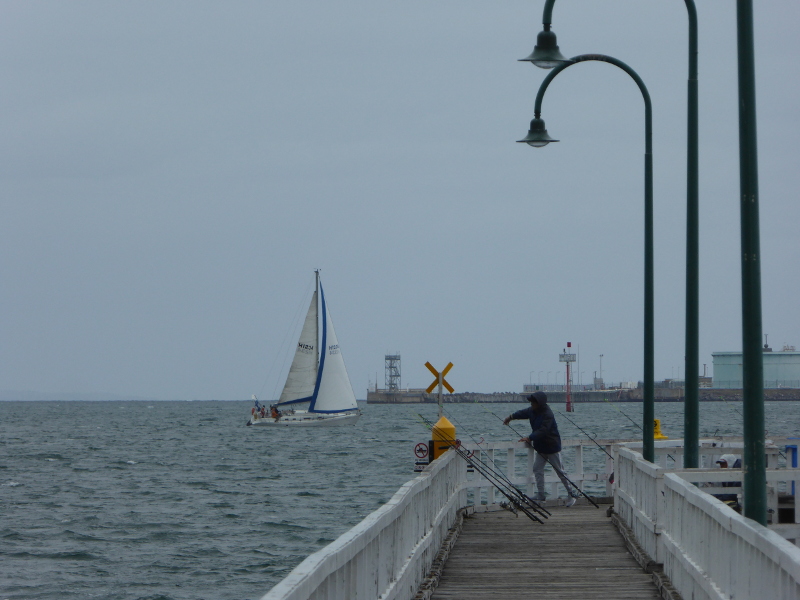 The Spirit of Tasmania was suddenly quite close at hand, so we really are now into Port Melbourne.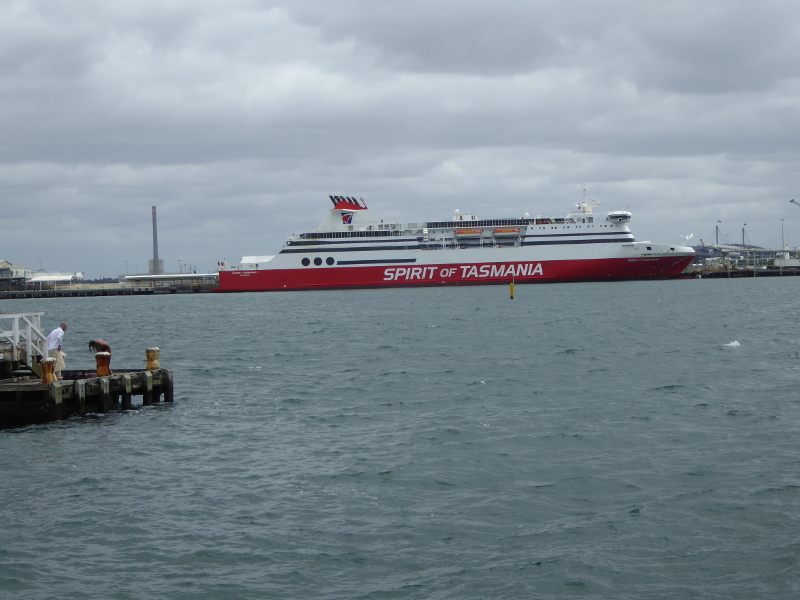 And I was struck by the different languages on the toilet block a short walk away from the pier – English, obviously, Italian for sure, and is that Greek for Gents??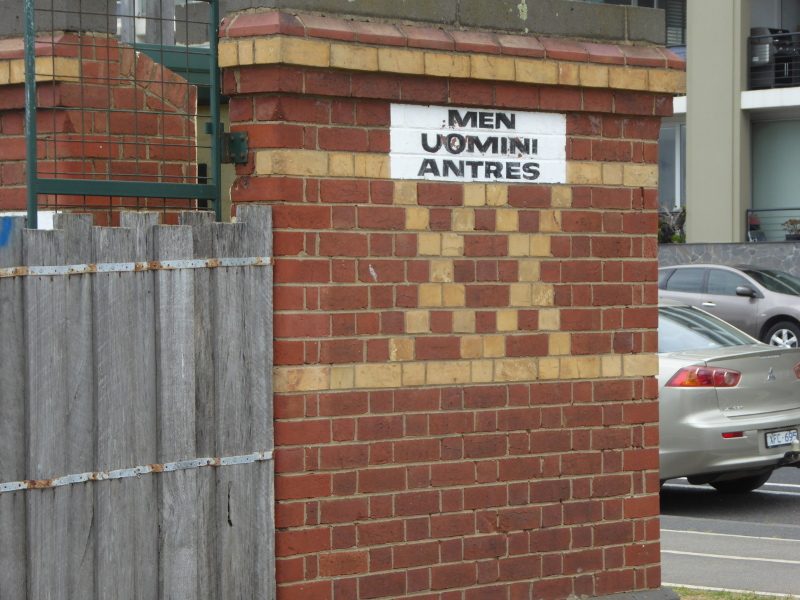 Back on land some of the old warehouses have been converted to apartments; other old buildings have just been removed, with characterless modern blocks put up in their place, giving some parts of the shoreline a bit of a Florida or Gold Coast feel (apart from the weather).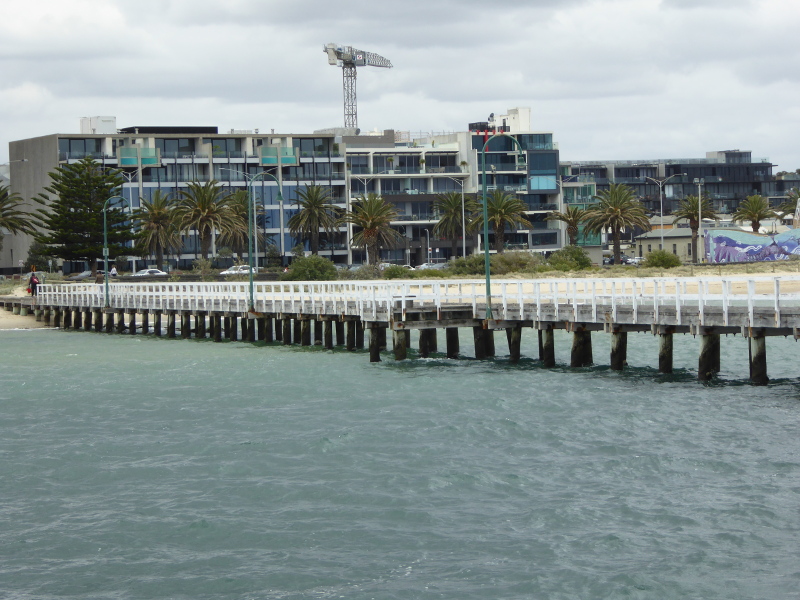 Right at the end of the pier was a couple in bathing costumes (good job they didn't try that 100 years ago, as my history section shows…), the young woman doing some spectacular diving somersaults into the water off the pier.
This felt more like an intimate moment between two lovers of the sea than an exhibition for the wider world, so I made a point of not photographing her in action, but it was nice to see the pier still being used for something like that, as it has for so many decades now.
I'm just glad nobody seems to fly kites anymore, given the disasters that happened involving boys and kites on the Lagoon Pier in the 1880s, but more on that below…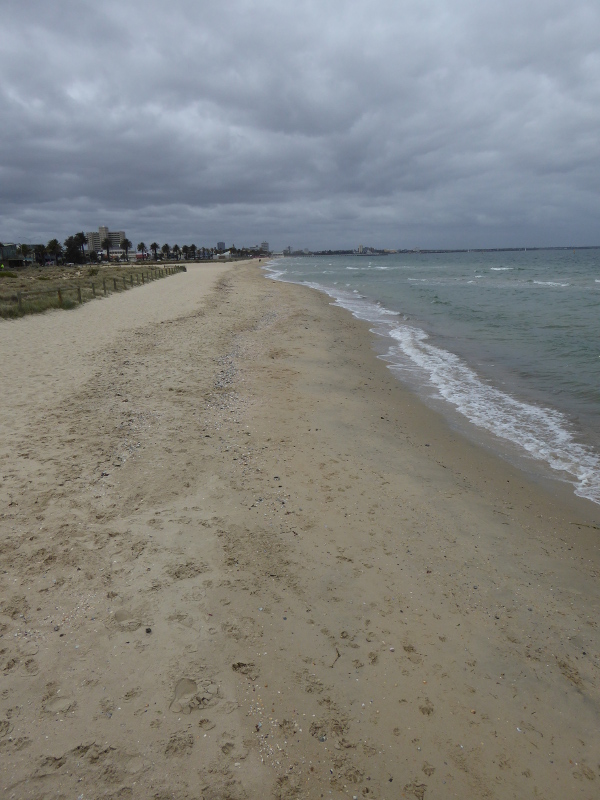 We walked along the sea front from the pier to catch our tram from Port Melbourne back to Southern Cross Station, and finished off another pleasurable visit to one of the older piers of Victoria.
Practicalities
Benches along the pier but no shelter if it rains
Toilets along the front heading towards Station Pier, but also back at Kerferd Road Pier.
History and stories about Lagoon Pier
It's hard to know when the Lagoon Pier was built. The first mention on Trove dates from 1885, so it was certainly here before its neighbour on Kerferd Road at Albert Park.
There's also no sign of a lagoon, which was apparently filled in by 1929, although I did also find a brief item calling for more measures to stop silting up of the lagoon in 1946, so I guess the lagoon did still survive even beyond the Second World War.
I did find some reference to how much it would cost to build two jetties to form a safe harbour leading into the lagoon, and those discussions were taking place in 1882, so it looks as if Lagoon Pier might well also be an 1880s structure, even if there was some sort of Eastern Jetty on the site a bit earlier.
The curve in Lagoon Pier was apparently put in to slow down the silting process.
By 1885 there were press clippings referring to deaths on or near the pier. The first court case concerned a poor woman charged with 'insulting behaviour'…
The 'behaviour', it seems, involved her trying to drown herself and her two young children off the pier. She apparently tore her shawl into strips and was trying to bind her children together when she was spotted and stopped. Clearly more desperate than 'insulting', it turned out that some neighbour had stupidly told her in the morning that her husband – a wool classer who had gone west in search of work – had committed suicide.
The husband returned and got her off without sentence because he promised to 'take care of her', but the case illustrates how precarious lives were back then, and shows how piers were repeatedly seen as a potential launch pad for suicide by people in dire straits.
The next incident to get press coverage involved the other frequent occurrence around piers in those early days: nude bathing. In January 1887, there had been numerous complaints of boys – and even some young men! – 'exposing themselves' by bathing near the pier with no clothes on. The local constable often struggled to catch any of them because they would swim or run off too quickly for him. But in this instance the poor boy dropped his boots into the water by mistake and the copper caught him. He was fined a shilling and given a lecture by the bench.
A tragic accident happened in the bay in December 1888, when a small boat with half a dozen people on board capsized. A rescue boat brought three people to the Lagoon Pier, but as nobody in the crowd on the pier watching actually responded to requests to find a doctor, by the time medical aid had arrived, the three people had all died. Only the pilot of the boat survived and while it was said to have been his fault, the poor guy must have lived on with terrible guilt feelings as he lost his wife and his daughter in the accident.
Bathing costumes were still controversial in 1922, though, when the local Council had a heated debate on swimming near the pier. Among the views voiced by councillors at the time: " Bathers in swimming costumes should not be allowed to walk on the pier," "The pier is no place for sun-basking," and "The pier should be reserved to residents who came in their ordinary attire to obtain a breath of fresh air."
Days later, there was further tragedy, when a 7-year-old boy flying his kite on the pier, walked backwards straight off the pier. He too drowned. And two years after that, in 1890, another boy almost drowned when he too fell off the pier while flying his kite!
The following years saw a steady stream of deaths off or near the pier making the news, though as with other piers, suicides seemed to become less frequent as the years went by.
One death in 1932 saw a well-dressed man with a bullet hole in his head, suggesting some sort of gangland killing might have been involved; and the weather made the news on a few extreme occasions, including the famous storm of 1934, which destroyed many of the sea baths around the Bay here, and certainly took away many of the boards on the Lagoon Pier and even twisted the piles, according to some reports.
The last story on Trove also concerned the weather. This was in 1951, when a man who had been sleeping under a boat on the pier, lost his life when a gale-force gust blew the boat off its support and he was crushed under its weight.
Other links and writings on Lagoon Pier
Not many bloggers seem to have written about the Lagoon Pier. This post from Ninon Melatyugra in 2013 was all I could find.
This site on Port Phillip Bay history suggests the lagoon was silted up by 1929.
This Melbourne photography site has a great snap of people fishing off Lagoon Pier in better weather than we had. And people by their rods, too!
This Flickr page by David Thompson has a shot of Lagoon Pier which brings out the curve in the pier beautifully.
I loved this Getty Images photo of the young folk jumping and diving off the Lagoon Pier during the January 2019 heatwave.
What are your stories and memories of Lagoon Pier?
Does anybody reading this go to Lagoon Pier for a stroll or to fish, or even just to jump off in hot weather (or cold weather in the case of the young couple we watched…)?
Can anyone remember the lagoon itself being there? And can you let us know when it really did fill up and cease to be a lagoon?
Comment below if you have anything to add, especially with stories of your own favourite experiences on Lagoon Pier.
Coffee or tea near the pier?
If you know of somewhere do let us know. The nearest good coffee I'm aware of would be in South Melbourne Market.