Apart from some magnificent old trees, the only remaining vintage features in the Koroit Botanic Gardens seemed to be the lamps that line the paths and a small stretch of picket fencing.
---
My experience at the gardens
The vintage lamps that line the footpaths through Koroit Botanic Gardens are what stood out for me as a particularly striking feature of these gardens. Some botanic gardens in Victoria have the odd lamp from earlier decades, but Koroit seems to have kept most if not all of this vintage.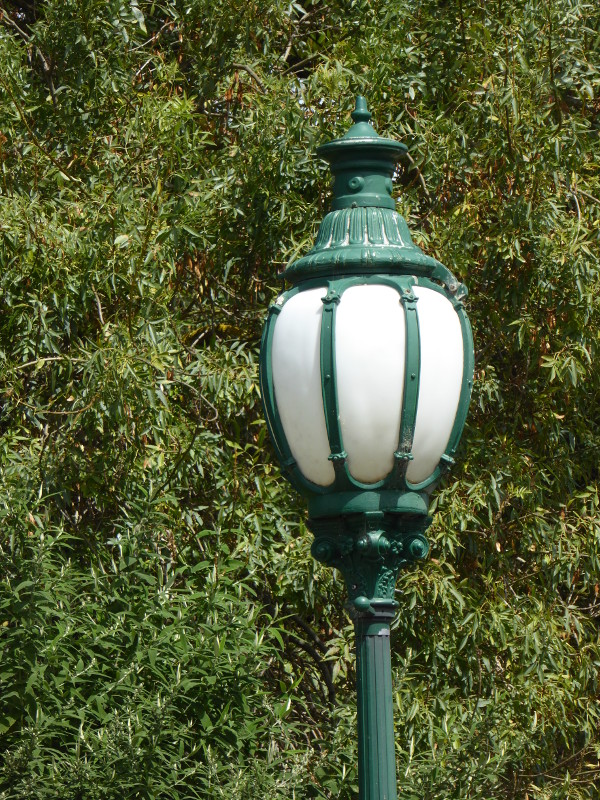 One of the old articles I found on these gardens via the Trove database described Koroit's gardens as a pleasant place for a half-hour to be spent. That's more or less the time we spent there in 2021, as we dropped by on our way to the coast for a holiday weekend.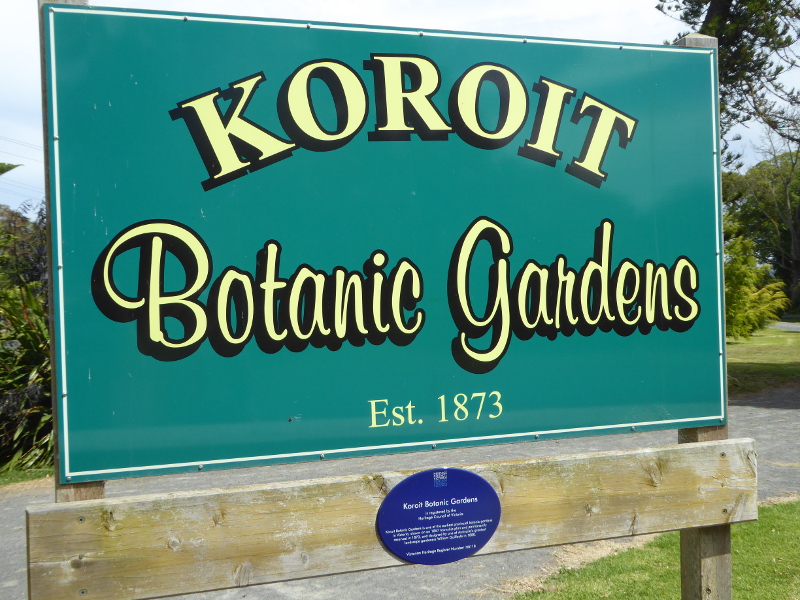 Now, that holiday weekend meant that the local camping sites were really busy, and clearly on weekends like that, campers are allowed to spread out onto the botanic gardens lawns to pitch their tents and caravans, so we found ourselves picking a path through the campers for part of our walk. It was still a very pleasant half-hour.
I think the Koroit Botanical Gardens are relatively small, though it's hard to tell how much space was lost to those campers this weekend. There are some majestic trees, as usual in these 19th century gardens in Victoria.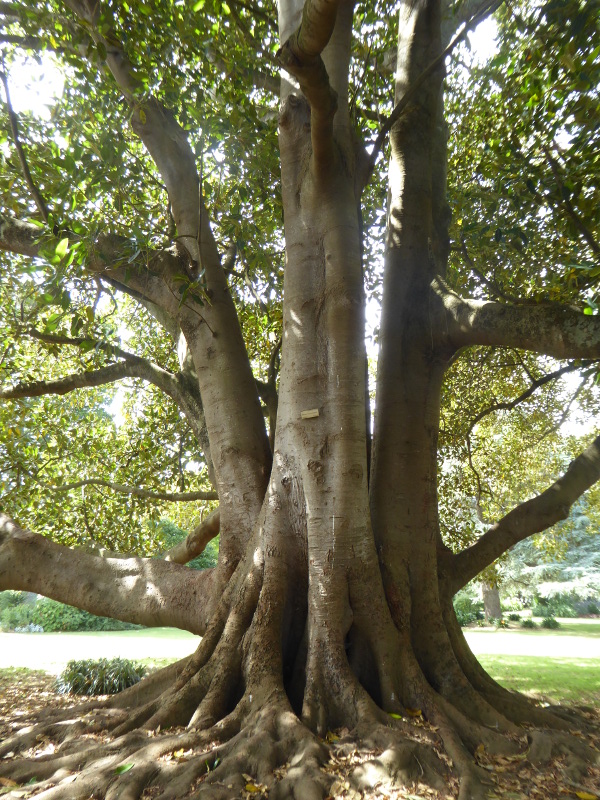 And in Koroit, there was this rather special Dragon's Blood Tree, though I'm not quite sure how it got its name…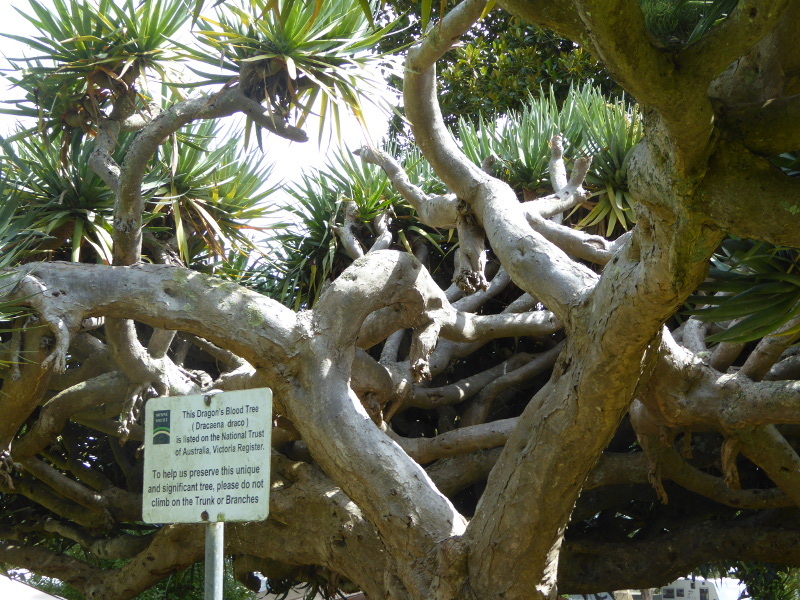 There were traditional native eucalypts.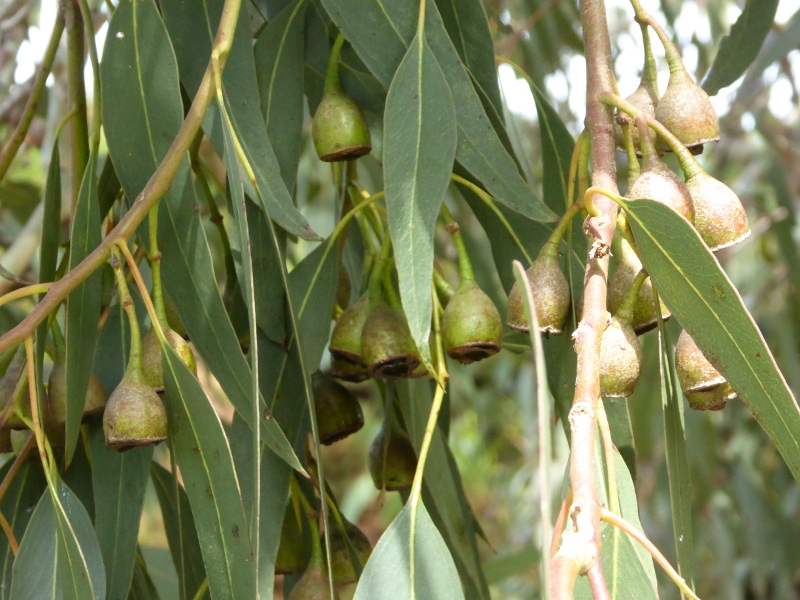 And the striking seed pods on this plant, whose name I also don't recall.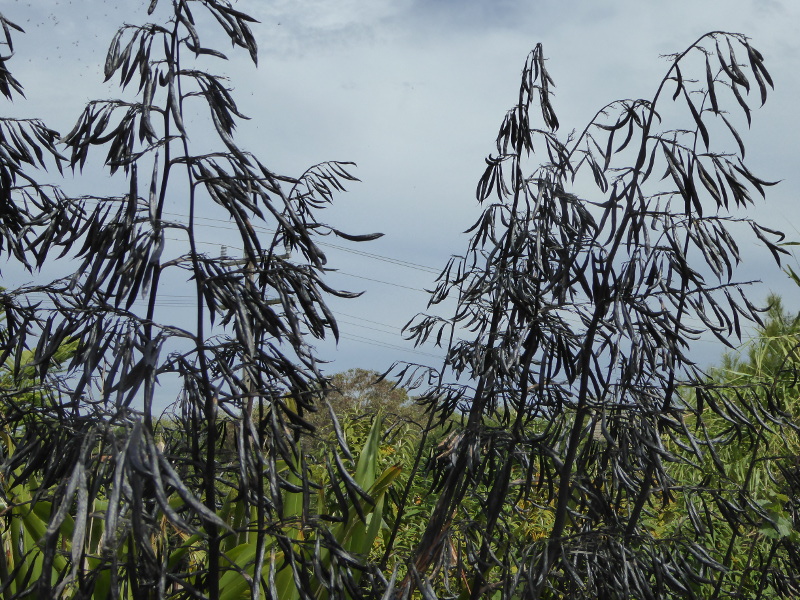 The sundial still tells the time on fine days like this, though the inscription on the top was too faded to read and I am none the wiser on how or when it made its way to Koroit, as there's no signage next to it.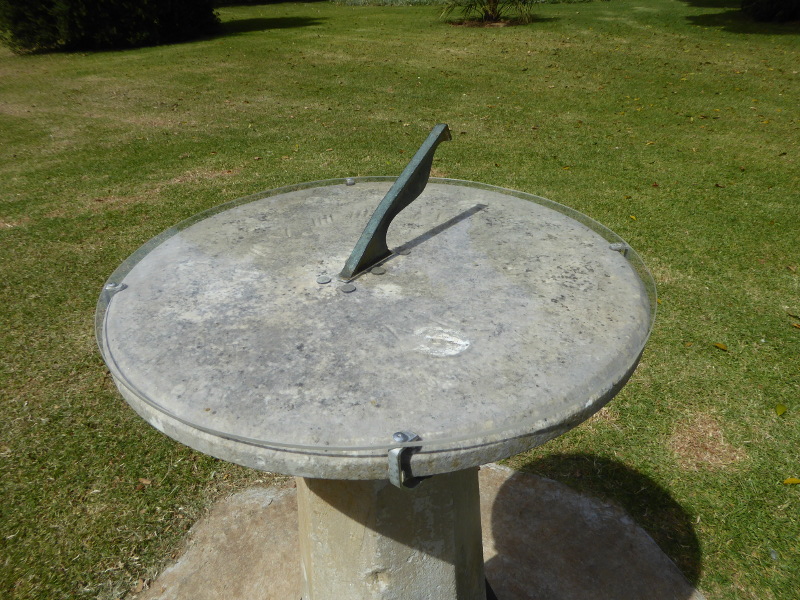 The picket fence gates into the gardens are pleasantly vintage, without the ostentation of some botanic gardens in Victoria with their complex ironwork.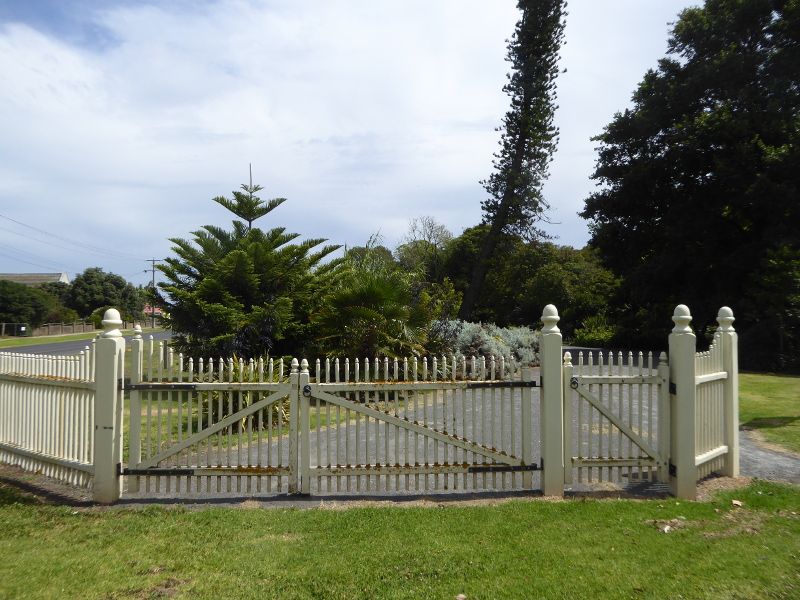 Some old entry points are so simple that they are just fence poles like these, with again no indication of vintage or period.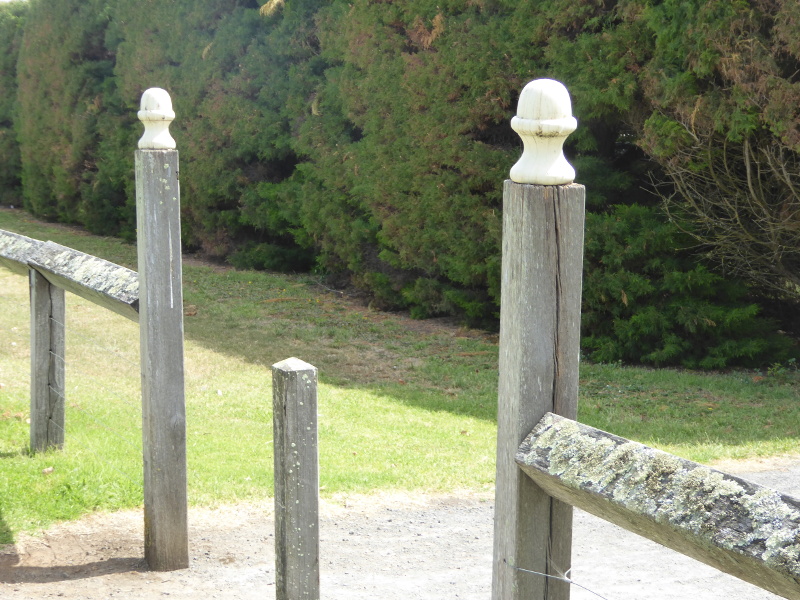 This rather magnificent hedge borders two sides of Koroit Botanic Gardens.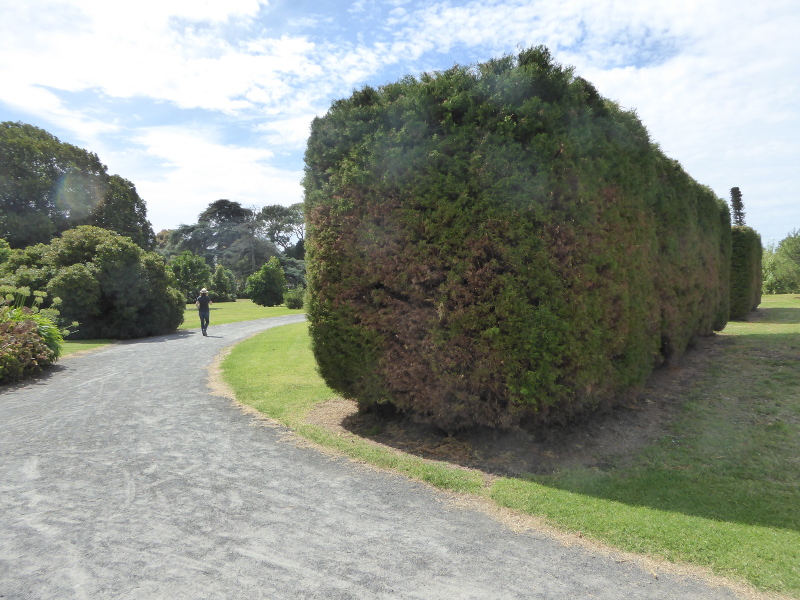 You can even walk through a doorway cut into the hedge at one point, and through the other side we found one of summer's delights: local cricketers in their whites playing a gentle game on the pitch next to the gardens.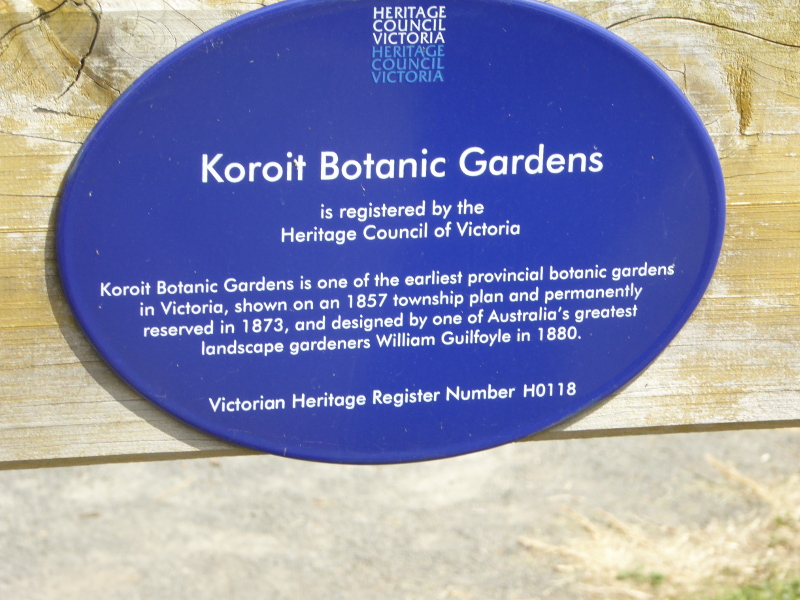 And the other vintage object just on the perimeter of the gardens is this trough. I'd also like to know its history; where it spent its working life; and when it came to sit on the road next to the botanic gardens? But again, no signage (but see the comment below on the troughs donated by the Bills family)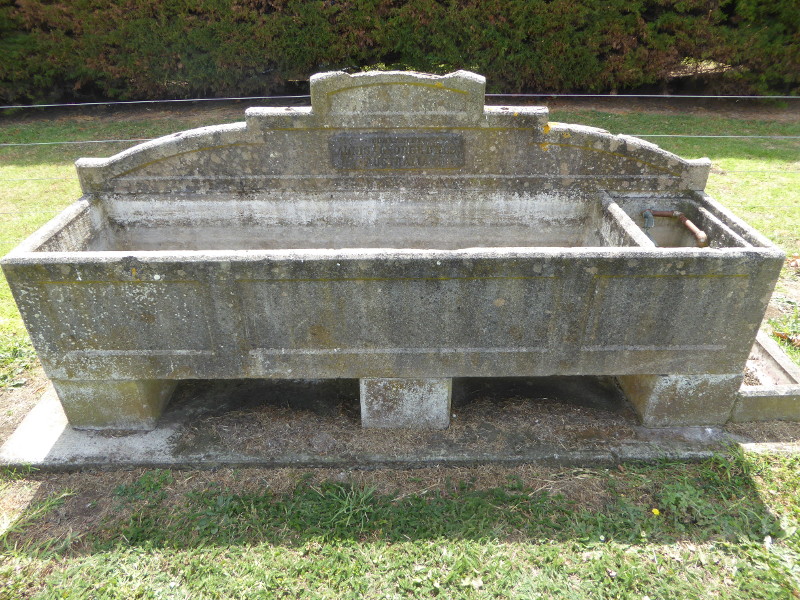 Koroit is a sleepy little town, which doesn't even get a mention on the paper road map we have of Victoria. Once a year, though, it livens up to Irish music and culture with its Irish Festival, marking a tradition of its local community's roots going back over 150 years (in fact the great uncle of my former boss in London came here from Ireland, though his is a whole other story, to be told elsewhere maybe one day…).
For a pleasant leg stretch before driving on to Port Fairy, Koroit Botanic Gardens were perfect. I'd like to come back on a weekday, though, or at least not when half the ground is covered in campers, so I can get a feel for the atmosphere of the place for most of the year.
Practicalities
Since Koroit Botanic Gardens don't appear to have any gates that could be shut and locked, I don't think there are any opening or closing times as such.
The only toilets we found were plastic portaloos provided for campers on the holiday weekend we visited, so I can't say if these are there permanently, as the camp ground merged with the gardens over the holiday.
History and stories
According to one report I read from a 1915 newspaper article, the land on which Koroit Botanic Gardens were built used to be a sacred site for local Aboriginals, where – to use the language of the time – a 'corroboree' used to be held regularly. I wonder what local elders have to say about that now?
Opened in 1866 according to the database of Australian botanic gardens, though the information at the gardens themselves speaks of 1873 as the first year, which seems more likely, as a press report some years later claimed that no public funds were used on them till 1875.
The Horsham Times in 1895 declared that 'a pleasant half hour can be spent by visiting the Koroit Botanical Gardens'.
Koroit Botanic Gardens didn't often make the news, if Trove's press database is to be believed.
There was a fund-raising fete held in 1914 to raise money for an 'up-to-date ambulance for Koroit' – I wonder if they raised enough? Reports after the event suggested more money was raised than targeted but that an unexpected pyrotechnic display was put on when the electric lighting failed due to naked wires touching, causing outages but sparks to fly across the Gardens.
Also in early 1914, the Koroit Council was told of the 'depredations of thoughtless youths and young boys' in pulling up plants from the Gardens and generally making a nuisance of themselves.
Some animals were briefly kept in the Gardens. A kangaroo was an early resident, a pair of gulls later being released there, and in 1914, shortly after the outbreak of war, an emu was permitted to reside in the Gardens. This was housed with the kangaroos as a draw for visitors.
A 1916 article referred to a caretaker's cottage, though I saw no sign of this in 2021 unless some of the campers were hiding it somehow. An 1877 advert for a curator (90 pounds a year salary) did include housing accommodation, so there had indeed been somewhere for the head gardener to live from the very earliest years.
That 1916 article also spoke of a Lebanese cedar tree being the star attraction in the gardens (sadly I read that piece after our visit so didn't get a chance to look for it – does anybody know if it still lives?).
There were very few stories about incidents happening around the Koroit Botanical Gardens, apart from the usual fund-raising fetes. But in the 1930s, Trove's final stories available, gave a bit of a social angle on the gardens…
In 1934 a boy out in the Gardens doing what the papers called 'bird-nesting' (raiding nests for eggs, maybe?) discovered hidden away in the trunk of a tree a bag full of stolen goods: leather driving gloves, a hypodermic syringe and needles – strange booty indeed.
In 1937 vandals pulled up a set of plants from beds in the Gardens, a strangely common occurrence around Victoria's botanic gardens judging by this Vintage Victoria tour – I wonder why this was such a popular 'larrikin' thing to do in those days, repeating similar acts done in 1914. Does that ever still happen today?
What are your experiences at Koroit Botanic Gardens?
Does anybody know if the Lebanese cedar tree is still alive in the Gardens?
Can anyone tell me when the sundial in the Koroit Botanic Gardens dates from?
Has anyone got any stories about things that happened in or around Koroit Botanic Gardens to bring my history section beyond my last story from the Trove database (1937)?
Or does anyone just have a good memory about a visit to Koroit Botanical Gardens that they'd like to share here, even from the last few months or years?
Other links and writings on the Koroit Botanical Gardens
I didn't find many other posts written about Koroit Botanic Gardens. The Port Fairy U3A organised a guided walk through the gardens in September 2020, but that is a pdf document, the link for which doesn't work too well, so you can search for that via Google, maybe.
The ABC published an article in 2012 on the plan for Koroit Botanic Gardens drawn up by William Guilfoyle.
And Koroit's own town website has a section on the Botanic Gardens. Includes an excellent audio interview with the then Secretary of the local Business & Tourism Association. He knows his stuff, with facts including that the site of the current caravan park is in fact where Guilfoyle once foresaw an ornamental lake being built – let's hope they get around to building it some day…