The original Grantville Jetty was built in the 1870s, when it was used for transporting timber from local saw mills. Surely a different pier from the rickety boardwalk that still stands today?
---
My experience on the pier
I'm not sure Grantville Jetty officially exists anymore. There's no signage for it when you get there, and it doesn't even appear on Google maps these days.
But I found it on my way home from another Vintage Victoria trip and got intrigued by seeing the sign for 'Pier Road', just deciding to take a look in case.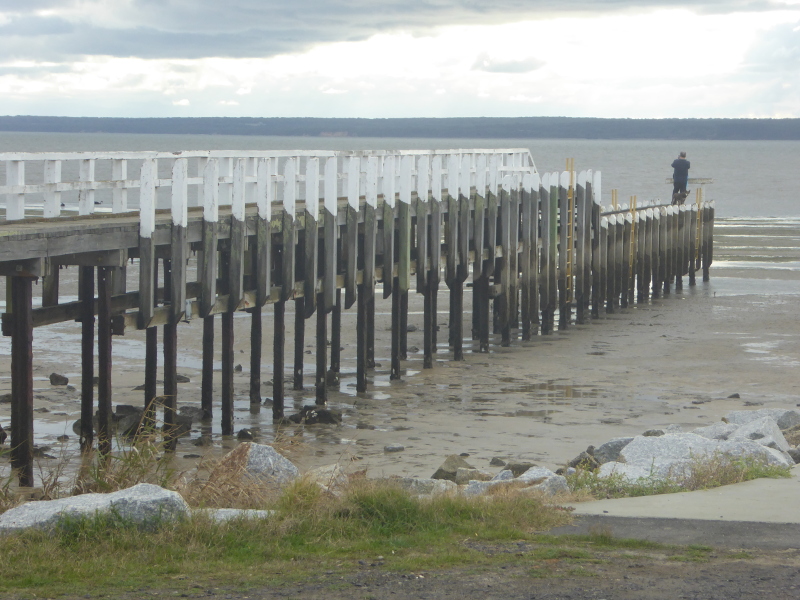 Well, I was glad I did. Grantville Jetty might be a rickety old thing, with a few loose boards as you walk the 125m or so out into the bay, but it has more of the feel of a pier (boardwalk, water underneath, fresh air at the end) than some of the other structures I have visited on this tour of piers of Victoria.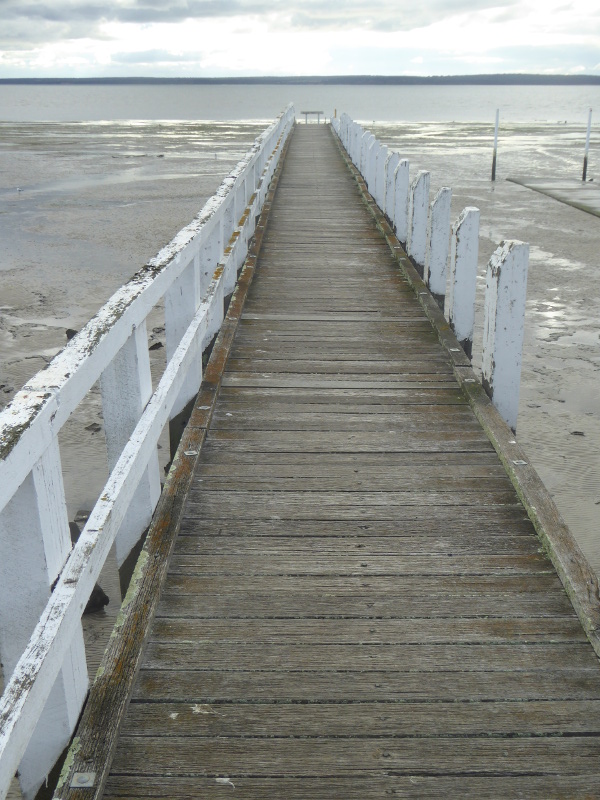 I don't think this is the original structure I read about when I got onto Trove and searched for Grantville Jetty. There's no way tram rails could ever have fitted along this narrow walkway, let alone would it take the weight of truckloads of timber. So, I do wonder when the structure still there in 2021 was built and for what purpose?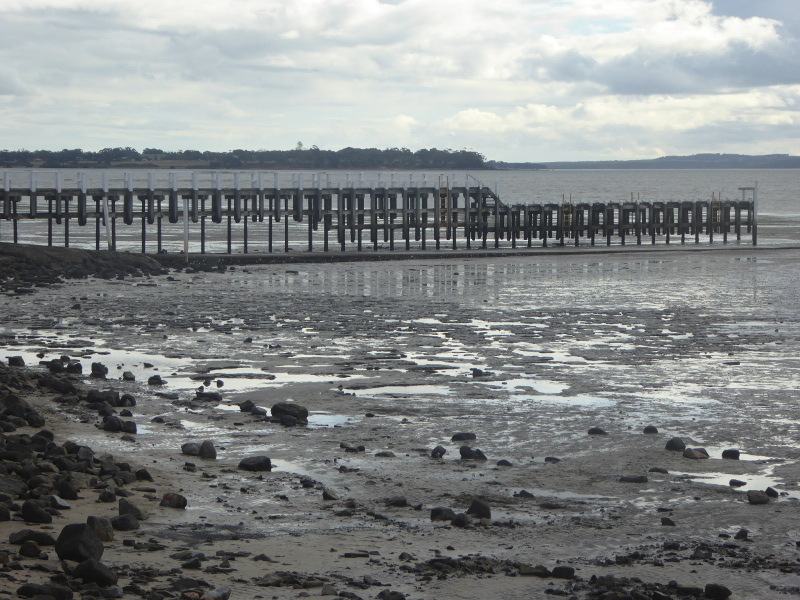 Grantville Jetty has an interesting layout. From a side view it looks much like many other piers in Victoria, reaching out to sea, high up on wooden piles, it seemed.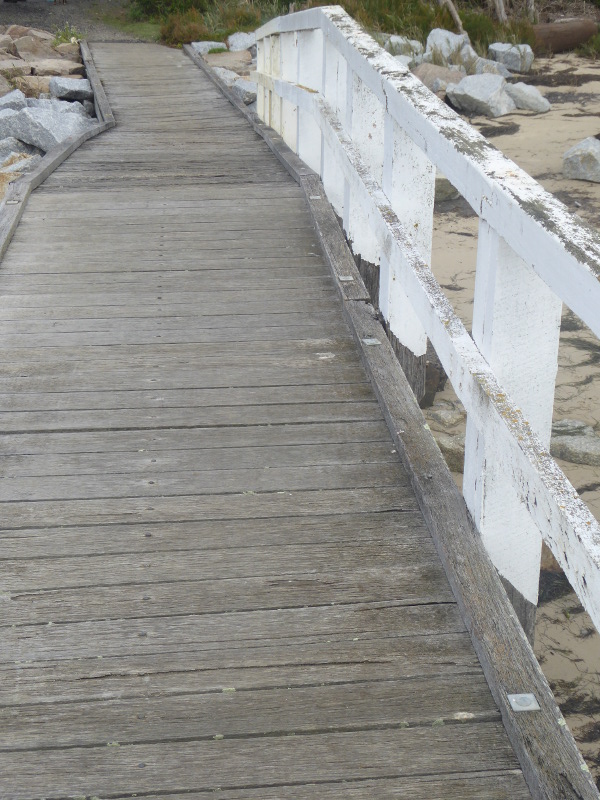 But get to the shore end of the jetty and after the first 10m or so of boardwalk, there is a gentle uphill climb – again, I wondered why?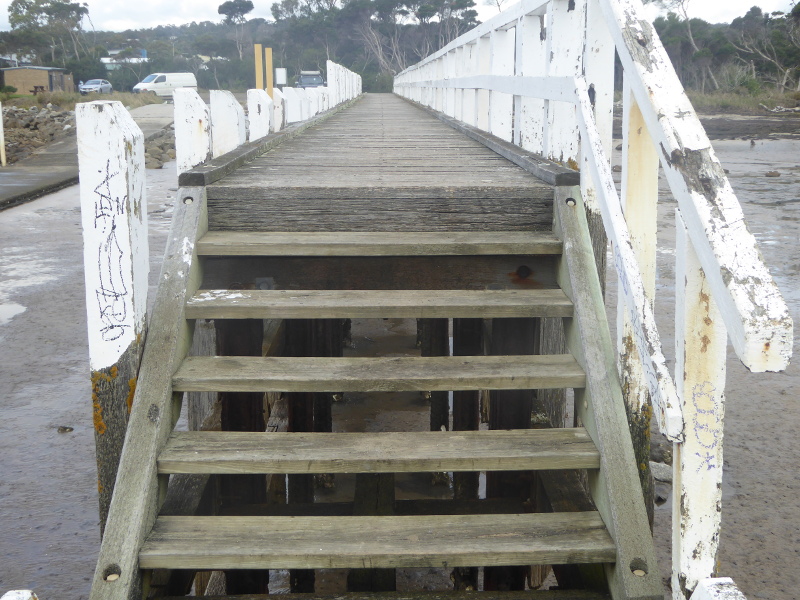 Then there are steps down to the lower level before the pier continues pretty straight for another 100m or so.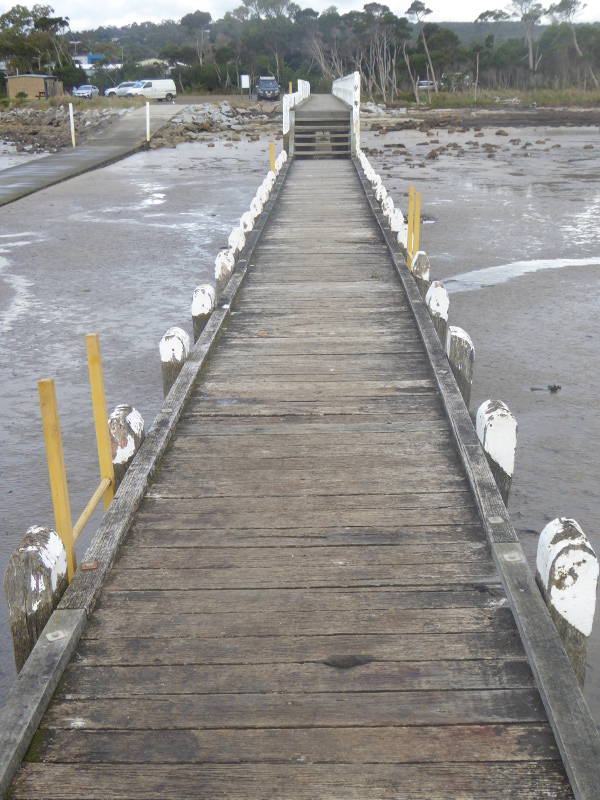 I'm guessing at high tide in a stiff breeze, Grantville Jetty might feel fairly exposed. There's not a lot of fencing to hold onto as you walk along those slightly loose planks.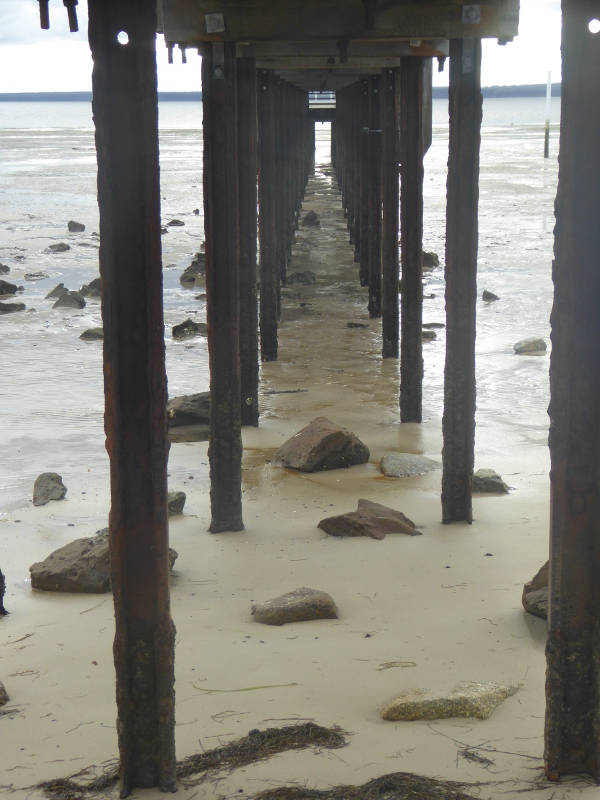 But on the day I was there, it was low tide, exposing the sand and pebbles below – in fact anybody could pretty easily paddle all the way to the sea end of the pier at low tide, so if there were once steamers pulling in here, they'd only have been able to visit with the tides.
Standing alone down at the end of Grantville Pier gave me that feeling I love when on a pier: the breeze picking up, looking out to sea, then turning and looking back along the wooden walkway.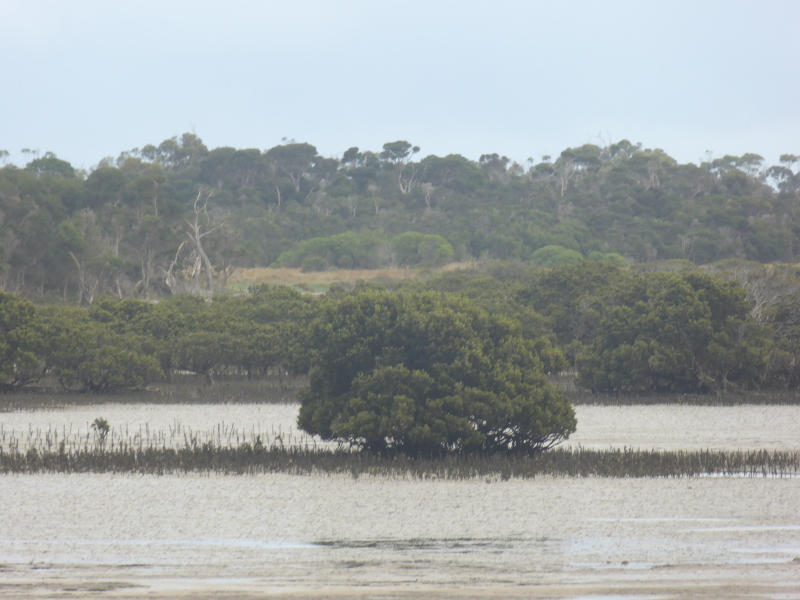 To the south are the mangrove clumps I think they are trying to develop round here. In fact, it seems the aim is to make more of Grantville these days as a wildlife reserve, and the mangroves are a big part of that – perhaps a pier with boats and fishing would hamper that, so maybe that is why there is no signage as such (and I hope the Vintage Victoria blog entry doesn't ruin those plans in any way…).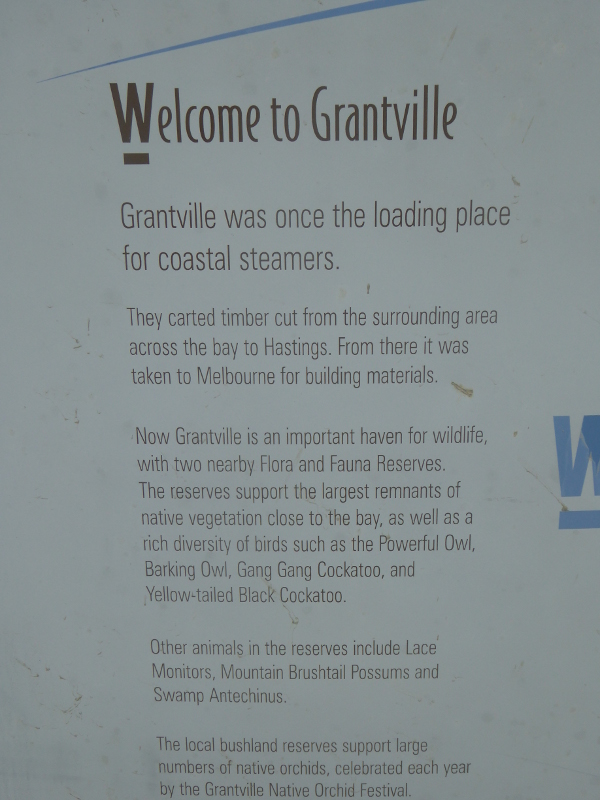 Back at the shore end, I decided to have a look under the pier, and found that those piles the current structure stand on seem to be made of iron, so no wonder they are getting a bit flimsy as they rust.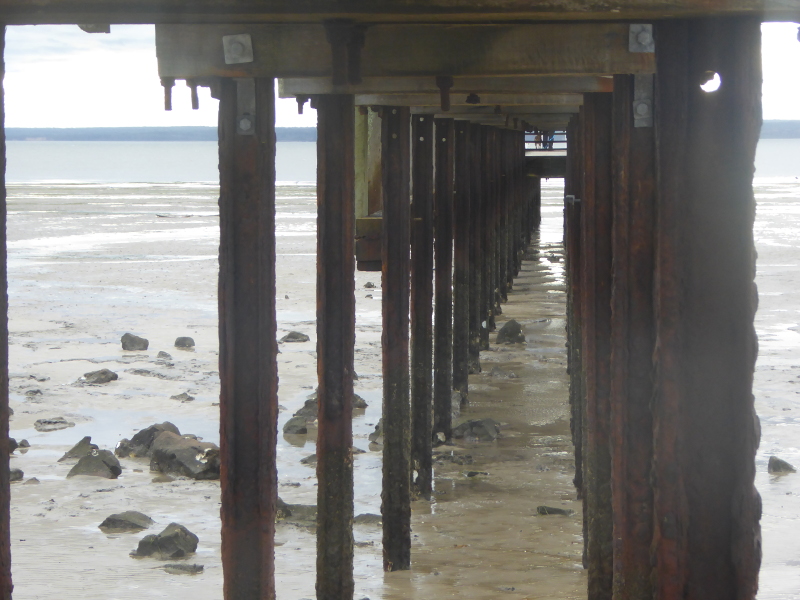 I would love to know more about this jetty and its past. It looked from my Trove research as if the old Grantville Jetty fell into disuse after the Grantville saw mills closed down, but that was before the first world war.
So, what's the story of this little jetty and when did it appear? Can anyone help?
Practicalities
Car park nearby with benches and toilets
No shelter or seats on the jetty itself – and not even any official signage to say that this is indeed a jetty at all…
History and stories about Grantville Jetty
One visitor, writing in The Age in February 1877, spoke of Grantville Jetty as being the township's 'lion' (presumably, best feature?), and alluded to the tram rails running down the pier from local saw mills.
I think this surely must have been a completely different structure from the flimsy, narrow jetty that still juts out into the bay today. And my doubts were doubled by the brief item in 1880, where a request was made for funds to build a jetty at Grantville. So had the 1877 correspondent got his jetties mixed up?
By 1887 at least seven boats a week were berthing at Grantville Jetty for delivery of goods to and from the area. There were calls for a goods shed to be built by the pier, as sometimes goods were left exposed to the weather for several days at a time. By August 1889, the Public Work Department had announced the erection of the good shed ON the Grantville Jetty, with a light added to the pier in 1890, so again, surely not the structure we see today in 2021?
The light didn't last long, though. With no explanation in the newspapers, there was simply an announcement that the light on Grantville Jetty would be discontinued in August 1892. I wonder what happened to make for this change of mind? Well, discussions clearly went on for years, because in 1904, it was suddenly decided that the jetty light should be re-established.
There was high drama – and a tragic outcome – at the Grantville Jetty in 1906. A teenage boy from a visiting family down from Melbourne was out in his dinghy near the jetty, and decided to strip off and swim for shore when half a mile from the jetty. The tide pulled him under, though, and his body was found face down in the water. Locals tried for an hour to resuscitate him on the pier, but to no avail.
The usefulness of the jetty for transport of locally-mined coal was called into question in 1909 as discussions grew on the pros and cons of rail or steam ship transport. The Grantville Jetty was only usable at high tide, it was argued, and even then for the boats used to transport coal, a jetty up to 2 miles long would be needed to reach deep enough waters.
By 1912, Grantville Jetty had fallen into disrepair and although a tender was put out for work to renovate, which may have taken place in 1913, I'm not sure the old Grantville Jetty survived much beyond that, and the final article I found on Trove – dating to 1938 – referred to a past memory of the 'old Grantville jetty.' It looks as if the closure of the local sawmills meant there was little need for a jetty open to sea-worthy vessels after that.
So, I wonder when the current structure was actually built…
Other links and writings on Grantville Jetty
Photographer Jim Worrall took some stunning shots of sunset at Grantville Jetty.
The Grantville History website mentions a 300ft long jetty being built in 1875.
What are your stories and memories of Grantville Jetty?
Does anyone know where the original Grantville Jetty was in relation to the current structure – the one that had tram tracks, light at the end, and a shed at one point?
Does anybody know when the existing Grantville Jetty was built, or why it has such an unusual shape, sloping up, curving left and then steps down to a lower level?
Or just get in touch with a comment on your own experiences down at Grantville Jetty, or in the waters around it.