Built in 1924 for the ferry 'Rosny', Ferguson Street Pier in Williamstown is today the place to be if you are a boat lover, with sailing and yacht clubs all around
---
My experience on the pier
Ferguson Street Pier in Williamstown might have been built for the ferries that made their way across to Melbourne's main port, but these days it's surrounded by pleasure boats in all shapes and sizes.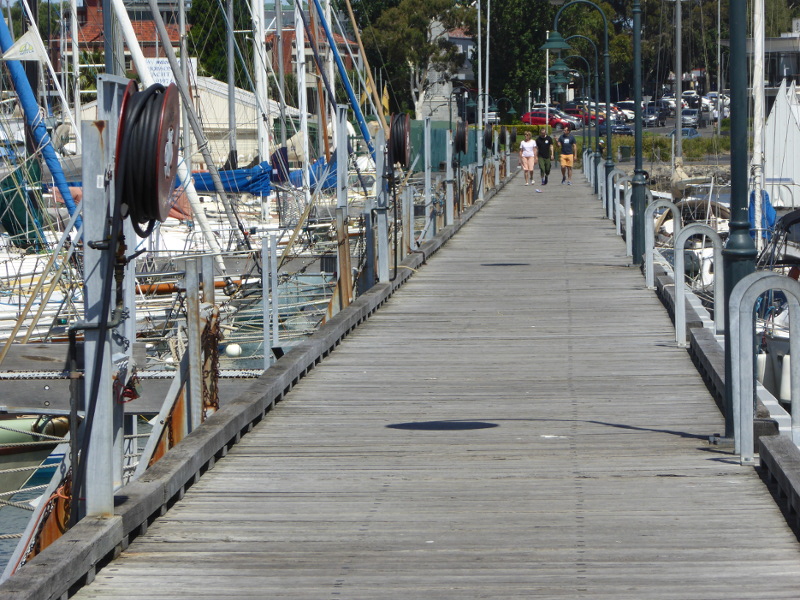 If you like looking at boats, this is the pier for you, with one neighbour of the pier being the Hobson's bay yacht club, formed in 1888, and another the 1904 motor yacht club. Then just 100m or so away is the much quieter and quainter Williamstown sailing club, which looks older but – their website reveals – is actually a breakaway club formed later, in 1910.
By the way, if you want really old, go past Blunt Boatbuilders, back towards the centre of town – they started business in 1858!
So, back to Ferguson Street Pier.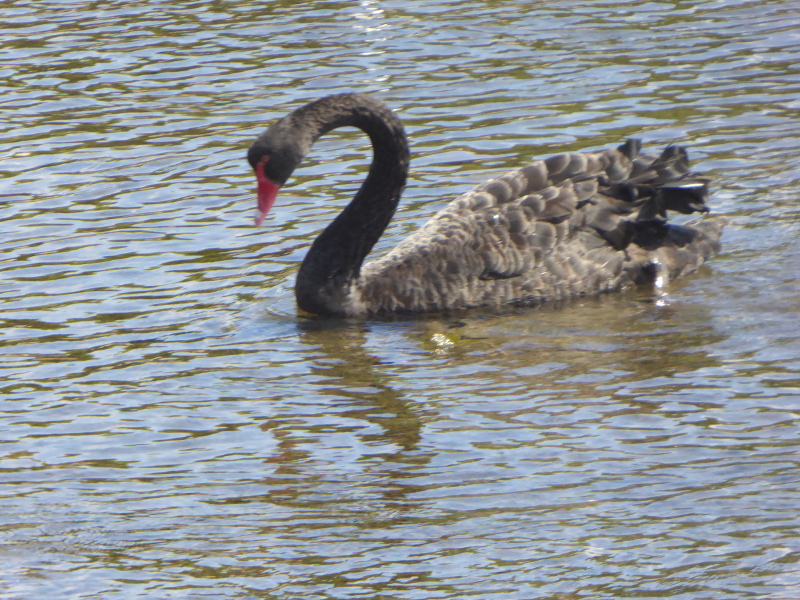 The black swans swimming by the shore end of the pier caught our eye first. Such beautiful creatures, though we couldn't help thinking their tagging was a bit tight and almost seemed to be strangling one of them.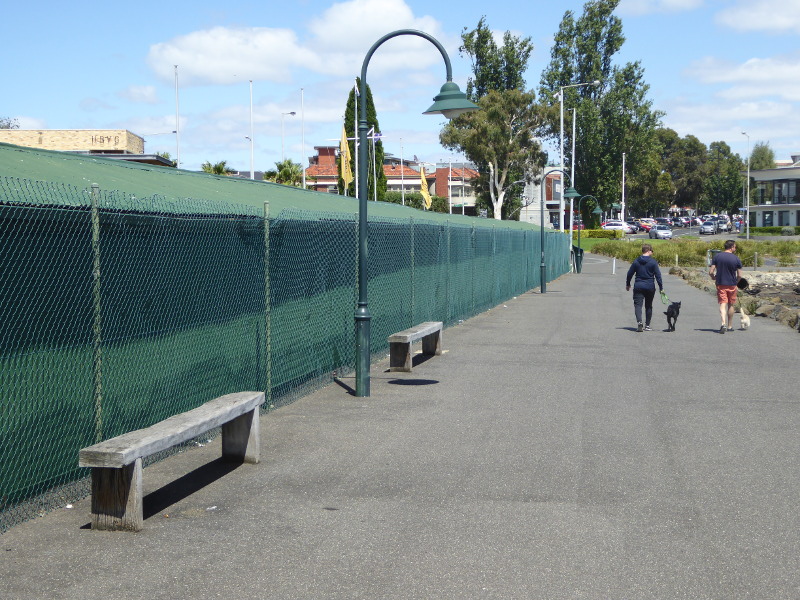 The first 100m or so of the pier is tarmac, so lacking that vintage feel of the boardwalk, which comes later. There are two benches on the tarmac stretch, looking back towards Melbourne CBD or the Westgate Bridge in the distance. But they were in full sunlight the morning we were in Williamstown so far too exposed to sit and take in the views.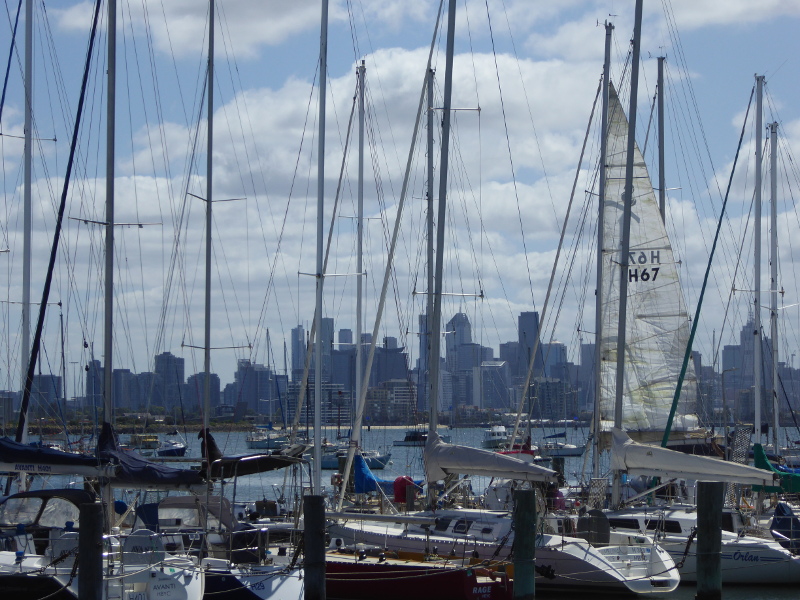 The pier must be at least 300-400m long, with attractive lampposts every 20m or so, forming a line of tall curved necks, maybe matching those black swans we saw earlier?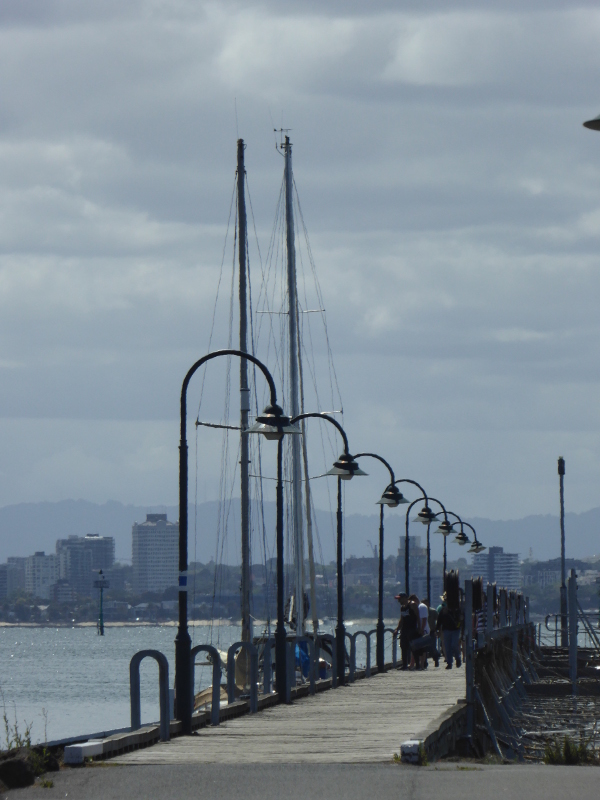 It was a really peaceful Sunday morning for our visit to this pier. The only sounds were the lapping of water and the tinkling of yacht rigging in the breeze, plus the occasional hammering as blokes messed around with their boats (we didn't see any women, funnily enough).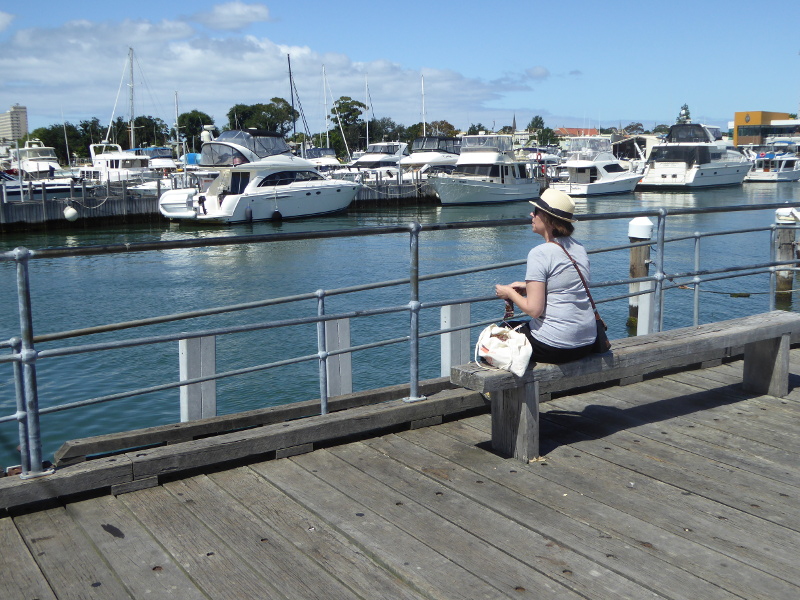 And down at the end of the pier, where there are more benches to sit on, the breeze freshened up and we could look out towards the massive tanker berthed some 500m away in Williamstown and the 'ancient' clipper, which seemed to be doing tourist trips in the bay, and rather cheated by using its engine to chug past (even though the breeze seemed beautifully fresh and was a great opportunity to set sail, literally).
There was a nice mix of people on Ferguson Street Pier that morning, too.
People normally do their fishing off the end of a pier but on this one the anglers were dropping their line about a quarter of the way along, and nobody was fishing off the end platform.
There were couples strolling, a Chinese couple with toddlers holding on tight. There is still just a 10cm high ledge to stop people slipping into the water so you'd easily fall in if kids got a bit boisterous and pushed each other around.
We overheard one Mum say to her son: "I'm not jumping in to save you if you fall in", though I fancy she might if he did…
And last but not least, right down the end of the pier was a wheelchair user, with carer, out enjoying the views and the fresh breeze. How nice that something as vintage as this can have such good disabled access.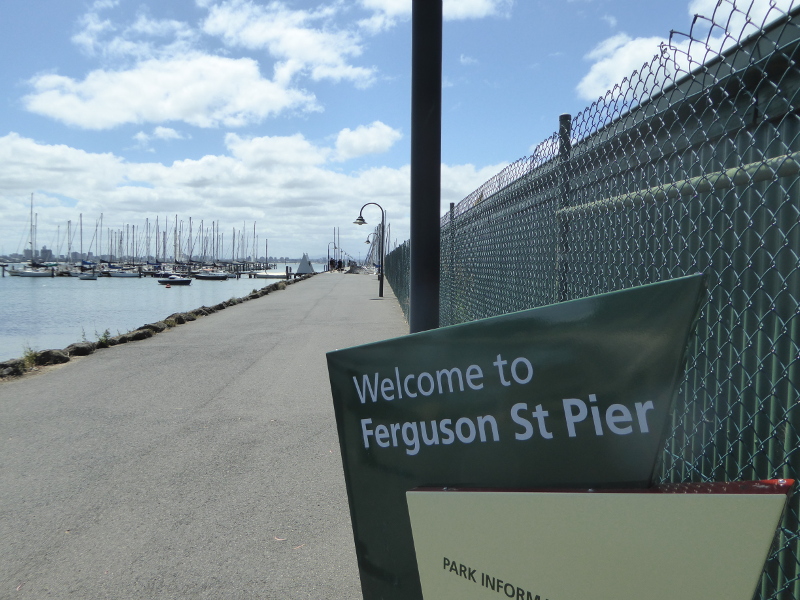 Practicalities
Toilets a couple of hundred metres away in either direction, beyond the reserve heading away from town itself, or by the Gem Pier in the town centre.
No shelter on Ferguson St Pier but two benches at the start on the tarmac part, and another at the end of the pier.
History and stories about Ferguson Street Pier
Built in 1924 for the steam ferry Rosny, which went between Williamstown and Port Melbourne.
There was once a shelter shed on the pier for passengers waiting for the ferry, but local vandalism meant the windows were regularly smashed and the shed didn't last too long (who says today's youth is any worse than that 85 years ago?).
From 1931 to 1934 the local paper the Williamstown Chronicle campaigned for seats to be installed for 'the large number of elderly residents' who promenaded on the pier. The newspaper claimed victory when benches finally arrived in 1934.
It may have looked peaceful and sunny on the morning we were at Ferguson St Pier but 1938 saw a storm that tore boats from their moorings and smashed them against the rocks at the pier.
It was no safer falling in off lower levels than the main walkway – in 1954 a young boy drowned and neither of his companions could swim so help came too late – more on that story under the People connections.
But it wasn't just kids in danger: grown men from a shark fishing crew fell in to the water while getting back across to their boat. One drowned and the other suffered severe shock in 1941. The rusty fold up bridges look good but are they much different, and if you come back from a night drinking in town (not that we know these guys did), is there still a risk you drop off the side into the water?
In December 1951 St Nicholas arrived at the pier with his 'Black Peter' to give out presents to Dutch kids (and other locals) as there was quite a Dutch immigrant community round here in those days.
There was power boat racing off the pier in 1952 – the motor yacht club was involved, of course. But whatever happened to the MacBeath Perpetual Memorial Trophy? Run by the Little Ships Club for speedboats – last written about in 1949.
People linked to this place
Bill Hartshorne was 12 in 1954 when he was awarded a gold watch for bravery in diving into the water off Ferguson St Pier to try to save a 7 year old.
He described the incident to The Herald of 22 April 1954, saying that he was cycling along the pier one March morning with an ice cream in his hand, when two young boys came running up to say their friend had fallen in. Bill had only just learnt to swim himself and was dragged under by the struggling lad, who didn't make it, sadly. Bill was rescued but got the gold watch as a mark of his bravery.
Other links and writings on Ferguson St Pier
My Google search produced no other writings about Ferguson Street Pier, so if you have published something and would like it listed here, just get in touch and I'll happily add a link.
The only news relating to the pier in 2018 seemed to be another body found drowned near the pier so that problem continues to this day.
Oh, and if you are looking for film locations near Melbourne, these guys are the official go-tos for Ferguson Street Pier, it seems.
What are your stories and memories of Ferguson St Pier?
Have you seen many changes to Ferguson St Pier over the years? Can you even remember far enough back to when the ferry operated off here? Have you had – or do you have still – a boat moored on Ferguson St Pier and had to negotiate those narrow drawbridges back on board after a night out?
Or do you just have good memories of a romantic stroll, a school visit, or maybe a holiday trip that involved a visit to the pier?
Comment below if you have anything to add.
Coffee near or tea on the pier?
Crowded House coffee was a lively, bustling coffee shop in Ferguson Street, so very handy for the pier. They served up really good coffee, too. We actually preferred our second coffee later in the day, though, at Kodama Coffee in Stevedore Street. Really smooth coffee, and really friendly service. You're spoilt for coffee in Williamstown, really.