Cunningham Pier: a jewel on Geelong's waterfront or a bit of a white elephant. Once a working pier known as Railway Pier, it's now neither a pleasure pier nor used for regular shipping.
---
My experience on the pier
The Cunningham Pier was named in 1929 or 1930, when it reopened after some major refurbishment work, having previously been known as the Railway Pier (or wharf) since the first jetty appeared on the site in the 1850s.
When the 'new' Railway Wharf was built in Geelong in 1864, it was described by the media as both an 'ornament and an advantage to the port.'
I was thinking of that line as I spotted the pier down the hill when I walked to the shore line from the centre of Geelong. From this perspective it does still look like a bit of a jewel on Geelong's waterfront.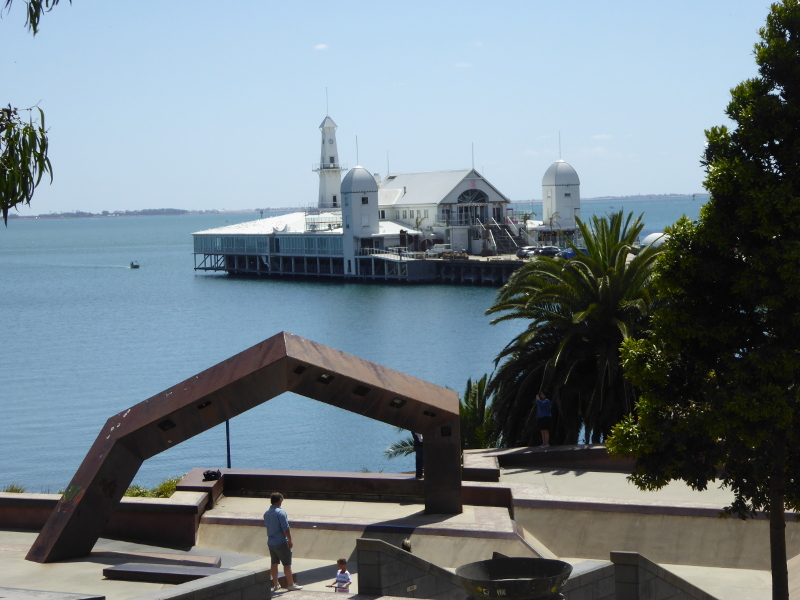 But on closer inspection, I'm not so sure.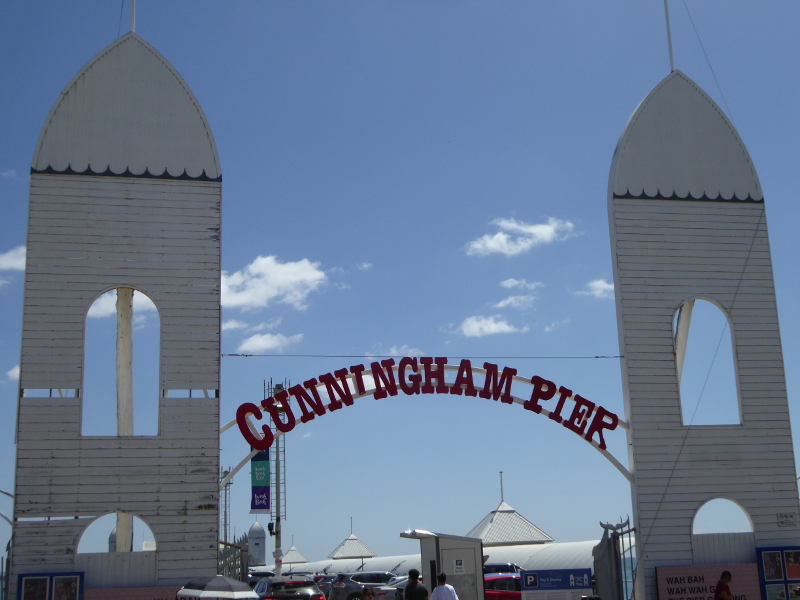 But walk through the entrance gate and you immediately realise this was built as a working pier, allowing railway access to ships for loading and unloading the cargoes that passed through Geelong (hence the second part of that 1864 description).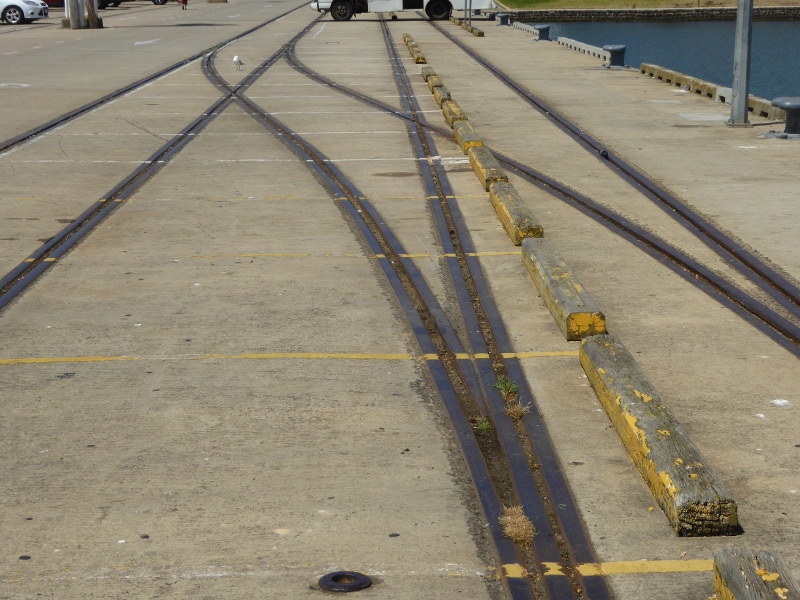 The railway tracks are still winding their way along Cunningham Pier today and you can see what a busy port this was at the height of its business, before other berths were built further up the bay in Geelong.
The sheer number of tracks show also how congested this place must have been, when walking along the lines as we do today, might once have meant loss of life or limb if you didn't see a train or a truck coming.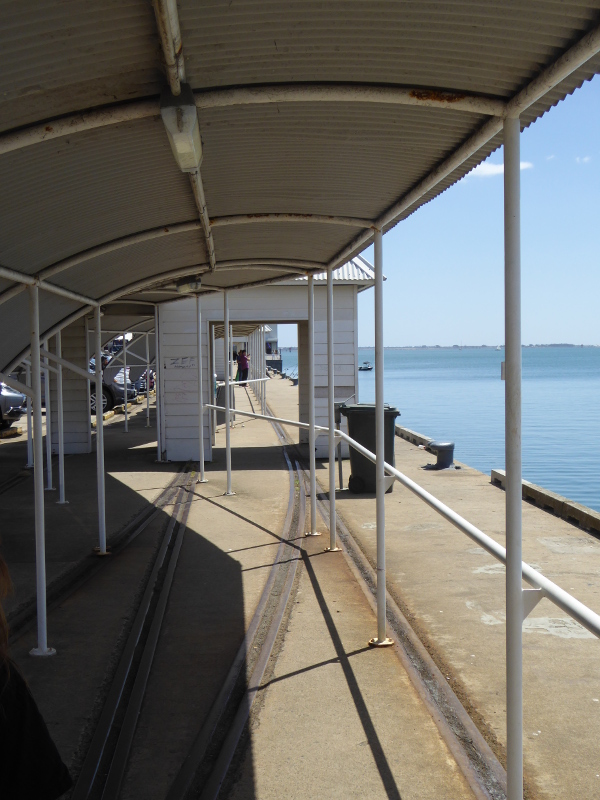 There is a nice covered walkway section, giving shelter from rain or sun as you walk right along those rail tracks still towards the end of the pier.
But unlike most piers which were built for 'promenading', I'm not even sure that was why they installed the roofing over the walkway, as there is no bench to sit on or any other temptation to pause and enjoy the sights. So was it merely to keep customers for the business at the end of the pier dry before they took their seats at the bar or restaurant?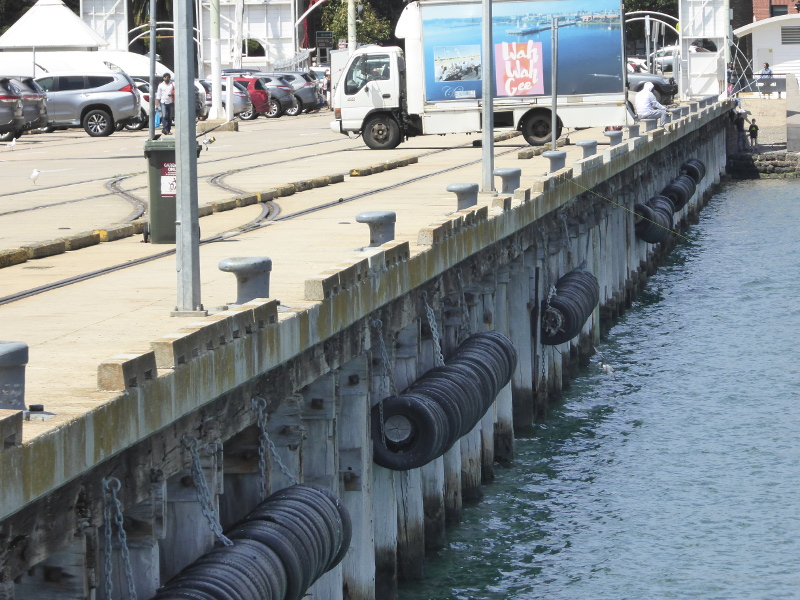 The main body of the pier is now basically a car park.
As far as I could see there was no signage or information boards, no photos of the pier at work in past eras, so no connection to the Geelong of old. For a place that was such a hub for the port of Geelong for so many years, it seemed a shame not to mark that somehow. And it's in stark contrast to the working wharf at Port Melbourne, which is all bars and restaurants now but has an extensive display of archive photos about the history of cargoes and strikes by seamen and stevedores.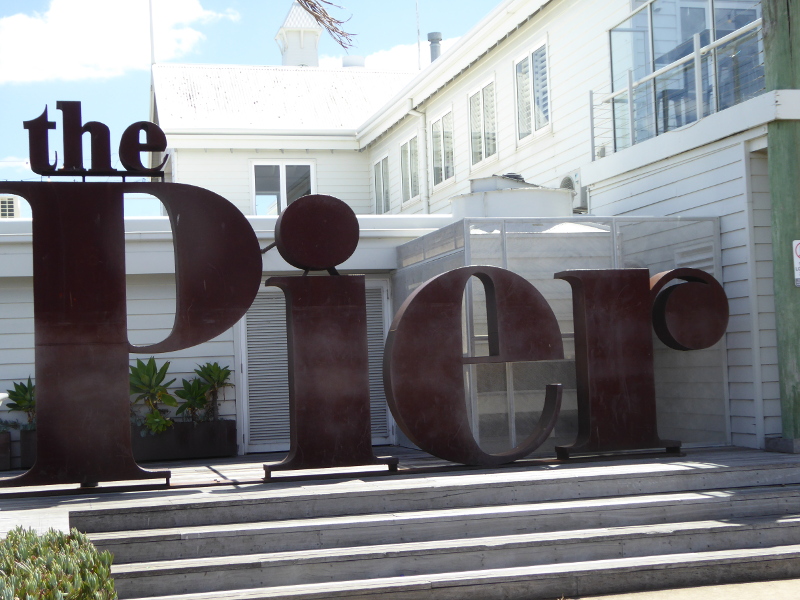 The biggest disappointment on this bright Sunday morning was that the big venue, The Pier, which occupies the beautiful building at the end of Cunningham Pier, is clearly a lunch and night-time venue only – no chance of a coffee and cake or a seat inside taking in the views.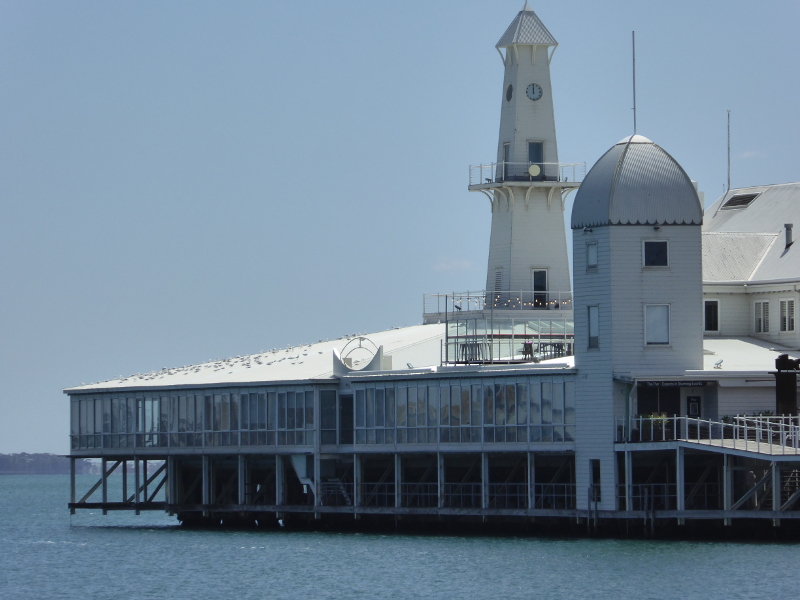 I shall clearly have to come back one evening, but that was a major disappointment, especially as all access to the far end of the pier was blocked or locked.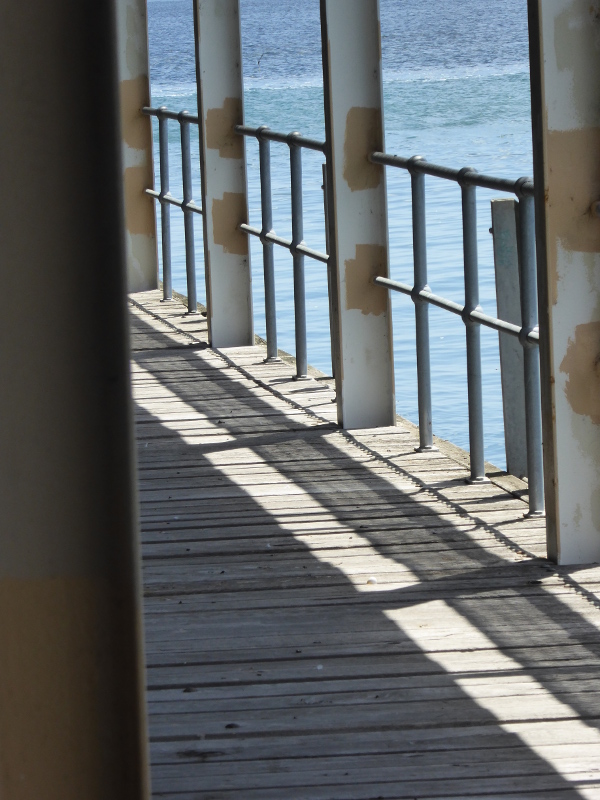 I did venture down some stairs to a boarded area which looked promising for a few metres, but it also ended at a locked gate, and the smell down here was enough to send me scurrying back upstairs as soon as I could.
There are still a few small boats zipping past the pier, but as I say no place to just sit and watch them.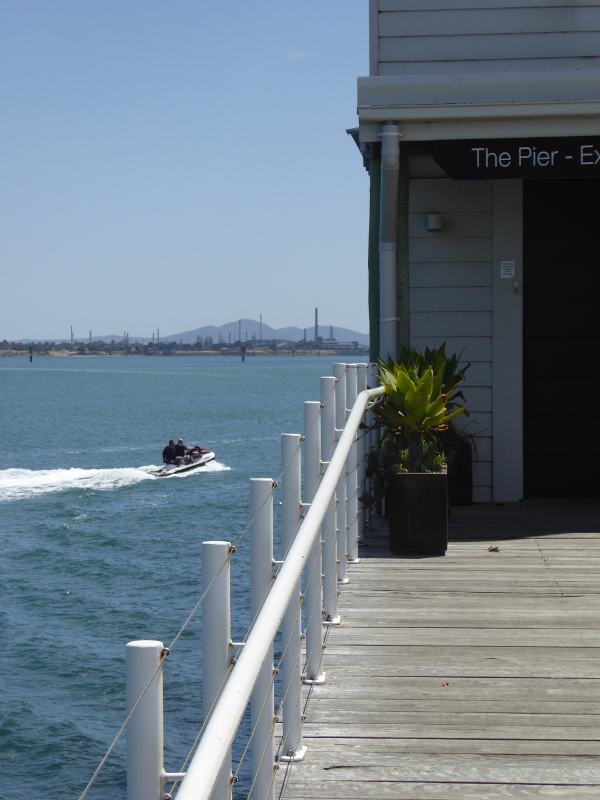 What we did spot across the water from the car park part of the pier was another rather nice vintage building where they were serving up coffee, and I could just make out the words on their placard announcing some sort of deal for coffee and cake. So we hot-footed it over there and took a seat for a few minutes to enjoy the views…back to the pier.
On our way over to that café, we passed another example of what is possibly Geelong's best recent addition along its waterfront. We saw other versions of these wooden life-size models over by the Eastern Beach Baths, but I particularly liked the lifeguard models near the Cunningham Pier. And they framed the pier perfectly for my last shot of the day.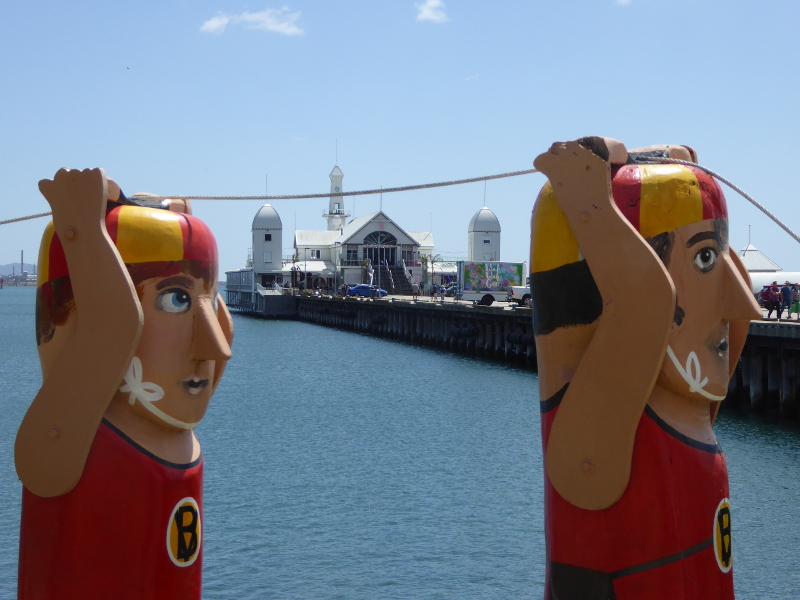 Practicalities
Unlike many vintage piers in Victoria, Cunningham Pier does have shelter, with that covered walkway protecting visitors from the elements. But no benches to rest up on.
There must be toilets in The Pier venue at the end of the pier, but nowhere to go if you happen to be on the pier when The Pier is closed…
History and stories about Cunningham Pier
This was a workaday wharf, with no major stories appearing in the papers in its first few years, apart from the odd shark sighting or boat which sank after leaving the pier for its journey overseas. Fishing off the pier was always popular, though occasionally disaster struck, as with a ten year old who was fishing for mussels underneath the pier and somehow got into difficulties in the water and drowned. That was in 1880.
Wheat, wool and coal were often the goods loaded onto boats mooring at the Geelong Pier, but there were complaints in 1884 from ship's crews of the spread of coal dust onto ships from debris on the pier because it was not swept enough. These days it would be regarded as a matter for health & safety; in those days, it just meant a massive cleaning up operation to get to coal dust off the decks and sides of the boats.
There were occasional accidents on the pier, as always happen when loading and unloading ship cargoes. But one caught my eye as it happened to a ship's captain, who was run over by a truck carrying 10 tons of wheat one morning in 1910. The tragic twist to this tale is that his wife was travelling with him on the journey and had been shopping in town, only to come back for lunch with her husband and be told of his death. A rare example of a ship's captain losing his life.
A working wharf could be a dangerous place for kids in those days. Nine boys fishing close to a ship berthed at the pier in 1922 found themselves launched simultaneously into the water when a rope was suddenly tightened for some work task or other. And in 1937, 9 year old Wilbur Olsen was flung 10m into the air when he was caught out by a ship's rope suddenly tightening under him while wandering on the Cunningham Pier. I'd love to know if Wilbur is still with us today and whether he remembers his first 'flight'…
The pier underwent major works in the late 1920s, finishing up with 6 sets of rails allowing for even more traffic to use the structure. While the work went on and the pier was closed to shipping, in 1927, a seal made the pier its home for a week, causing much love and attention to locals, so rare was such a sighting in the waters near Geelong.
When the pier reopened in 1930 (I think) it had a name change, known from then on as Cunningham Pier, though the occasional article in Trove referred still to Cunningham Railway Pier.
One of the early stories of the refurbished Cunningham Pier also involved local wildlife. In October 1930, ships were delayed from leaving the pier for several hours because the water pipes used to replenish supplies on board became blocked. Plumbers were brought in and a fishing competition then ensued as the culprit was a three-foot long eel, which had taken up residence in the piping!
Fishing was extremely popular in those days, and The Age reported in 1932 that up to 50 fishermen would line the pier at night, while during the day, there was not a spot to be had among what the newspaper called 'a forest of rods'.
The Second World War saw a series of small incidents making the news, none of which linked to the fighting at all: In 1940, a truck was shunted off the end of the pier and only hung there – over rather than in the water – due to the weight of the other trucks it was attached to – it had to be dragged back up by a powerful engine; in 1941 a horse broke free of its carriage and bolted along the pier, leaping into the water off the end of the pier, before being recovered – totally unharmed – an hour later; and a 1942 story had a man arrested coming off the pier with 4 stolen tins: containing jam, coffee, a silver tray and a shirt – I have no idea what his idea was, or his defence in court…
Back in June 1945, barely a month after the ending of hostilities in Europe, a man named Clinton Harris lost both his feet in an accident on the Cunningham Pier. I loved the fact that his grandson placed a comment on Trove to let everyone know that he was related to the man concerned. Wouldn't it be great if every news piece had relatives reading them years later?
Anti-Japanese sentiment was rife in the 1950s as World War 2 still loomed large in people's memories. A Japanese boat with barley on board had its mooring ropes cut by two men and an apparently well-dressed woman in an attempt to scuttle the ship. There were no subsequent reports on arrests or convictions so I am assuming these three just literally disappeared into the night and felt their desire for vengeance justified their acts. In one newspaper article, though, it was speculated that the act of vandalism was carried out by Communists. I'm not sure what their motives would have been, but I guess that fitted the 1950s zeitgeist well enough.
Is Judith O'Reilly, who fell off the pier aged 4 in 1952, still around to tell the tale? She was on the pier with her younger brother when she fell into the water, landing luckily within grasp of part of a boat she could cling to. Once saved, she apparently jumped on her tricycle and sped home, though was admitted to hospital with head injuries that evening.
The last incident reported on Trove dates from 1978, when ships were still docking at Cunningham Pier for freight cargoes. A Korean seaman was killed as his boat left the pier when a cable sprang loose and hit him in the head. Apart from the nationality of the seaman, it could have been a tale of any day on or around a working pier like this since the first Railway jetty opened in the 1850s..
Other links and writings on Cunningham Pier
The Victorian Heritage Council has an entry on Cunningham Pier in Geelong.
This Geelong blogger took an interest in the railway tracks along and beyond Cunningham Pier.
This City of Greater Geelong article shows that ships do still dock alongside Cunningham Pier – this from 2018.
If you're a railway enthusiast, the details in this piece on the Cunningham Pier might be of interest.
And here's a blog from rail enthusiast and author Phillip Overton, who went in search of the old lines leading to the Cunningham Pier.
What are your stories and memories of Cunningham Pier?
Has anybody reading this worked on Cunningham Pier when it was a proper pier taking ship's cargoes? Or is a favourite spot for any Geelong locals or visitors and why, if so?
Is Wilbur Olsen still with us today? And does he remember his first 'flight' in 1937 off the Cunningham Pier?
Is Judith O'Reilly, who fell off the pier aged 4 in 1952, still around to tell the tale?
Comment below if you have anything to add, especially with stories of your own favourite times on Cunningham Pier, either in its working days or as an entertainment centre.
Coffee or tea near the pier?
On the day we were in town, the place to go near the pier for coffee and cake was the Geelong Boat House, from where there are great views back to Cunningham Pier (sadly my camera had a malfunction and my shots are all blurred…)