Gold money brought marble statues to Ballarat Botanical Gardens in the 1880s – They still feature today, some housed in a vintage pavilion, some exposed to the elements, including William Wallace.
---
My experience at the gardens
It took us two trips to Ballarat Botanic Gardens to feel like we even began to do justice to this space, which really has so much going on and so many marvels to see that we are planning a third trip some time soon. Ballarat is a funny place, though, infamous among Victorians for being a lot colder and damper than nearly everywhere else in Victoria, and on both our visits, this tradition was definitely maintained, with drizzle cutting short our first walk, and a cool breeze forcing us into summertime jackets on our second.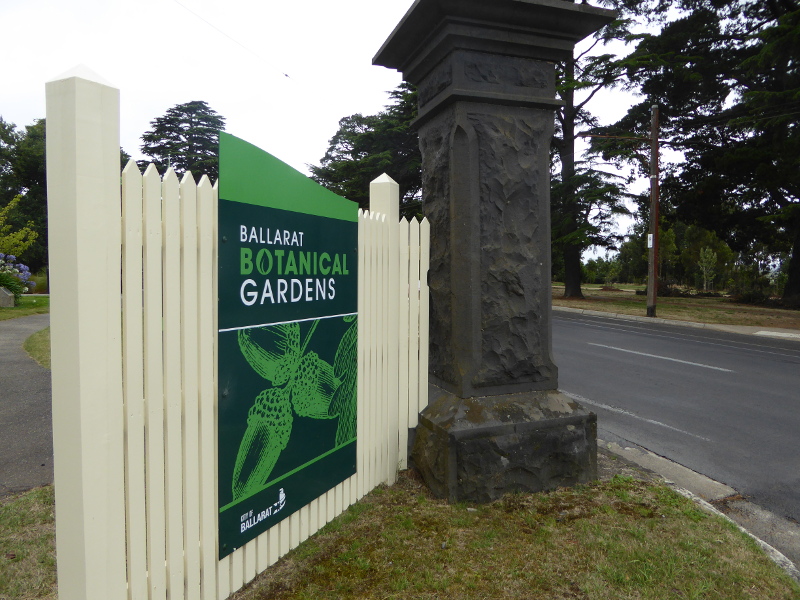 The Botanic Gardens in Ballarat feel different to any others we've been to on this tour of botanic gardens in Victoria. A road runs through the middle of the gardens, there is a lake right along one side, and there seem to be few obvious entrance gates, although some signs indicate that the Gardens are actually shut at night.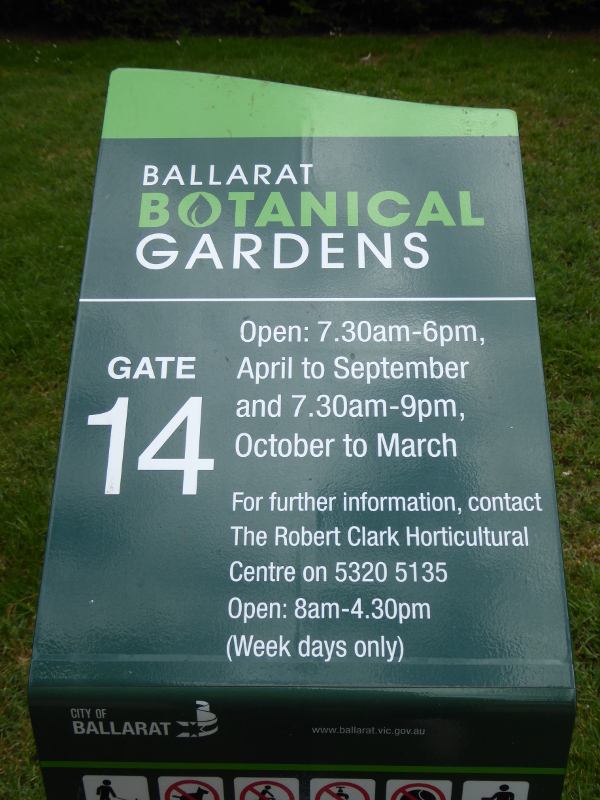 We parked up by what seemed to be the 'main' entrance, and immediately drifted off to our left to see this extraordinary long memorial wall, containing the names of all Australian Prisoners of War who died in captivity, going back to the Boer War over 100 years ago – 8,600 names are inscribed, and it's a very moving monument.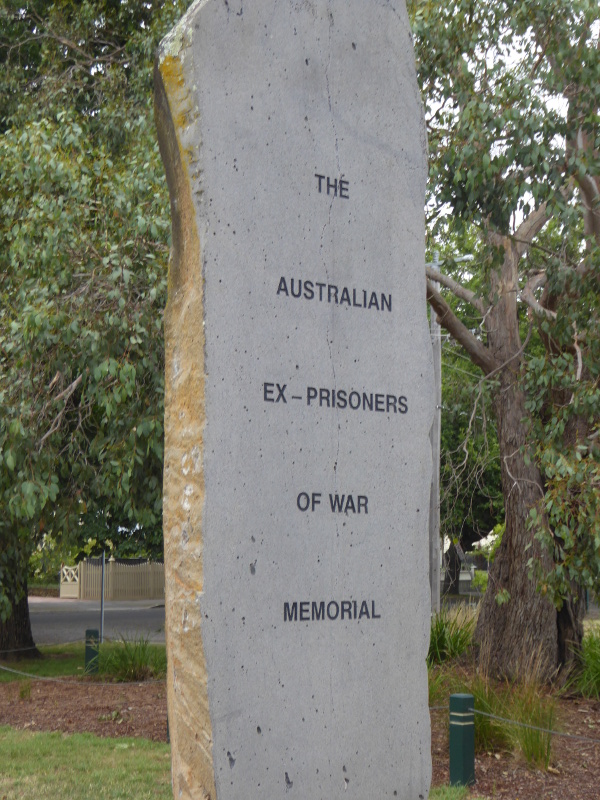 This is a relatively recent addition, having opened in 2004, but well worth a mention on Vintage Victoria.
From there, we walked past this fenced off and netted area, which sparked our curiosity also.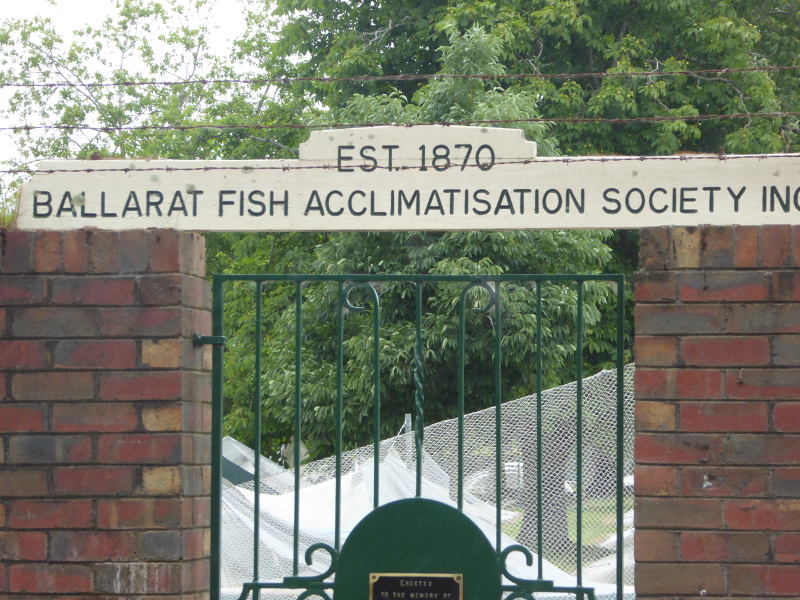 Round at the front, we discovered that this is the 1870 Ballarat Fish Acclimatisation Society base, still in use over 150 years later. I'm guessing the netting is so that the birds living on the lake don't have easy access to their dinner every night, and there are still fish left to 'acclimatise' at all.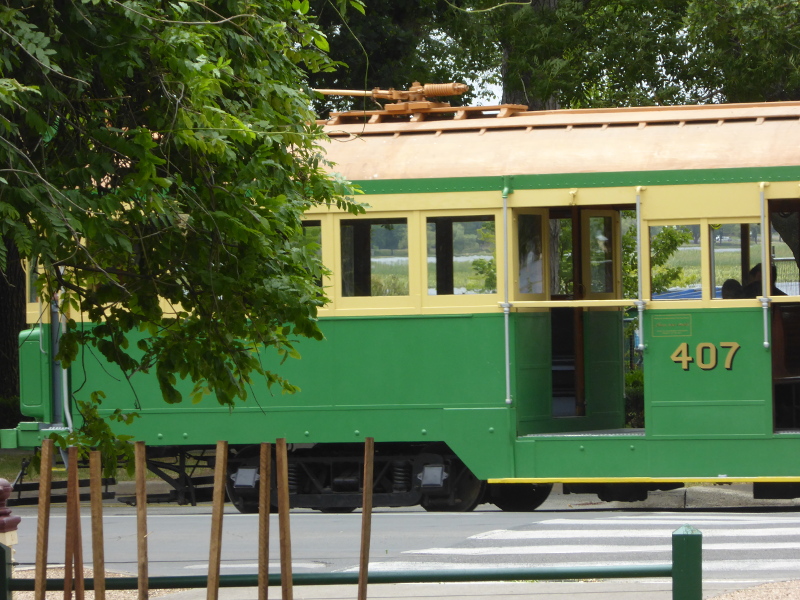 Trundling along that road through the gardens every few minutes are the vintage trams, which are surely worthy also of a Vintage Victoria entry of their own. There is a tramway museum, and the tram cars look wonderful in their green or brown livery, making their way up and down the Gardens road. More on them when we return to review them properly later.
Marble statues are a key feature of Ballarat Botanic Gardens.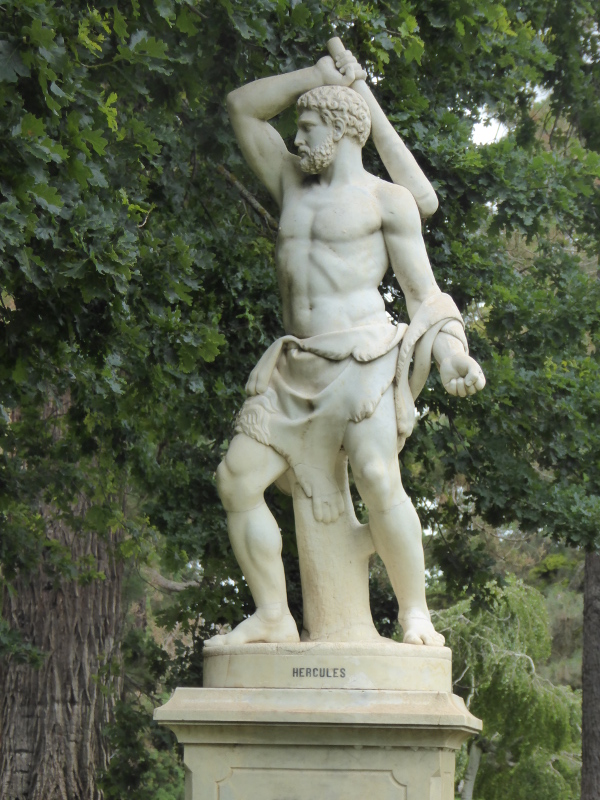 You need a good grounding in classical education (Greek? Roman? Mythologies?) to know the story behind most of these statues. And that is something I personally never had, though A. knew many of them from her school days.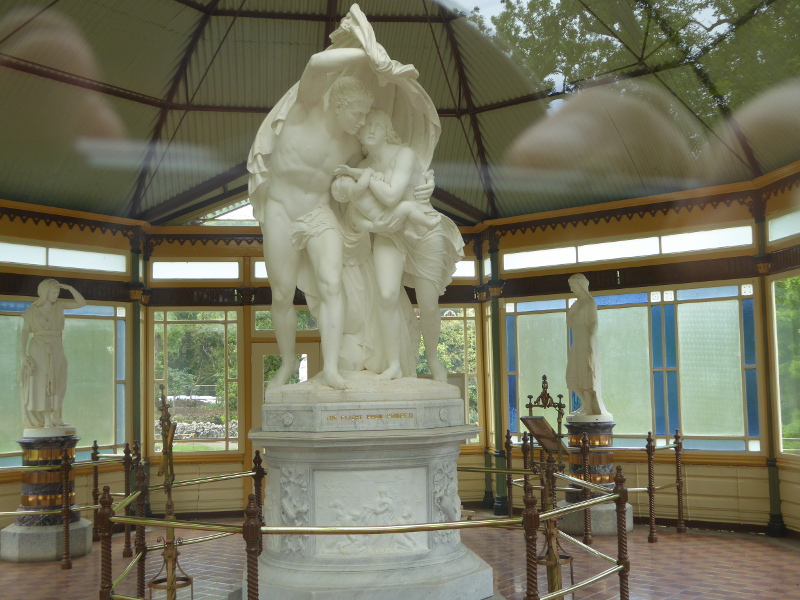 It's a shame that none of the stories are told in information boards by the various statues, but from my searches in Trove's database, when they were first installed after financing from two wealthy gold miners in the 1880s, there was also little mention of what the statues even represented back then either. So, either everyone automatically knew their Greek history, or it didn't even matter at all, since the more important news story at the time seemed to be their value and the background to the gents who provided the funds.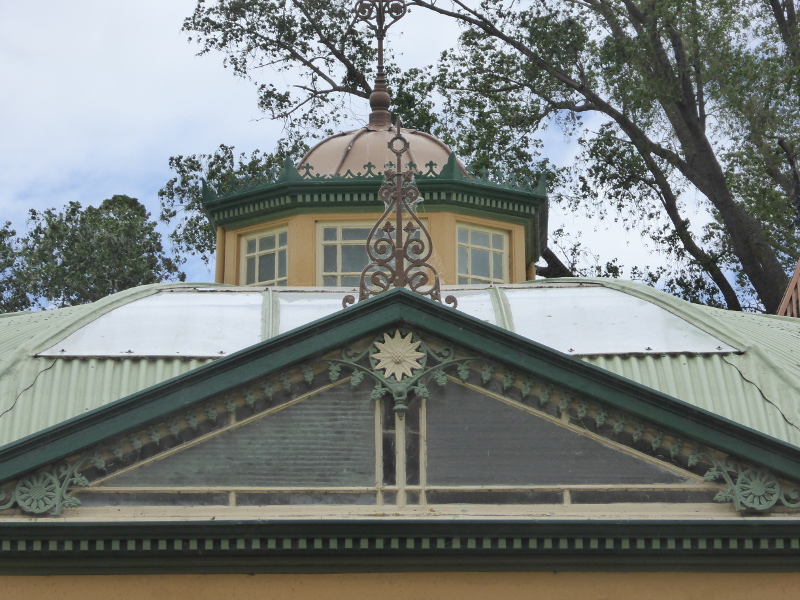 There is a beautiful pavilion housing some of the statues. Sadly, it was locked at the time of our visit (COVID restrictions? Or permanently closed, I wondered?), but it did make me wonder what qualified some statues for protection from the elements and passers-by, and why others were banished to the vicissitudes of Ballarat's climate.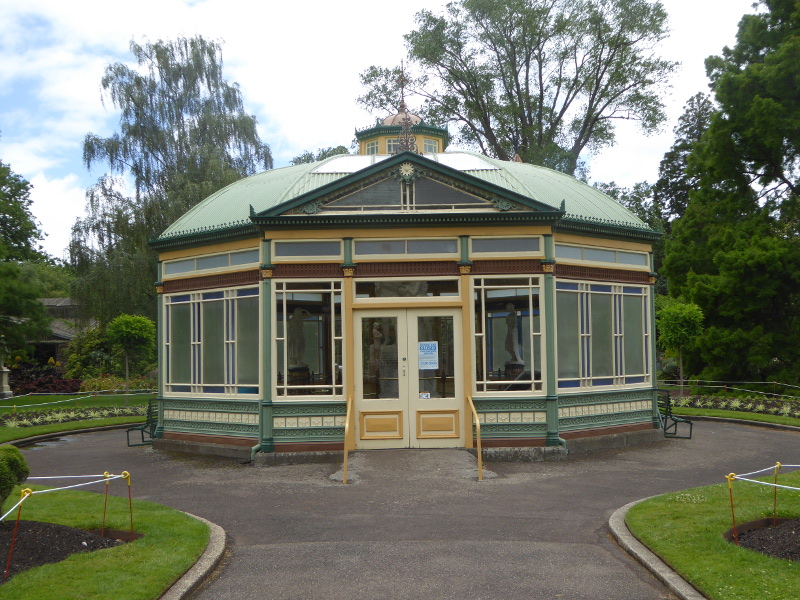 This statue of William Wallace also struck us as odd. It's a bit like the one of Robert Burns in Ballarat's main street. There was obviously a significant Scottish connection to Ballarat, but I do think it'd be worth noting that in some sort of information board nearby. Otherwise, visitors might be left just thinking WTF, another Scotsman? My Trove search, for example, showed a really lovely explanation for why William Wallace stands in these Botanic Gardens – I think it'd be nice for everyone to be reminded of that…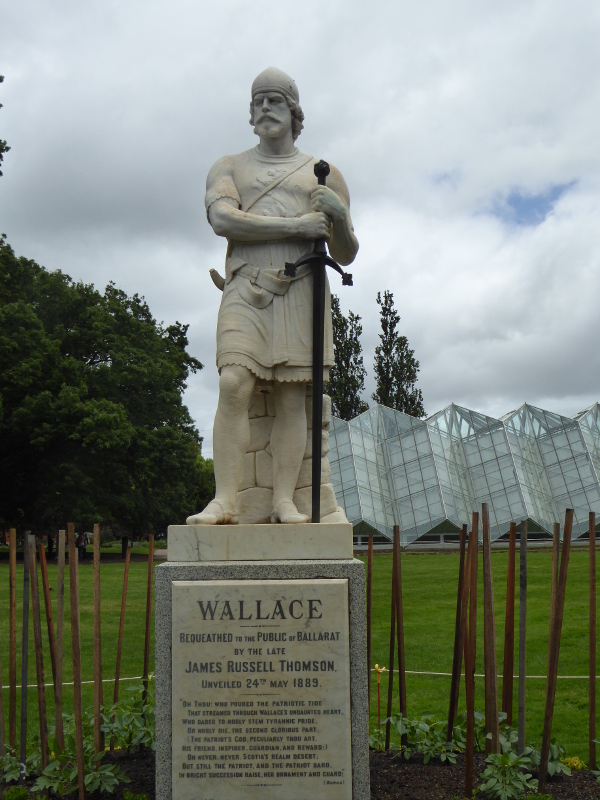 The vintage cottages are also intriguing, but these do have information signposts to help explain their past movements.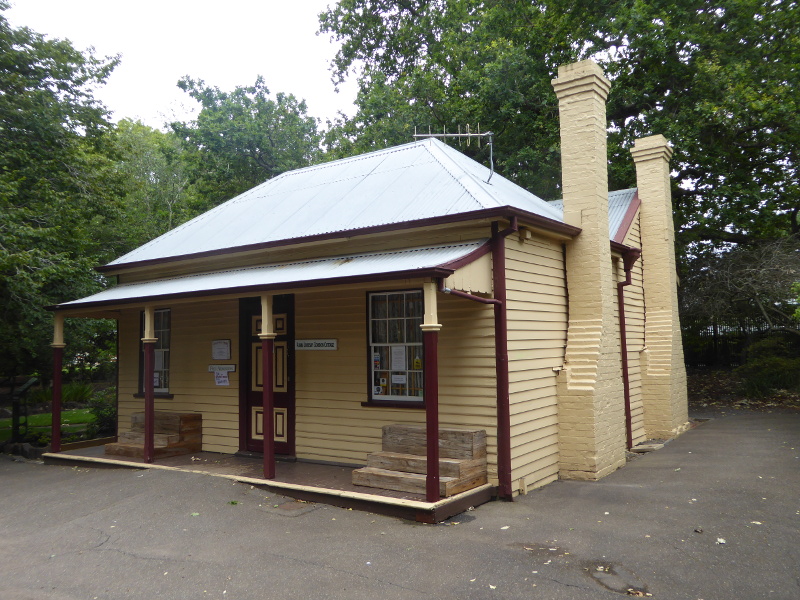 The 1930s saw these cottages almost pass each other like ships in the night. So the Adam Lindsay Gordon cottage moved to the Botanic Gardens in 1934, after residing previously in the back courtyard of one of Ballarat's hotels, where the horse-riding poet had stables in earlier times. I had never heard of the guy until I took Vintage Victoria to Coleraine races, and wasn't aware of his Ballarat connection until I saw his cottage in the Gardens now.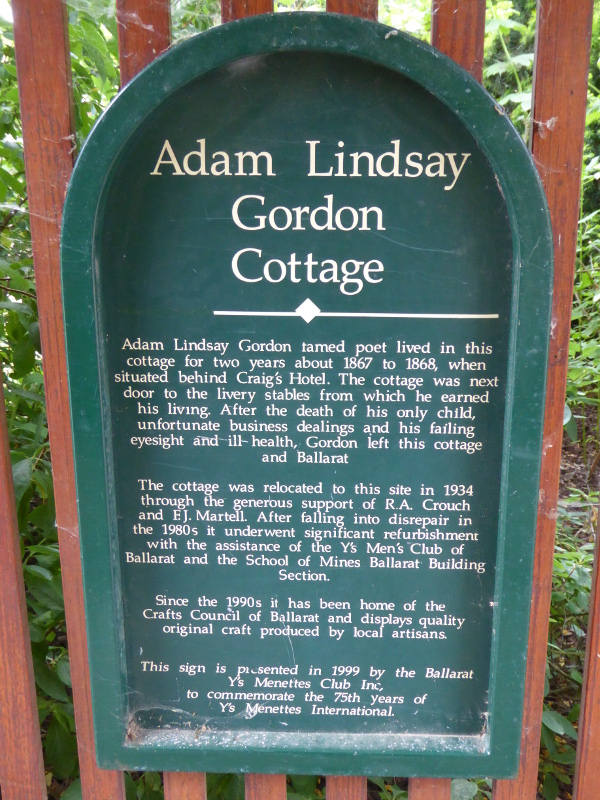 Then there's the old gatekeeper's cottage. This was once the North Gate lodge (so presumably there was also a South Gate cottage), and it left its post at the entrance to the gardens just a few years before Lindsay Gordon's home arrived here.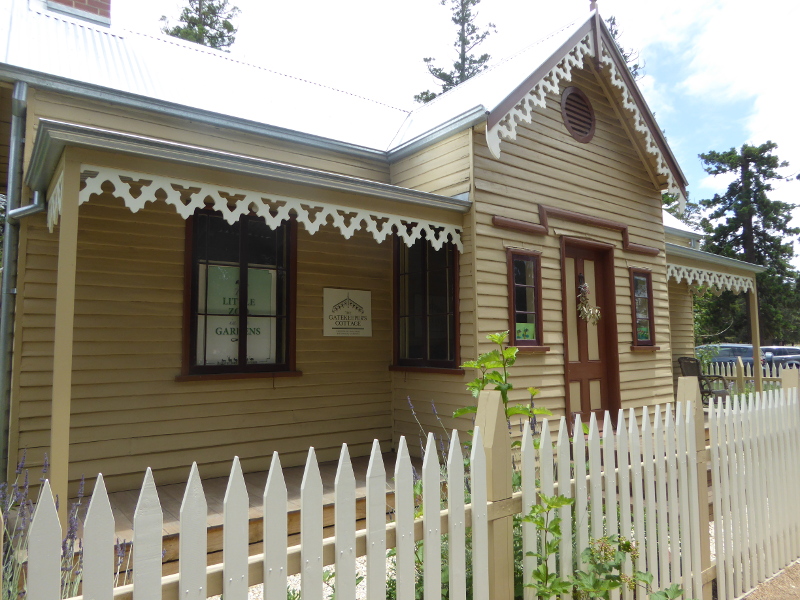 There is a whole project underway now to restore and develop this cottage, so it may well be more of a hub in a year or two.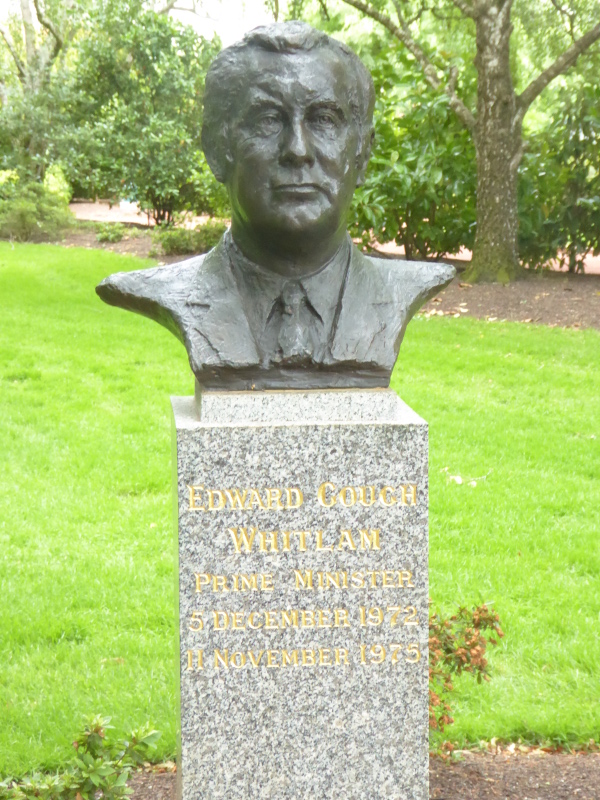 We moved then to the Prime Ministers' Avenue. I saw a similar line of Aussie PM's busts along a creek in Sydney a few years ago, and I kind of like these memories of leaders past and present, even if I wouldn't have liked many of the more recent ones. I picked my favourite PM of my lifetime for the blog photo, but I also quite liked some of the stories I found on Trove relating to this feature…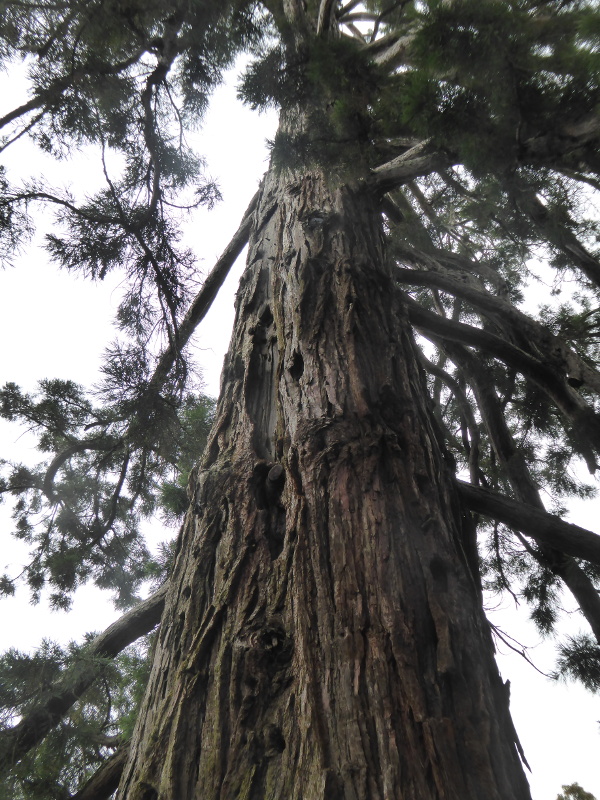 I've hardly mentioned the botanic aspects of Ballarat's gardens so far. The Californian redwoods are quite extraordinary. There is a whole avenue of them; they are enormous, and if you think that they were planted just 160 years ago, but can live to 2000 years, they are mere saplings in redwood terms.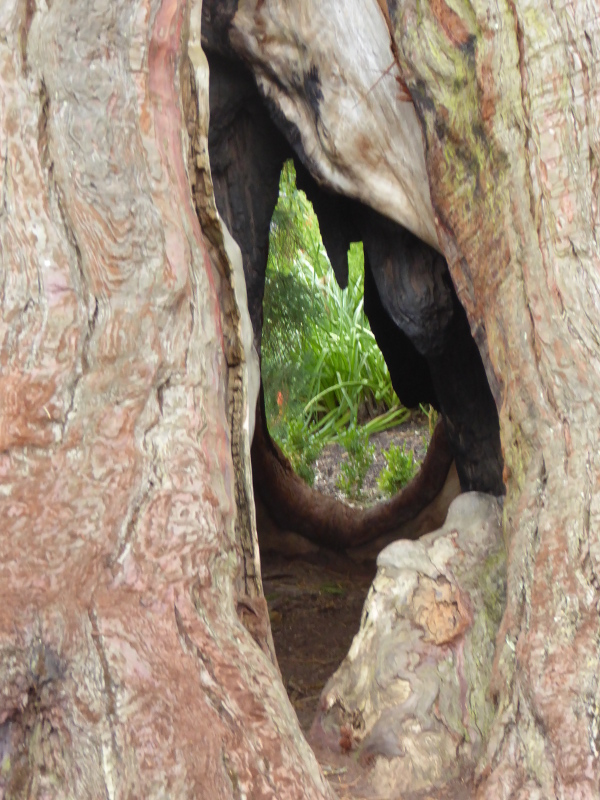 You can already walk through one of them; I imagine in a few decades, you could drive a bus through them if you wanted.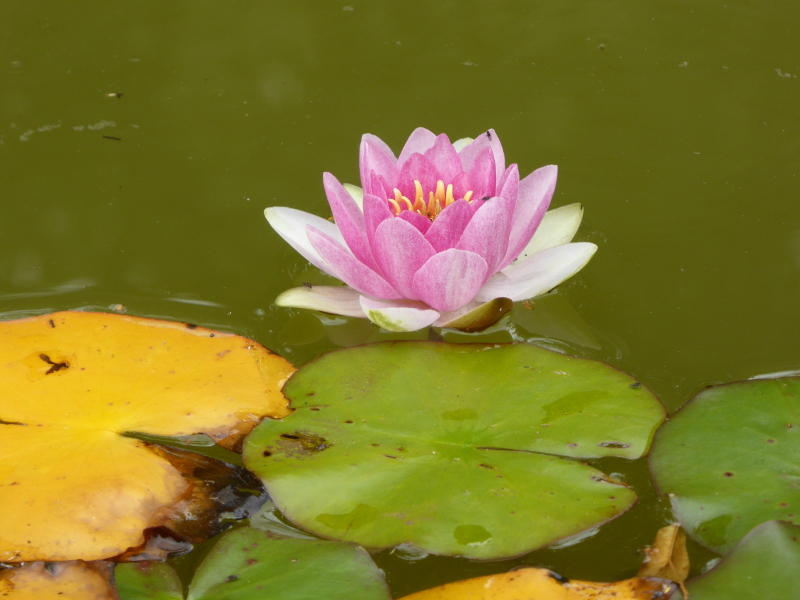 A quick run through some of the other bits we liked about these gardens. The lilies looked lovely in the murky ponds.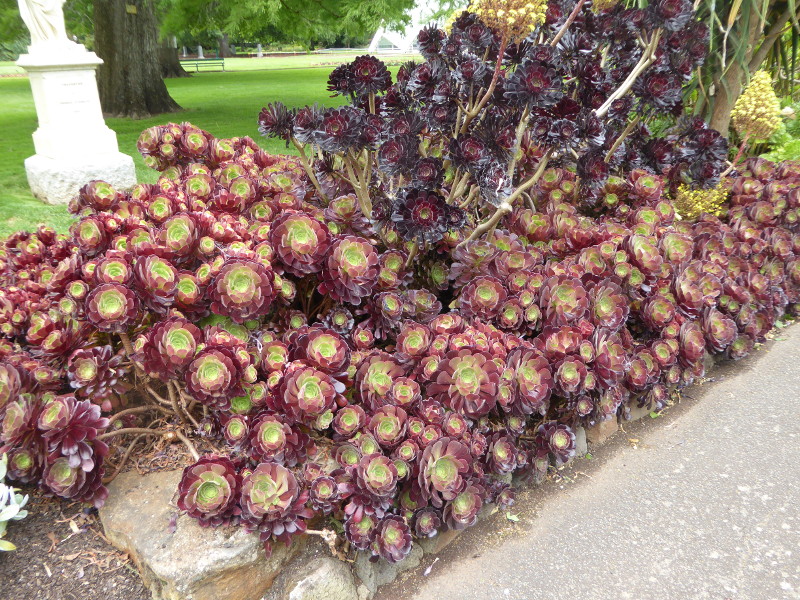 I liked these quirky natives, though I never know the name of this plant. They are purple in Ballarat Botanic Gardens.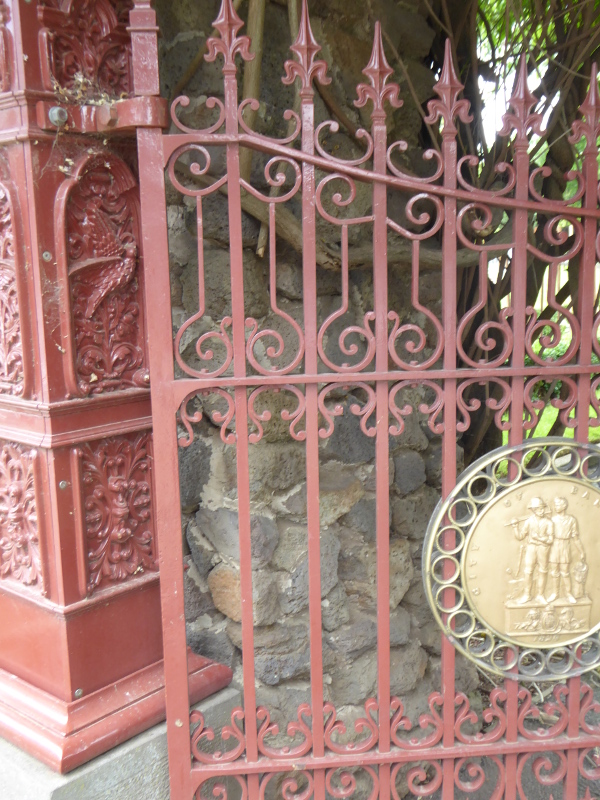 I loved some of the ironwork dotted around the place. These gates…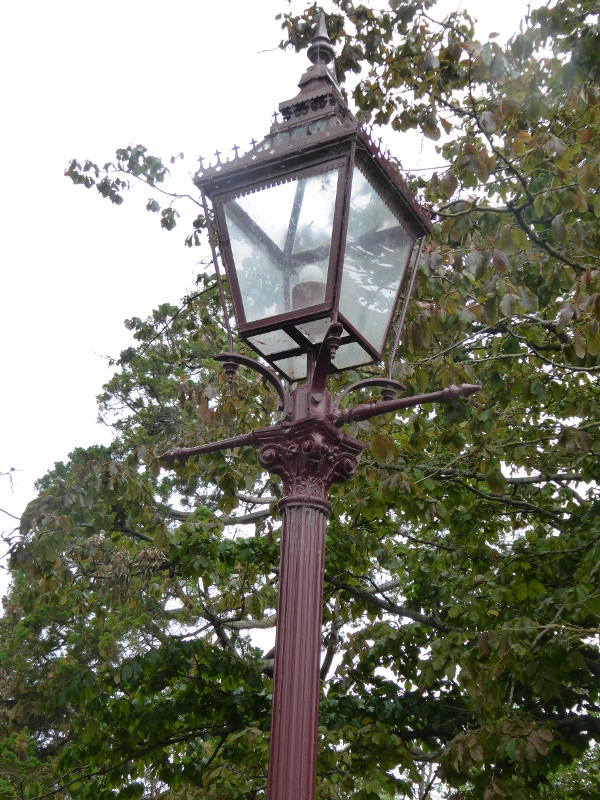 And the vintage lamp-posts.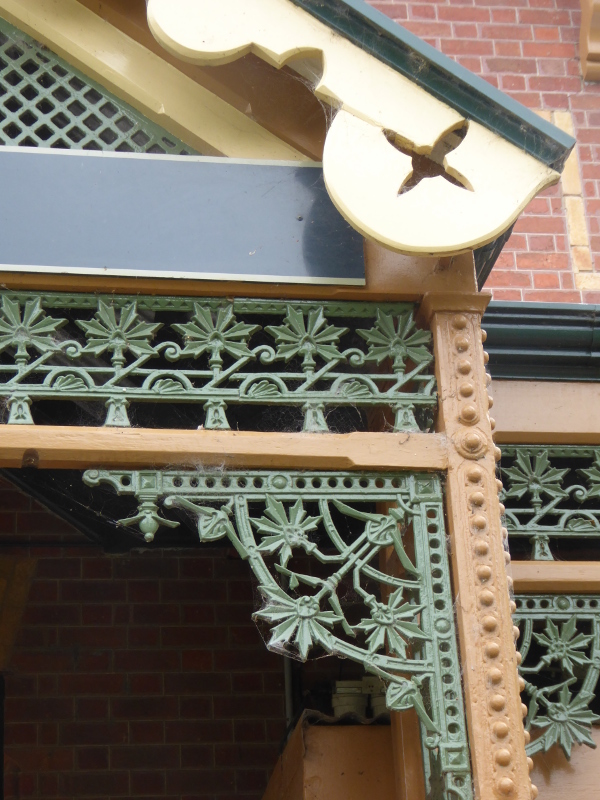 And finally, the Lake Wendouree, where the old steamer ticket office is now a pizza restaurant.
But you can still catch a ride on the paddle steamers, even if they no longer ferry thousands from the city to the gardens anymore.
We'll definitely be back also to ride one of these one day soon.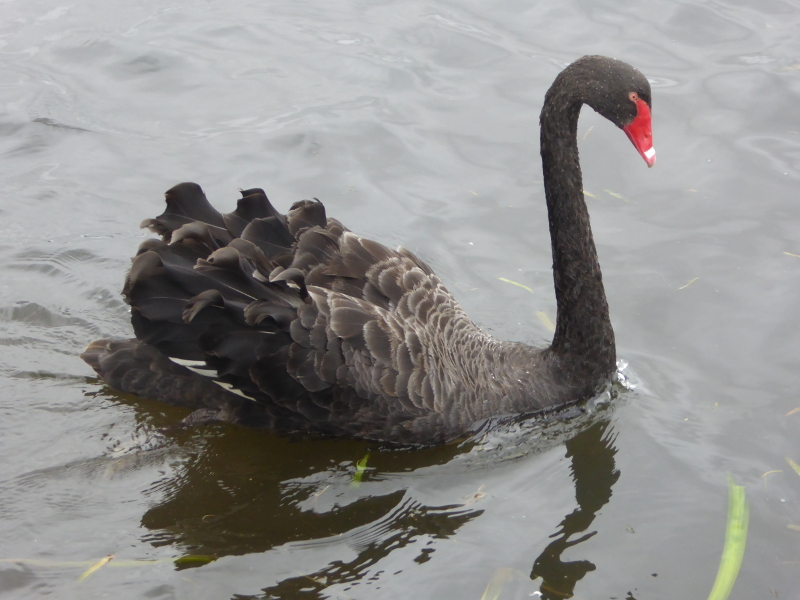 And finally, the black swans and other water birds in and around the lake. Clearly much more at home than the English blackbirds, skylarks and song thrushes some of the locals tried to introduce here in the 19th century.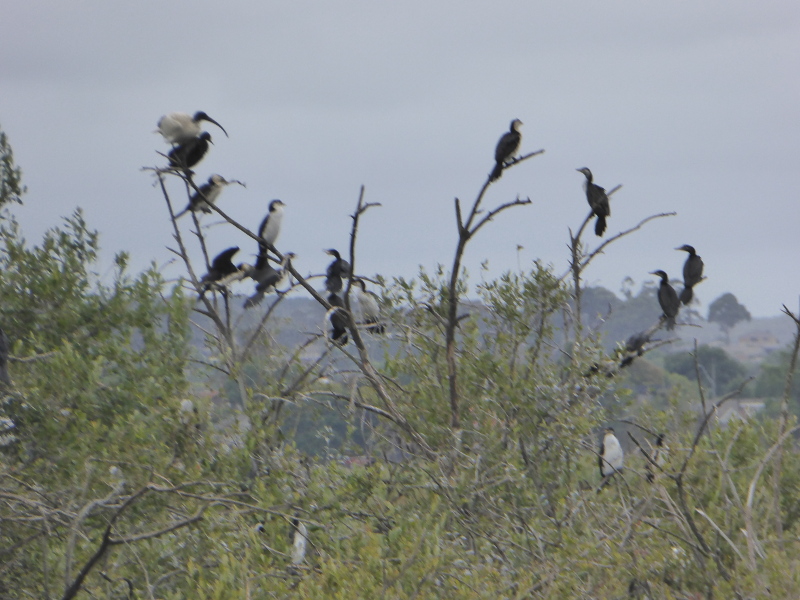 We loved seeing so many kids playing among the trees, many of them using just sticks to play their imaginary games. Who needs technology and computers when you have Gardens like these in Ballarat, with so many simple things to get excited about? Makes us wish we'd moved to Ballarat…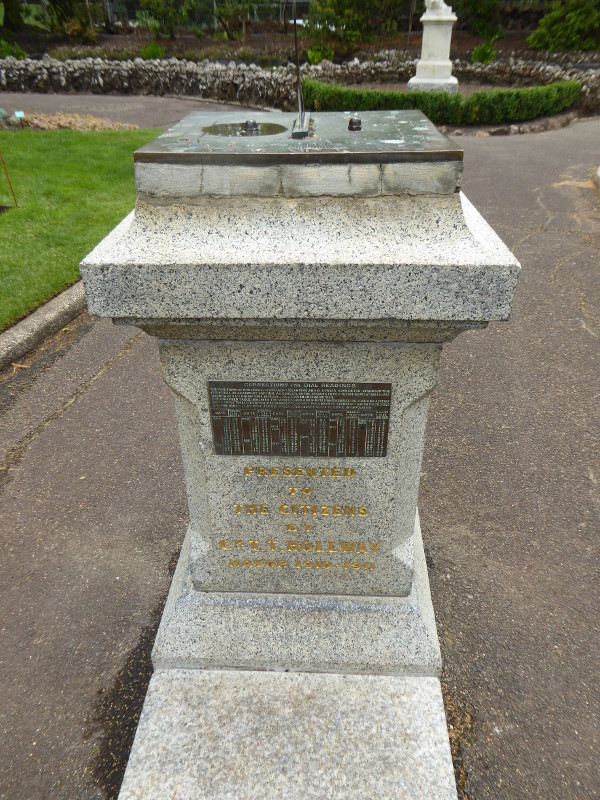 Practicalities
See the photo above for opening hours of Ballarat Botanical Gardens – I didn't really see any gates that could be shut and locked, so I don't know how the closure works in practice…
There are toilets at various spots around the gardens..
History and stories
Ballarat Botanical Gardens were formed in 1858 on the edge of what was then called The Swamp! Later articles speak of the gardens rising gently up from the Wendouree Swamp, as what we now know as Lake Wendouree was once a reedy, muddy swamp, used just for water supply for the local gold diggings.
At the time the botanic gardens were described as an aid to recreation, an inspiration for people's imagination, an appeal to the intellect (!), and perhaps most importantly, 'a powerful agent against vice and corruption.'..
Interesting, though, to look at the State parliament discussing funding of botanic gardens in 1860, as those opposed to helping Ballarat establish its own gardens were fearful of a run on public money from every township across the state, and the opponents of public funding had a much more functional approach to the purpose of such gardens, arguing that Melbourne's botanic gardens merited money since they were the cultivating grounds for delivery of plants all over the state. Not much argument about fighting vice or promoting the imagination in that debate, then!
Christmas 1877 and New Year's 1878 saw big crowds on both the lake and in the gardens; with lots of sailing boats, rowing boats and three steamers taking people across to the Botanic Gardens, although many were turned back because the gardens were too full at times.
There was also a maze in the gardens back in 1878; we know that because of the court case against a man for kissing a girl against her will in the maze one afternoon. He received a fine of 50s, which would have been a lot more severe if he hadn't managed to get a series of good character witnesses to give evidence.
In the 1870s there was a little zoo they called a menagerie, with at least three monkeys there at one time. Other 'wild' animals in the Gardens included a dozen blackbirds and a similar number of thrushes brought out by a gentleman from England and released into the Ballarat Botanic Gardens in October 1881. I've actually never seen an English song thrush in Australia so I'm not sure those survived as well as the blackbirds, who still sing along in Ballarat Gardens and in our own back paddock. I did wonder how they got here so far from home! By 1890, though, correspondents to local papers complained that these non-natives had a tendency to strip fruit trees of their crops (funny that, because we have more reason to blame – native – parrots and cockatoos for that menace).
Donating birds to the Gardens became a bit of a fad as a young man months later gave a pelican, which was released there in early 1882. I'm just not too sure how they could ensure these birds hung around, and if I was a pelican I might well decamp to the lake and leave the Gardens alone. Many years later, in the 1930s, the then curator again tried bringing English thrushes into Ballarat…
There used to be a deer park in the Gardens, apparently, until October 1882, when someone left the gate open, letting in dogs, which mauled some and chased the others out of the area. Only two out of 10 survived.
A Mr Stoddart bought 12 statues for the Ballarat Botanical Gardens in 1883. He had made his money in gold in the area and when on a 2-year tour of Europe spending some of that money, he decided to have the statues made in Italy and shipped over. They were unveiled in May 1884. It's interesting, in the press reports about the donation and the unveiling, that all the focus was on Mr Stoddart's generosity, and how the statues would inspire the young of Ballarat, but not a word on what the statues depicted, who the characters were or why they were chosen. You'd need to be a Greek scholar to understand that, so I'm not sure how much the average Ballarat youngster in the 1880s actually got from them…
The same Mr Stoddart then visited New Zealand and brought back 15 pairs of skylarks, a bird common back in England, but rarely heard in Australia. Five pairs were released in Ballarat Botanic Gardens, but I don't know that they acclimatised too well either?
In 1886 another benefactor Russell Thomson left monies in his will for more statues in the gardens. This ended up with the William Wallace sculpture, put up in 1887. It depicts him facing the English Army at Stirling, the subject matter chosen, apparently, to recognise Thomson's Highlander upbringing. Then in 1888 another statue from the same estate depicted the Flight from Pompeii; this was shipped in from Italy along with the other figures on display in the pavilion – it was necessary to keep these under cover as, even back in 1888, it was recognised that the elements would damage the marble.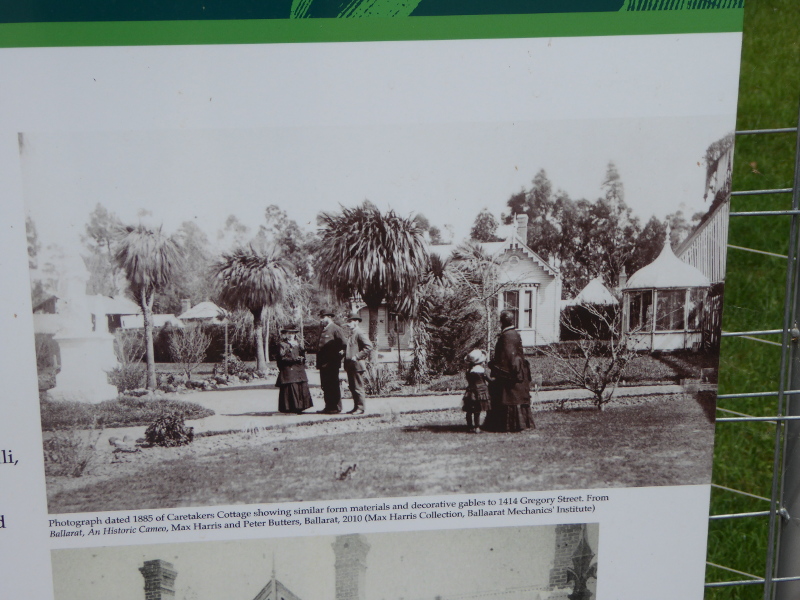 In the 1880s there were reports of large picnic outings to the gardens, one of around 1000 from people connected to Talbot School and then 800 from the Master Butchers of Geelong.
It was not all fine donations and picnic parties in the park at Ballarat Botanic Gardens….
In 1889 there was an attack on the elderly night watchman of a confectionary stall across the road from the Gardens near the Lake. He lost all his life savings in the burglary.
Later that same year an escapee from Geelong gaol was caught near the lake at the Gardens, and arrested, but not before he had stabbed a police constable.
1891 saw an attack on the gardens by a plague of locusts.
In 1901 a local share dealer committed suicide in the Gardens after making losses on several mining deals. He was just 38 years of age, but had no family locally.
In 1899 the first curator George Longley died 41 years after creating the gardens. I wonder where the hothouses were that contained his cherished orchid collection?
A robbery in 1904 led to the loss of 166 geranium plants from the glass houses. What would the robbers do with so many plants?
By 1903, Victorian Railways advertised their line to Ballarat for trips to what they called 'The Garden City', because of the reputation of the Botanical Gardens. A review of the Gardens in 1924 called them 'the show gardens of Victoria'.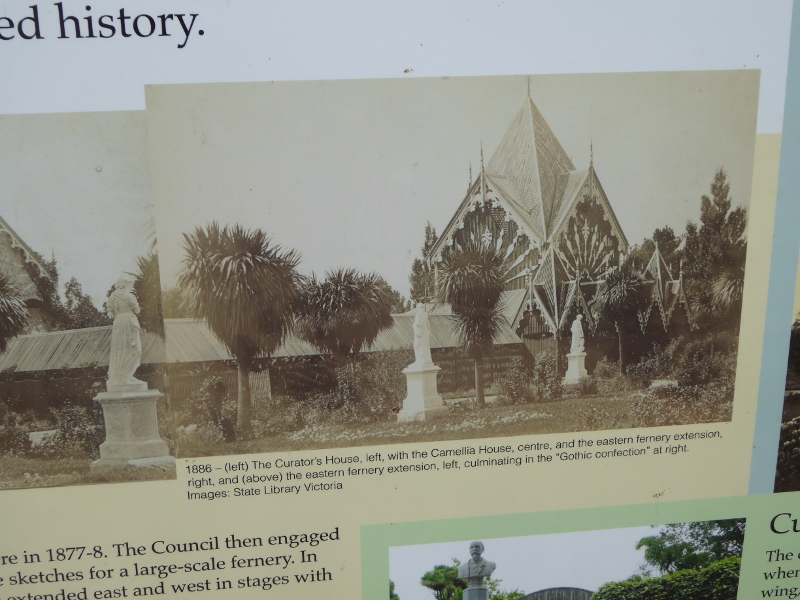 In 1934, the Adam Lindsay Gordon cottage was moved from the yard of one of the hotels in central Ballarat and placed in its current spot in the Botanic gardens.
In 1934, Ballarat Botanic gardens had a royal visitor in the form of Prince Henry, the younger brother of later kings Edward VIII and George VI. He would go on to serve as Governor-General later in his life. His quiet stroll in the Gardens led to thousands of onlookers trampling over many of the previously well-tended beds, so I'm not sure how much of a royalist the curator would have been after he left.
Queen Elizabeth II and Prince Phillip also received their official welcome to Ballarat in the Botanic Gardens in 1954. Ballarat's begonias were apparently the attraction, and her visit brought thousands to the Gardens that day. I was pleased to see that singer Lynette Kierce, a key local musician in Ballarat in the 1950s and mentioned in my Ballarat Regent Theatre review, performed in the Gardens at that time.
1939 saw the introduction of the avenue of Australian prime ministers, which is still going today. There were just 12 in 1939; more than double that now in 2020. The busts were added one by one, though, and Robert Menzies only took up his spot in 1943, even though he first had the position 4 years earlier. Menzies is quoted as saying he didn't recognise himself when he first visited the Avenue in December 1943.Two of the busts were removed from their pedestals in 1944, and found later up a tree in the town centre – 'skylarking soldiers' were the chief suspects. There was another act of vandalism against several of the busts in 1994; police said the motive didn't appear to be political as PMs from both parties were thrown to the ground!
What are your experiences at Ballarat Botanic Gardens?
Did anybody still around today attend the Royal visit to the Gardens in 1954? Do you remember hearing Lynette Kierce sing? Get in touch if you answer Yes to either of these questions…
Can anyone tell us when the steamer stopped bringing regular passengers across the lake to the Gardens?
Or does anyone just have a good memory about a visit to Ballarat Botanical Gardens that they'd like to share here, even from the last few months or years?
Other links and writings on the Ballarat Botanical Gardens
The Friends of Ballarat Botanical Gardens have their own site.
The Nomadic Explorers were 2013 visitors to the Gardens – lots of lovely tree pics.
Marsha Ingrao's Always Write blog clearly enjoyed the Gardens on a break from Melbourne – she got inside the pavilion housing the statues, too.
The Talking Plants blogger visited in 2014  – points out that Ballarat's gardens are bigger than Melbourne's.
Jan Martin's travel blog visited in January 2015
I loved this blog post from Anne's Family History, with a collection of her family's photographs dating back to 1924, spending time in the Ballarat Botanical Gardens.
Victorian Heritage Database entry is extensive on the Ballarat Botanic Gardens
Mamma Knows West visited in 2016.
2020 Herald article on vandalism to Abbott and Howard sculptures.
I see the Weekend Notes visitor also had their visit curtailed by a change of weather…