Popular with promenaders since the 1850s, St Kilda Pier draws people today for a peek at the penguins, though its newly-restored pavilion is also a local landmark.
---
My experience on the pier
For most of its long life, St Kilda Pier has been more of a pleasure pier for promenaders than a working pier for boats and moorings. And that was certainly the case on the Sunday we visited in late December, with lots of folk out for a stroll and a breath of fresh air, in spite of the occasional rumble of thunder and flash of lightning out over the Bay.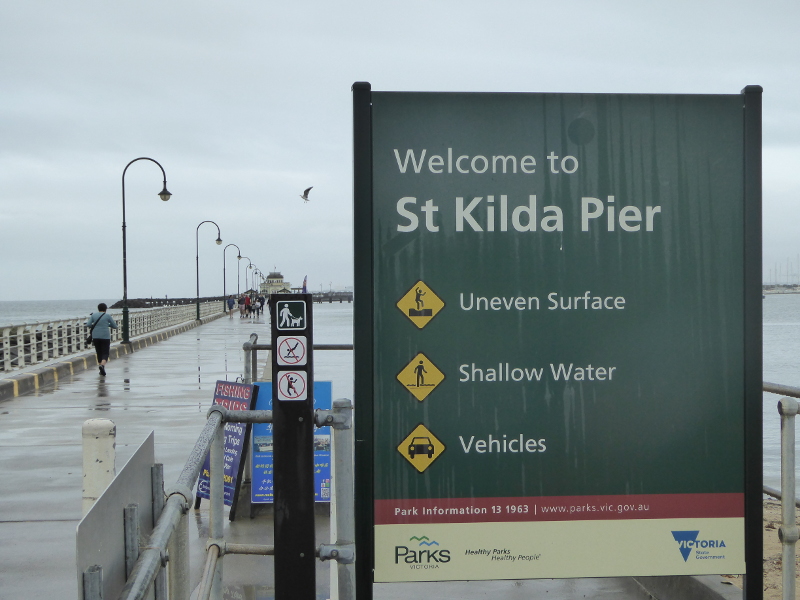 It's a long pier, maybe more than 500m by my step count, and there isn't a lot of shelter, so we were glad the rain held off and that the scorching sun of a few days earlier had disappeared behind those clouds.
It's all concrete these days (until you get to the end, where the kiosk still stands on a wooden boardwalk running perpendicular to the long section), and that takes away a little for me from the romance of a walk out over the water.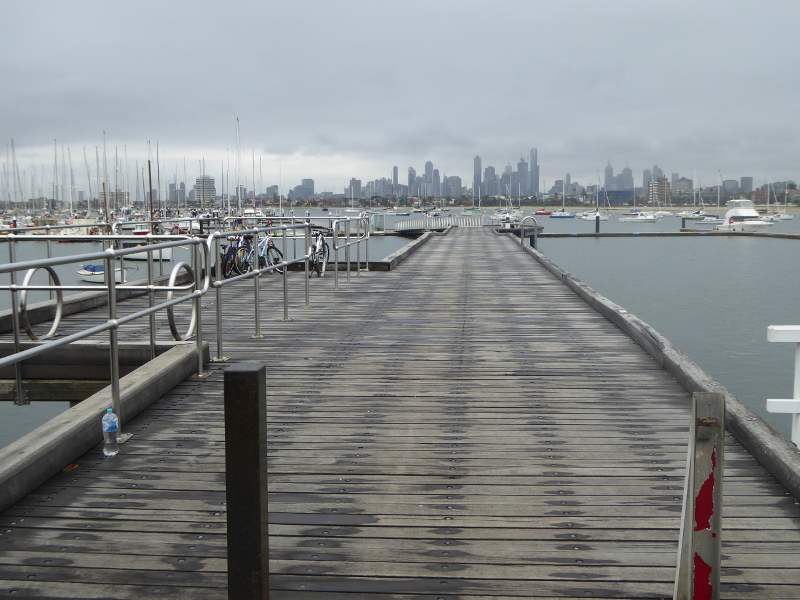 But it's a beautiful spot, with great views over to Melbourne's CBD out to the right; a boat-filled marina immediately to the right; and a breakwater which runs along the start of the pier and then picks up again towards the end. Turn around for great views back to St Kilda, where the massive Palais Theatre and the Luna Park Scenic Railway are my favourite landmarks.
The ferry from St Kilda to Williamstown leaves every couple of hours from a berth about 100m along from the start of the pier (we managed to miss it by having a cuppa in the kiosk just as it must have arrived and left).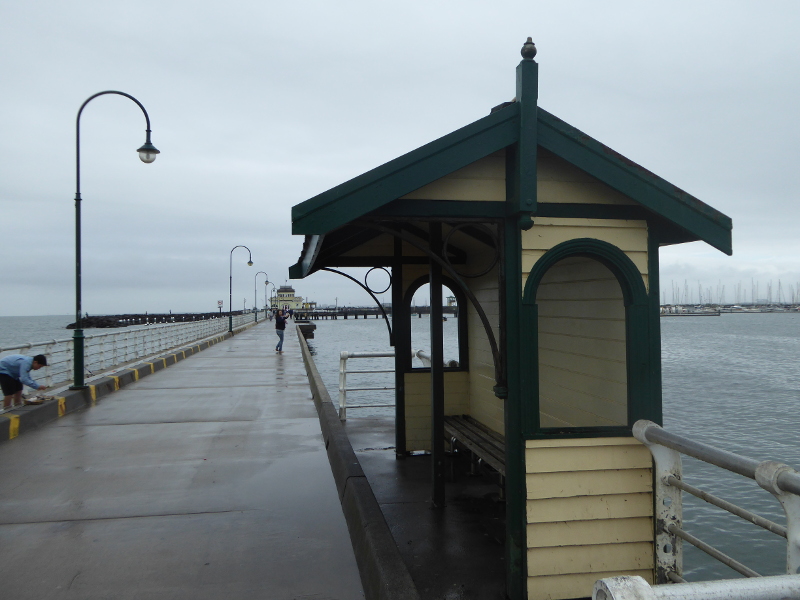 Next up, on both sides of the pier, are two vintage-looking shelters, with the only covered benches on the whole pier. The left-hand one was occupied by a family of fishermen as we walked past, but the right one was free and allowed for nice views of the pavilion and kiosk through its shapely windows.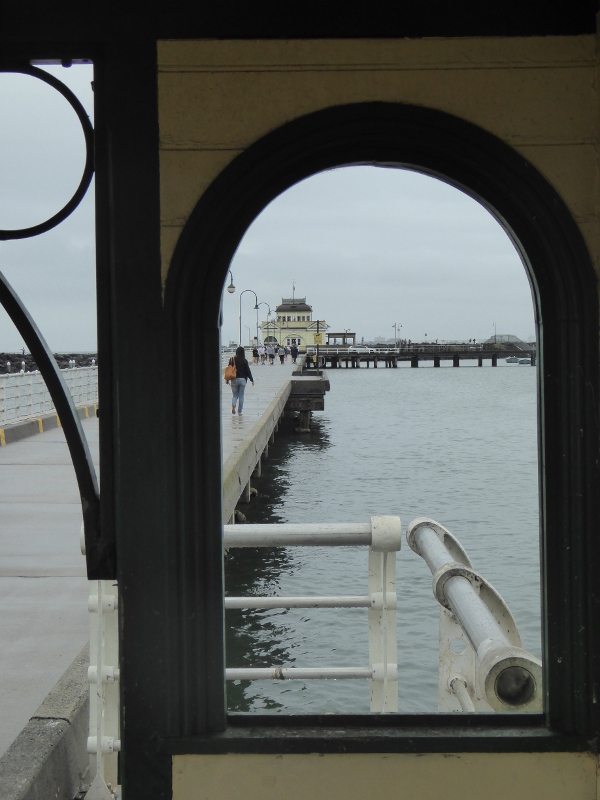 I also got intrigued by the engraving on all the lampposts that line the pier – is that a hint of Luna Park on the bottom left?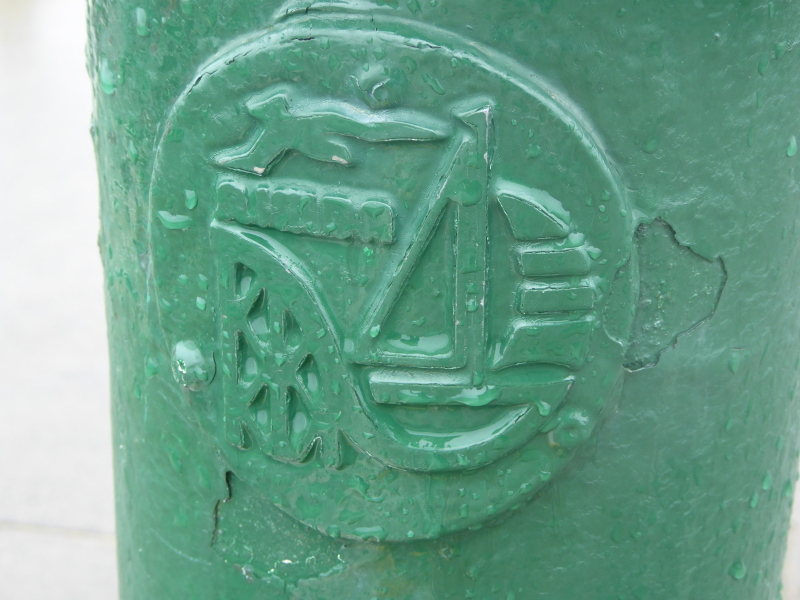 There was quite a crowd gathered on the breakwater rocks just next to the kiosk so we joined in, and saw them peering carefully into the hiding spot of one of the Little Penguins at St Kilda, who apparently moult at this time of year, so stay in the shelter of these rocks till that is all done and they are safe to swim again.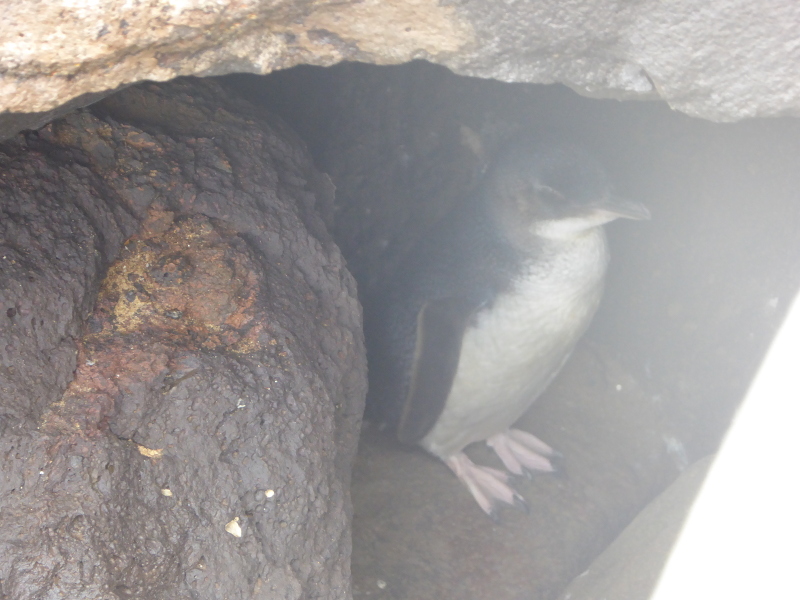 We didn't see any water rats, but I was pleased to learn of the rakali, and realise now that the enormous rat I saw swimming under Wlliamstown Pier a few weeks ago must have been one of those, rather than the urban, port rat I had imagined it was.
We were more struck by the jellyfish under the pier again. In Williamstown they had been a garish pink or purple, but under St Kilda Pier, there were several enormous white jellyfish pushing their way round the waters in that shuffling way jellyfish move. These sightings are certainly making me nervous of the waters when we get down to swim in the vintage Brighton sea baths, so if anyone knows anything about the sting of these beasts, let me know in the comments below….
And last of all before we made our way back to shore, I stopped for a moment to think of poor Mrs Biggs, one of the People whose story caught my attention around St Kilda Pier. I still have plans to research more on this lady who drowned off the pier almost 90 years ago. The open verdict on her death at the time left me wanting to know more, so watch this space as I delve into that a little…
And last but not least by any means is the St Kilda Pier Pavilion. Now, this building burned down some years ago (see history below), but was restored using the original designs from 1904 so it feels and looks as vintage as it ever was, and is certainly one of the iconic features of this marvellous Melbourne landmark.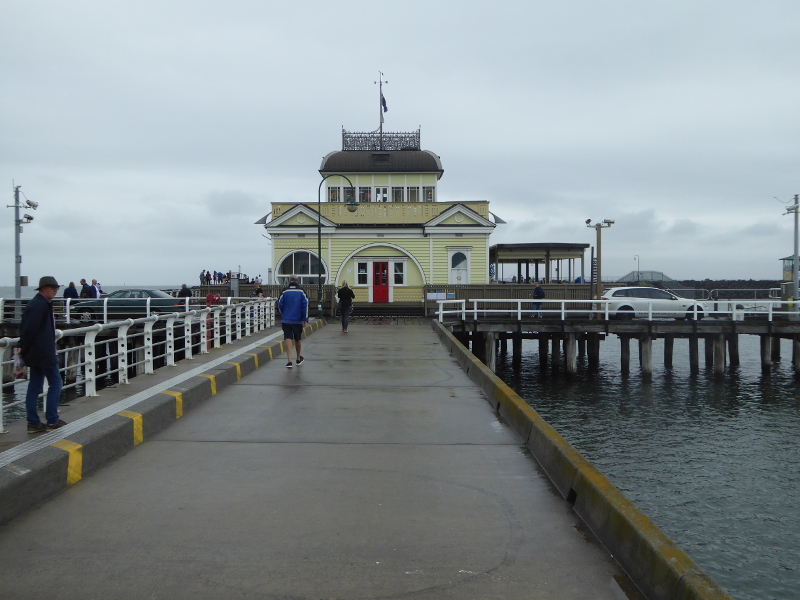 Practicalities
Toilets for customers of the kiosk/restaurant at the end of the pier.
Shelter only at the 200m mark with two vintage looking benches under cover
By the way those shelters block the narrow pathway which runs parallel to the wider roadway along the pier. There is a sign for wheelchair users warning them that the narrow path does not continue the length of the pier, but no harm in repeating that here because I can imagine that would be really frustrating to get all that way and have to turn back because the path is blocked…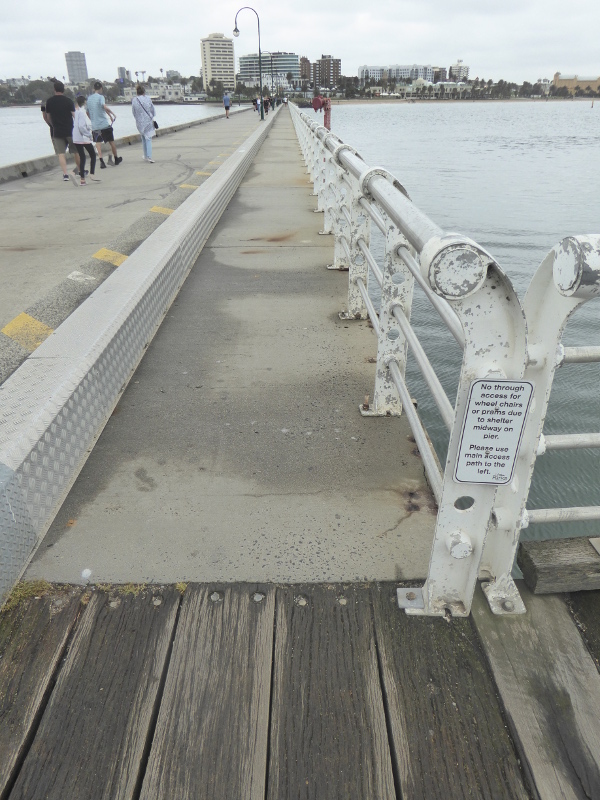 Nice chunky wooden benches also on the lower boardwalk section in the T-section of the pier, down near where some of the penguins live.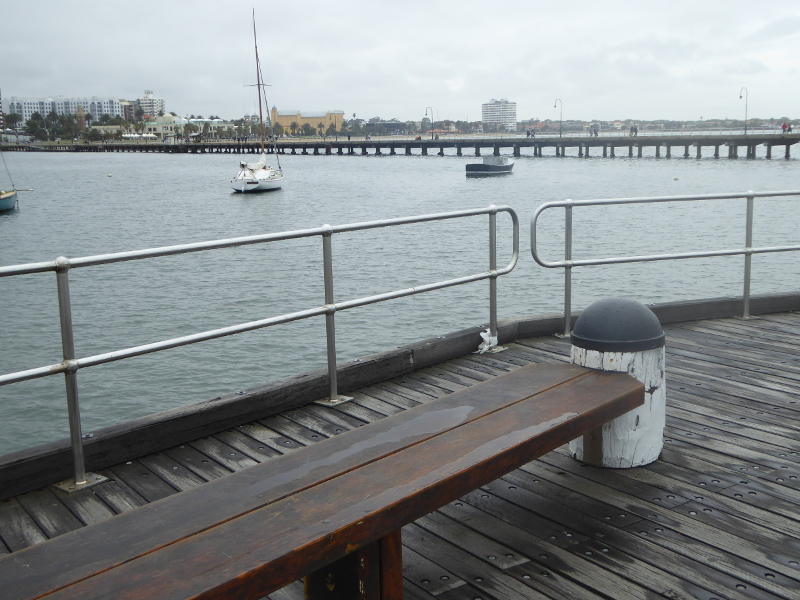 History and stories about St Kilda Pier
The first reference I found to plans to build a pier at St Kilda date from 1853, but the first article on Trove referring to a boat mooring at the new St Kilda pier was from October 1858.
In 1872 St Kilda Pier was enlarged to a T shape to give more shelter to ships and to provide a 'more suitable promenade to romantic strollers on moonlight nights.'
But by 1873, there were complaints of 'larrikinism' from locals on a Sunday afternoon: "Seated on the fence are a number of youths who, in a loud voice, use most filthy language and make obscene remarks on passers-by," especially 'unprotected' females. One correspondent noticed by the cut of their clothes, that these lads were of the 'better class of society,' and a consequence of that was that they would 'snap their fingers' at any policeman who tried to stop them. Ah, who said Australia was a classless society?
There were lots of reports of lives saved from people in the water off St Kilda Pier. I liked the one from 14 September 1874 in The Herald, which read: While St Kilda pier was thronged with promenaders yesterday afternoon, a poor mongrel dog, swimming about in deep water, was seized with cramp, and its drowning whines excited much compassion. A well-dressed gentleman…jumped into the water and saved this poor animal…'
Back in those days the St Kilda sea baths were within sight from the pier, and some shocked locals were greatly disturbed to have a view of nude bathing in the baths, according to newspaper reports from 1874.
Another complaint, dating almost ten years later, came from a 'promenader' who objected to 'bicyclists' 'parading' on the pier. Now, in 1883, a bike as we know it today would have been a rare sight, and certainly not something pedestrians would have had to think about avoiding. More than 60 years later, though, 'dozens of cyclists' were reported to have annoyed people watching the speedboat racing off St Kilda Pier in spite of continuing prohibition on riding bikes along the boards.
In 1887, the Illustrated Australian News declared: "As a public promenade, the pier is unrivalled, especially in the evening. (It) is literally crammed with old and young of both sexes and of every condition in life…"
St Kilda Pier was also a haven on hot nights. After a 40C day, one reporter in 1908 found 100 people asleep on the pier at 5am, "in all kinds of queer positions, some lying over rails, others reclining against jetty posts, all motionless as if struck so." (Argus, 2 January 1954).
There were countless stories of people ending up in the water off St Kilda Pier. Some fell in and needed rescuing, some were attempting suicide, but some incidents were both banal and bizarre: one story had a man out for a walk who pulled a ten bob note out of a pocket with his hanky; he chose to dive into the water to try to retrieve the money, but couldn't find it, surprisingly enough.
Another story had a pedestrian at night who realised he was being followed and made the mistake of turning onto the pier, where he was basically cornered. He jumped in to escape from the people looking to mug him, but in the process lost all the money they had been looking to steal from him…Not sure the moral of that one…
There seems to have been a history of rivalry between the Station Pier in Melbourne and St Kilda Pier over which should be the arrival point for Royal visits over the years. I was intrigued by a 1936 article, welcoming the new King (Edward VIII), and remembering his arrival in 1920 at St Kilda Pier. After initial awkwardness when he first stepped onto the pier, he 'cheerfully endured the ordeal of being inspected by huge crowds.'
In December 1934, a massive storm hit St Kilda Pier and dramatic photos in the paper the next day made me think it's a wonder the Pier is still there today – I believe the demise of the sea baths began with that storm. The photos show crumpled and buckled planks of the boardwalk.
There's a bit of a gap in news items about the Pier on Trove, so I was intrigued to learn from information boards on the pier today that there was a complete rebuild in 1970, when the pier was moved slightly to the north (?), and the boardwalk was replaced by concrete, except at the T-section around the kiosk.
By the way, that kiosk was once lived in by its managers (see People, below), but some years after that practice stopped, the whole building was burnt down and had to be rebuilt in 2003. They've done a pretty good job to reproduce a vintage-looking pavilion, and it still forms a focal point for any visit to St Kilda Pier today.
People linked to this place
Noble Kerby
The Kerby family lived in the pavilion at the end of the pier for many years, with lots of colourful stories to tell, no doubt. In 1953, Noble Kerby had to shuffle his way along a single plank of the pier when a small boat was dashed against the pier structure in a storm – that made the news one April night.
in 1951 he used his ownership of the pier kiosk to make claims for rights to drill for brown coal in the bay off the pier.
At the same time as he was challenging the port authorities over his 'right' to drill for coal, he began selling cheap home-made beer at the pier kiosk, where he once again claimed not to be breaking any law on Sunday trading or home brewing for sale. He was certainly ever one to look for loopholes in the law to carry out his endless stream of ideas.
In 1953, Kerby launched a bid to reopen St Kilda Sea Baths, which had been damaged in a storm and closed for 18 months. He wanted to rebuild the baths and add new buildings with accommodation and a ballroom to make them a 'real community centre.' – what a shame this never happened. The local council apparently said they were an 'unnecessary luxury' and the State Government said they wouldn't be providing funding while money was needed for schools. How short-sighted they all were back then.
He died in 1957 (or was it 1959?) and his son took over the business ventures. Sadly the Sea Baths never got rebuilt, and are now stuck indoors in a posh gym on the shore.
Mrs Biggs
Mrs Fanny Ethel Biggs was found drowned off St Kilda Pier in November 1929. The mystery surrounding her death caught the public's eye and press coverage of the police investigation and inquest was enormous. This 55 year old English lady had been travelling with her husband. She disappeared the day he left for New Zealand, but his version of events was plausible enough when he returned for the inquest that the coroner recorded an Open Verdict on Mrs Biggs' death. The saddest thing for me was that she was buried in a pauper's grave not far from St Kilda. And it's almost that outcome which made me want to investigate this incident more. It's the fourth story so far on Vintage Victoria I'd like to write more about.
Marjorie Riches
Marjorie Riches is probably not with us anymore but as a 10 year old in 1934 and 1935 she hit the news twice in brief items centred around St Kilda Pier. First she was involved in rescuing her little brother who fell into the water off the pier – though the twist to that story was that she didn't know it was her brother until she got the body back to shore; and then she got bitten by an Alsatian on the lawns near the pier (on a day the media must have been short of a story or two – well it was around the Christmas holidays…) and got herself back in the newspapers following that incident. Does anyone remember her later in life?
Other links and writings on St Kilda Pier
Great piece in The Age from 2004, a year after the fire which destroyed the St Kilda Pier pavilion. Colin Kerby, interviewed. He lived here till retirement in 1991 after his parents took on the pavilion and kiosk in 1939.
In 2007 a researcher with a similar approach to mine of telling the stories of venues. The difference is that Alex Heydon goes deeper by focusing only on St Kilda Pier and the Kerby's. I hope he does get his work published. The Age again published a nice article on his research.
Nurse Myra's blog has some great pictures of the dancing in the St Kilda Pier Pavilion, but has much of the same text as was included in The Age.
What are your stories and memories of St Kilda Pier?
Have you seen many changes to St Kilda Pier over the years? Can you even remember far enough back to when they held weekly dances in the pavilion on the pier, or to Noble Kerby's various campaigns back in the 50s?
Or do you just have good memories of a romantic stroll, a school visit, or maybe a holiday trip that involved a visit to the pier?
Comment below if you have anything to add.
Coffee near or tea on the pier?
We stopped for a drink in the kiosk at the end of the pier. The coffee was pretty average but the tea was excellent, from the quality Tea Drops company. Lovely spot for a cuppa anyway, with lots of old photos of the pier and kiosk from decades past.