They've been swimming in the Ovens River at Bright since the gold miners left the area a good while ago. Popular spot on a hot day, and with good reason – such clear water
---
My experience in the pool
It was a steaming hot day in January when we decided on a day trip to Bright, in the foothills of Victoria's Alpine country. Our aim was a swim in the Ovens River, even though for once I had done no research to check that that was actually a Vintage site, and not some 21st century invention.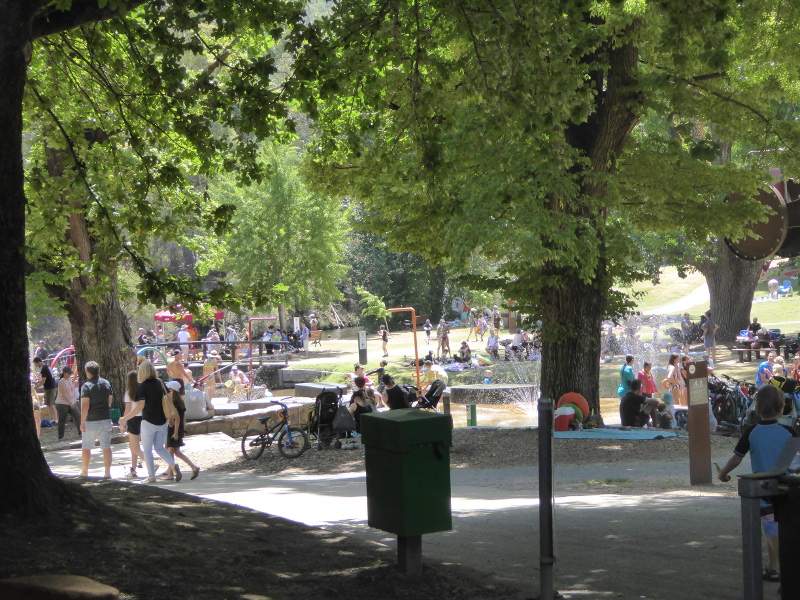 When we got to the park by the river where all the screams were coming from, we could quickly see that Bright's river swimming pool would make a perfect post, combining as it does lots of modern water fun features (for kids in theory) and the look and feel of something that has been around for a good bit longer: the river itself!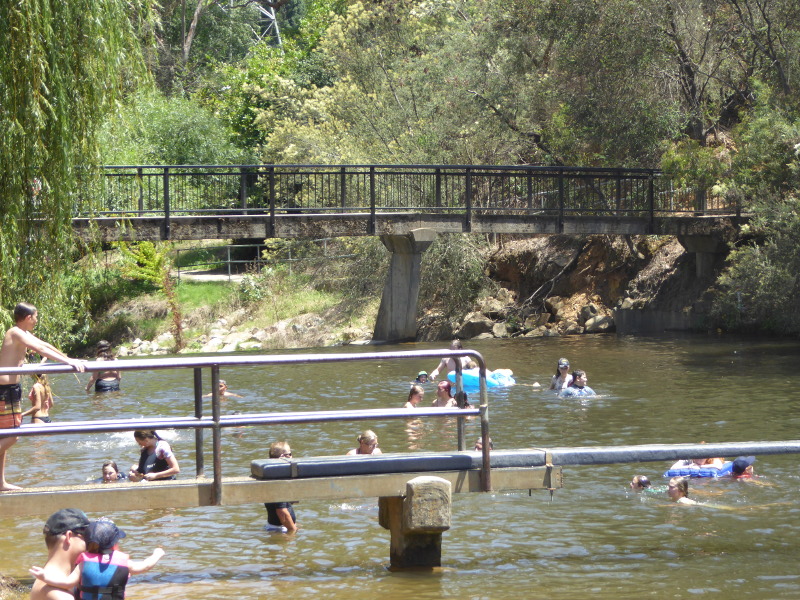 This place was busy, and it had lifeguards on duty, so it is a really serious bathing spot, and not just a nice place for a dip on a hot day.
The water was chilly at first – it is after all coming down from the high mountains – but once you take the plunge it just gently cooled the body and all that pressure build up from days of heat began to disappear.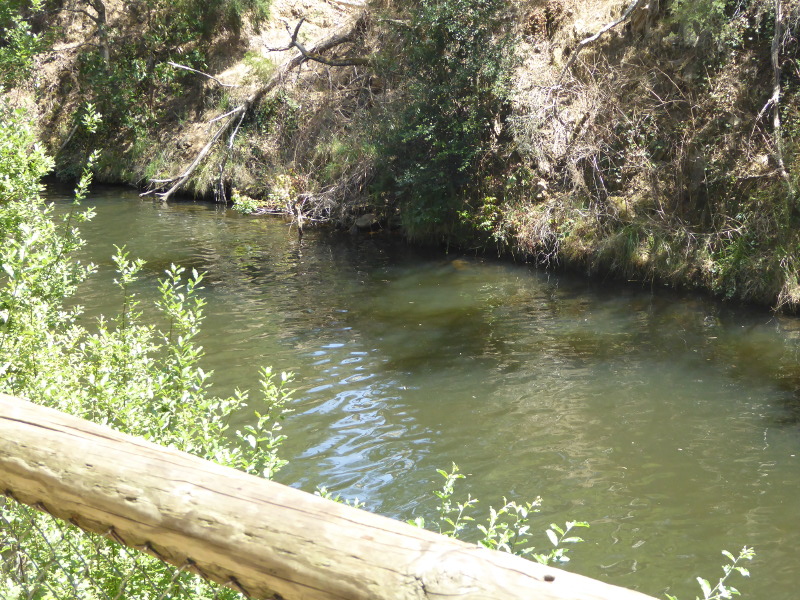 The waters of the Ovens River are absolutely delightful. Unlike our recent dip at Vaughan Springs, where it was brown and a bit murky, the Ovens River at Bright is crystal clear, so stretching out with some freestyle was a joy, with perfect visibility down to the river bed itself.
And it's quite a long stretch that is deep enough to swim in. They have dammed the river here so the water backs up forming at least 100 beautiful metres to swim up if you want to.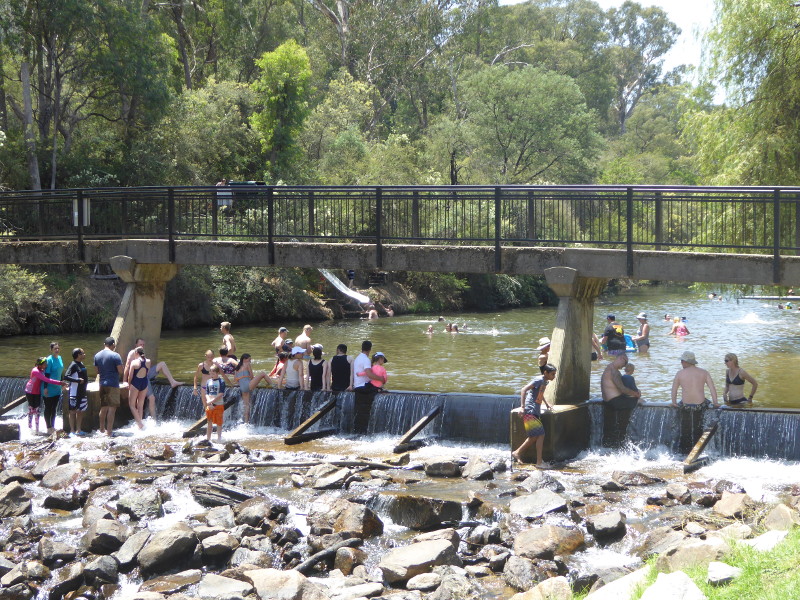 There was quite a crowd in the water right by the dam and in the waters right under the noses of the lifeguards, but swim a few metres upstream and you're on your own, except for the odd duck which may drift past, apparently unfazed by this human activity in its usual habitat.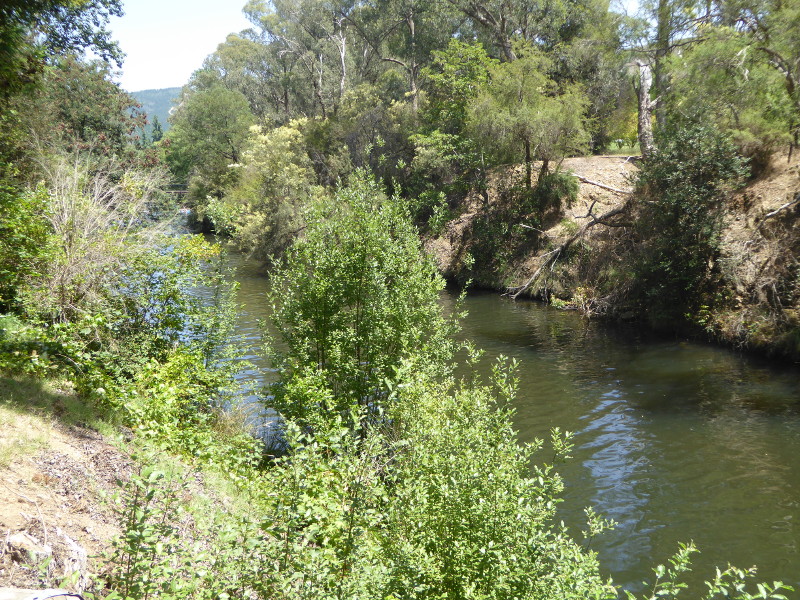 I swam up as far as the end of the big water slide chutes and then lounged around for a while looking up at the tall gum trees and just keeping my face out of the direct sunlight.
By the time we'd got out and changed, they had put the water slide on, which was a real shame because that looked a really fun addition, and almost certainly wasn't there in Bright's Vintage days.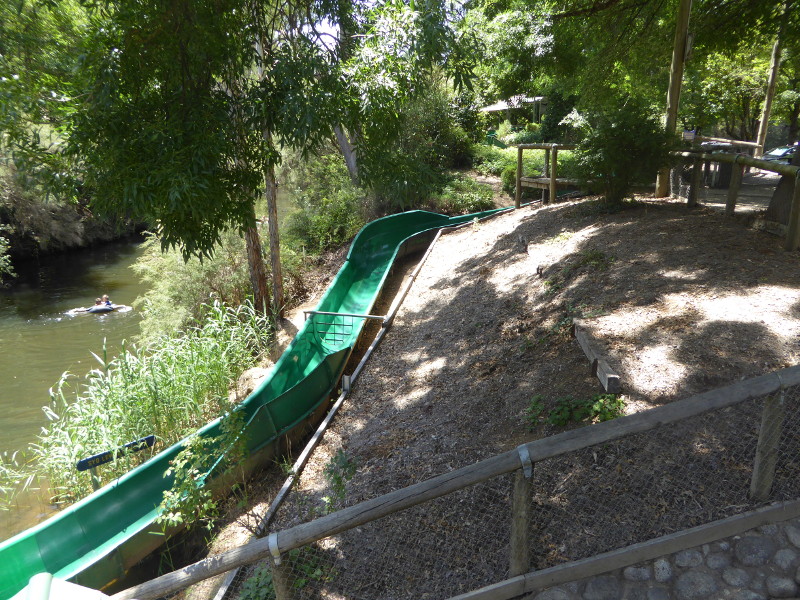 Nor would the kiddies play area have been there many years. And that too looked great fun, with a giant wooden ladle tipping a truckload of water over those screaming kids every few minutes, and other nice water features to muck about in. I'd need to go on a quieter day to try them out, I think, though again they probably don't operate outside holiday seasons (correct me if I'm wrong).
All in all, this was possibly my favourite swimming spot in Victoria so far (yes, potentially beating even the Geelong Eastern Beach Baths). It's not somewhere I'd fancy in colder months, but on a hot day in summer Bright is the best, and people have been doing this for almost 100 years. How Vintage is that?
Practicalities
Toilets and changing rooms – close by, near the entrance to the water slide.
Lifeguards on duty only in January holidays (they told me; I thought the council website suggested slightly longer dates)
Lots of water features for kids in the shallow section.
Water slide or chute some 100m away from the main guarded area.
History and stories about the Ovens River pool at Bright
The Argus of 30 December 1927 spoke of the swimming pool in the river at Bright being one of the best in country Victoria: "Hundreds of men, women and children are constantly enjoying the fine clear mountain water of the Ovens River and crowds may be seen there day and night." – could have been 2019…
But it was not always like that, as the Weekly Times revealed in a feature on Bright in 1939 (28 October). "The people who founded the town were not much concerned with scenery. They were after gold." But after the gold stopped coming, they turned to tourism: "Down at the junction of the Ovens and Morse's Creek was a shambles left by the devastating gold dredge. This was levelled and planted and a beautiful swimming pool of clear mountain water created in the Ovens."
The first reference I found in press cuttings to people swimming in the Ovens River dates from 1919, but at that stage there was no formal swimming spot. The Bright Progress Association appeared to make 'improvements' to facilities here in 1924, after which the swimming pool I swam in in 2019 has more or less stayed the same, with the addition of some damming and lots of kids play things.
It hasn't always been plain sailing (or fishing) here, though. WD Walker – shire foreman – was involved with retrieving bodies twice in drownings in or near the pool in the 1930s (1936 and 1938). And a year after that, people took sanctuary in the swimming pool when fires were raging in the bush nearby.
The Weekly Times of 4 June 1947 has a photo of the swimming pool in the Ovens River at Bright and it looks very like the 2019 spot, except there is no dam, it seems.
People linked to Ovens River swimming pool at Bright
WD Walker was a big personality in Bright. As well as making two rescues at the pool, he was for 40 years in the Bright Fire Service and served on various committees of water authorities, tennis clubs and other bodies. Quite a local character. No wonder a stone building in the town was named after him in Wattles Camping Park, though I have to confess I didn't find it when we were in Bright.
Other links and writings on the Ovens River pool at Bright
The trouble with googling words like 'bright' or 'ovens' – you get lots more than just the town and river in Victoria so I didn't find much. If you have written about your experiences at this pool, drop me a line so I can add a link…
This local Bright website has information for tourists, with a lovely photo of the swimming pool in the Ovens River.
This is the Melbourne Playgrounds entry for the Ovens River swimming holes.
What are your memories and stories about swimming in the Ovens River at Bright?
Do you swim in the Ovens River at Bright? Has anyone been swimming here for years and can they share some memories on changes they have seen to the area?
Can anyone remember WD Walker or heard stories about him locally?
Coffee before your dip or after?
We just missed the opening times for the local coffee roasters, Sixpence Coffee, in Churchill Avenue, but they were kind enough to steer us towards another café serving their coffee, and that ended up being right next to the park by the river, so we could even watch the fun in the water while sipping on an excellent coffee – at Ginger Baker.