A tranquil spot about as far east in Victoria as you can get, Mallacoota Wharf hit the world news headlines as local residents and visitors used it as a safe haven during the deadly bushfires of 2019.
---
My experience on the pier
The Sunday morning I arrived at Mallacoota Wharf was a peaceful one: just me and another couple drinking coffee, two blokes having a quiet chat on their boat, and a dog trotting around with a stick in its mouth, but nobody there to take it off him.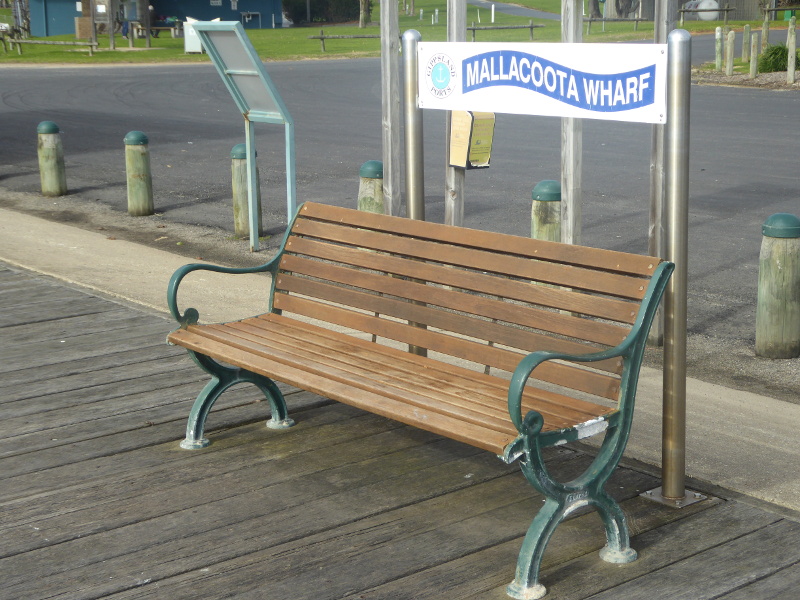 What a different mood it was here 18 months ago, when the town was hit by two waves of bushfires that destroyed much of the town and had locals and visitors bunching up for safety on this very wharf, with many taking to their own boats to keep clear of the embers and ash raining down on the town.
The tall, once majestic gum trees all around the town still have blackened trunks, but were starting to grow little clusters of green leaves on thin branches when I visited in mid-winter, a sign of regeneration and restart for trees that have probably seen it all before and survived.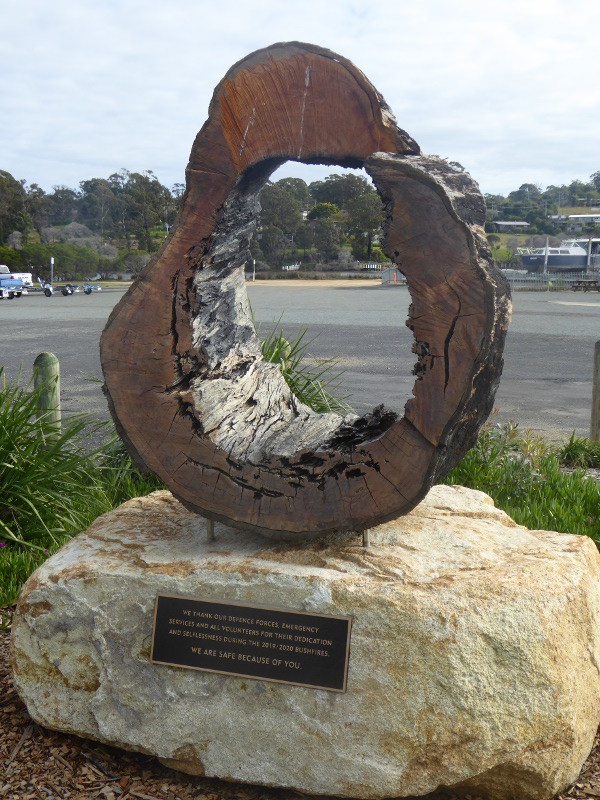 Across the tarmac from the wharf is an upturned trunk on a pedestal; it's a sculpture installed there as a mark of thanks for the fire fighters and other volunteers who helped save so many lives and properties on that dreadful New Year's Eve 2019.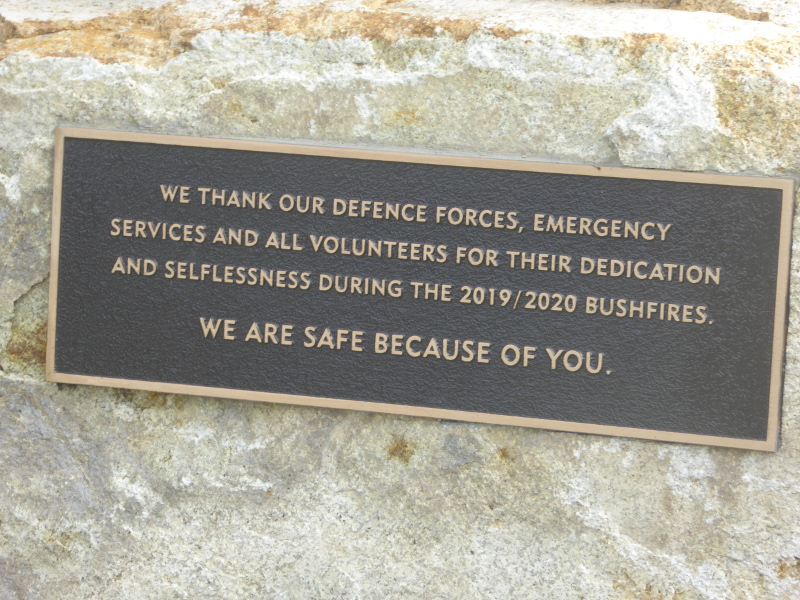 I'd never been to Mallacoota before so I have no comparison point to know whether the quiet there on this winter's morning is just normal for the time of year, or a sign that the town is still in recovery mode.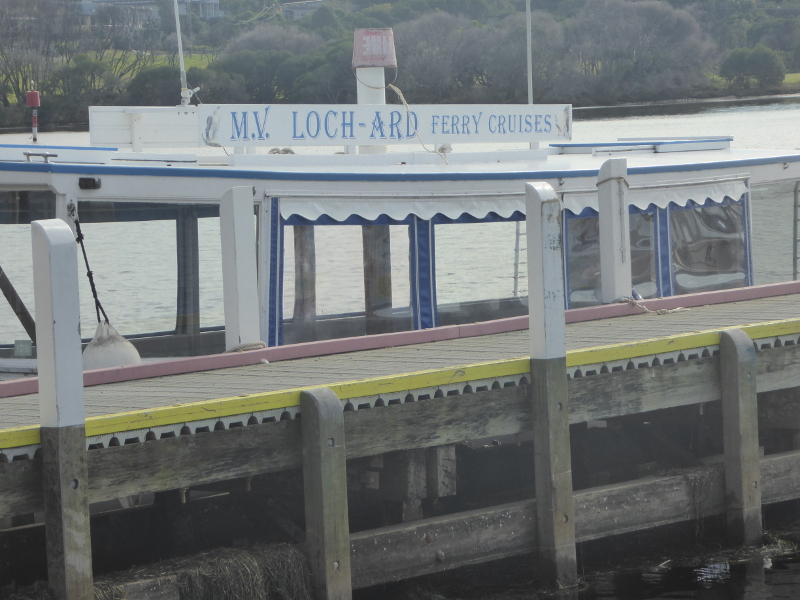 The M.V. Loch Ard, the little ferry that takes people out on day trips to Gabo Island and other places nearby, sat idle at its berth, with no indication of when it will next go forth. So, no trip to the lighthouse for me this time, but I'm sure we'll be back at maybe a more popular touristy time of year to review the lighthouse on the island there (it's too far from Mallacoota to be visible from the wharf, by the way).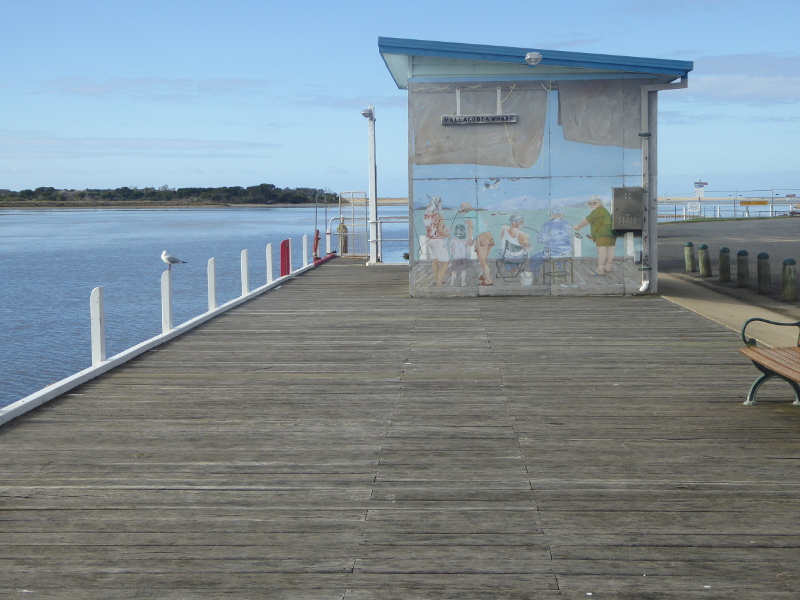 The wharf itself is not really a pier in the promenading sense, or even a jetty sticking out onto the water. It does remind me of Hull Pier, back in my home town though, as that was basically a solid piece of boardwalk decking against which the ferries across the Humber used to berth.
And Mallacoota Wharf is similar: a 60m wide chunk of boardwalk, with a number of berthing points a little further along the lakeside.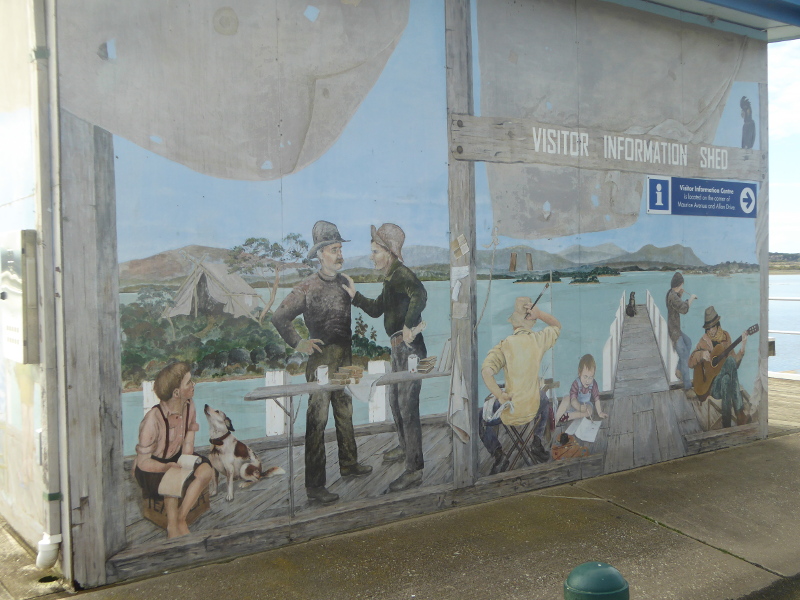 There is a fairly vintage-looking shelter on the wharf, with some much more contemporary artwork on its walls, and a couple of benches under cover for those needing shelter as they wait for their boat.
There's an elaborate network of walking trails all around here, taking you up and along the water's edge around the various lakes and waterways near Mallacoota. I want to get up to The Narrows one day, as that sounds like the kind of place things might have happened in the past.
There wasn't much on Trove to tell me stories about Mallacoota Wharf's past, which made me wonder if it had a different name at some point in its history. Or was all the drama this place has seen kept at bay until 2019. I'm sure locals would say that was quite enough history for this place, thank you very much.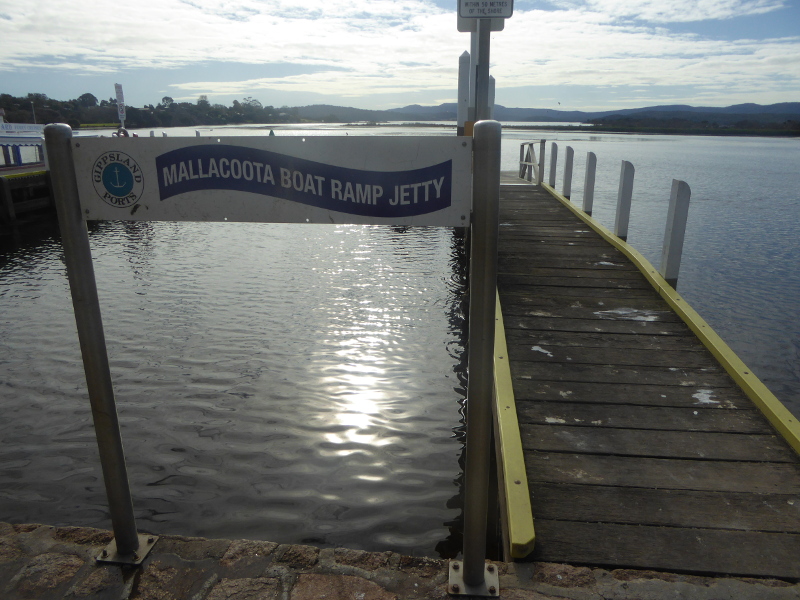 It's a beautiful spot. The kind of place I'd happily sit and read a novel for hours on end, looking up now and then to look at a pelican swooping over the water, or watching as a little fishing vessel chugs up and past.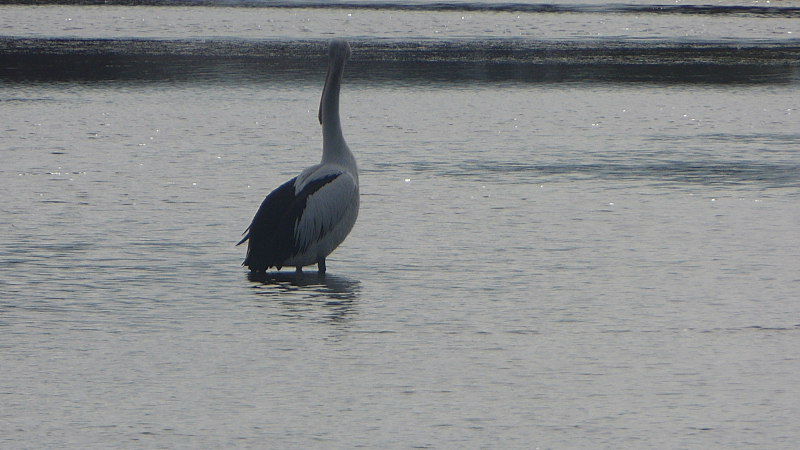 No big waves here; we are actually well protected from the ocean surf. Just the gentle lapping of water occasionally up against the piles or onto the shore.
Mallacoota, I'll be back for sure.
Practicalities
Toilets a little bit further up the lakeside from the wharf, and back in the camping ground to the south.
There are benches on the wharf and inside the shed.
History and stories about Mallacoota Wharf
A boat called the Saros was wrecked off nearby Cape Everard in 1938. The salvage team brought what they could ashore at the Mallacoota Wharf. Ropes, tarpaulin, compass, ship's bell, steering wheel, cutlery and cabin fittings were salvaged.
Myrtle the turtle was on the wharf in 1952. Known as the Gabo Island turtle, she was on the wharf at Mallacoota for some reason not explained in the newspaper report, being admired by passers-by, when she dived for freedom and escaped back into the waters and freedom. One onlooker commented that she had shark bite marks on her upper and lower body, so she clearly had a habit of making a getaway from becoming something's dinner.
Other links and writings on Mallacoota Wharf
This is The Guardian coverage of the bushfires in December 2019.
This link takes you to superbly well-written blog posts from local resident Maggie McGuinness during and after the fires in 2020.
What are your stories and memories of Mallacoota Wharf?
Does anybody have any stories from the past to bring Mallacoota Wharf to life? Did the wharf have another name in days gone by? Is that why there were so few stories on the Trove database?
Or just get in touch with a comment on your own experiences down at Mallacoota Wharf, or in the waters around it.