It is thanks to the WW2 Dambusters crew that Avoca races take place at all these days. This simple grandstand, built in 1927, has looked down on almost 100 years of meets now.
---
My experience at the races
The grandstand at Avoca racecourse was well-used on the day I attended the autumn meeting here in 2022. Ironically, it's probably the least 'grand' of all racecourse grandstands I've visited on this Vintage Victoria tour, but as regular readers will know, it's the fact that it's still in use 100 years after being built that guarantees its place in this list of racecourse grandstands in Victoria.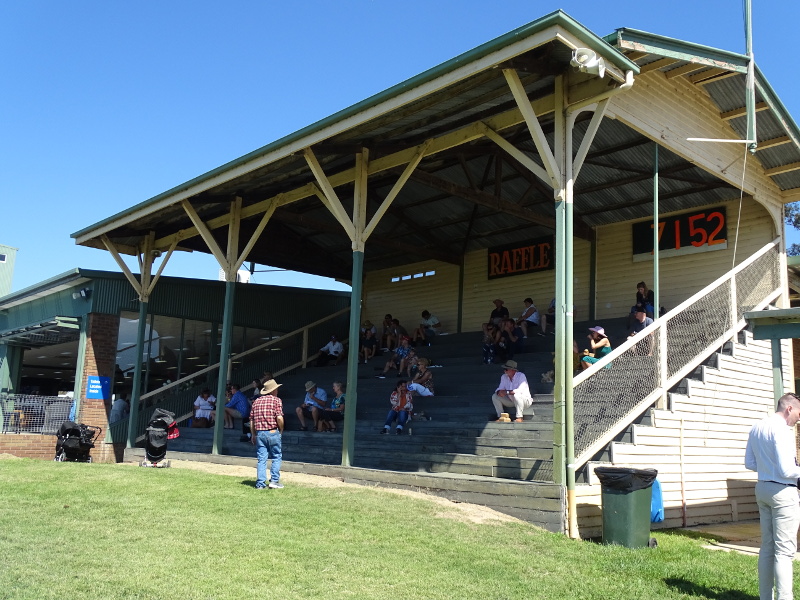 Actually, somebody at the Avoca Turf Club has a similar idea of history to my own, judging by this rather unique potted history of the course displayed in the main bar rooms (surely an initiative every country racecourse could be copying).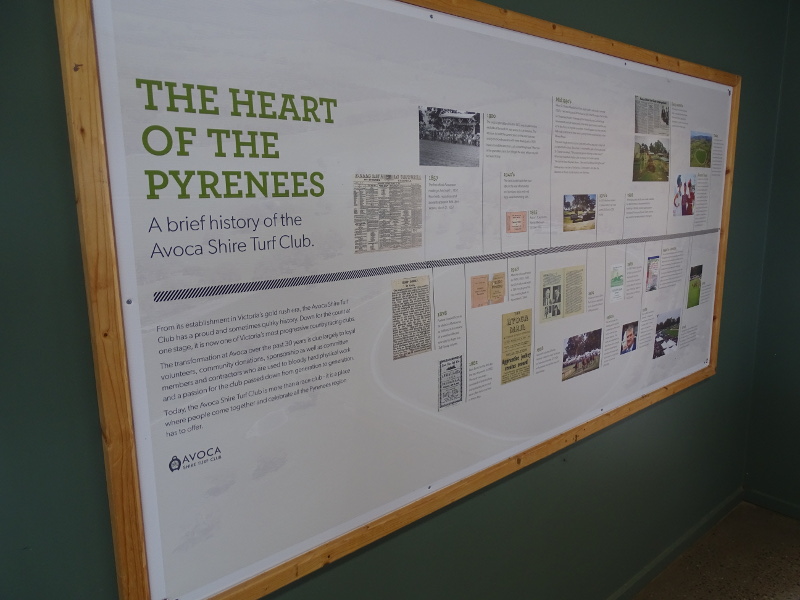 I loved the story of the Avoca connection to the WW2 Dambusters, which actually saved the track from closure in the 1950s: basically, one of the board members sent down to tell Avoca they'd have to close as part of a Victorian cutback on racing in general at the time, recognised the toilet cleaner as a former member of his Dambusters team, and it's thanks to that camaraderie that the board changed its mind on closure!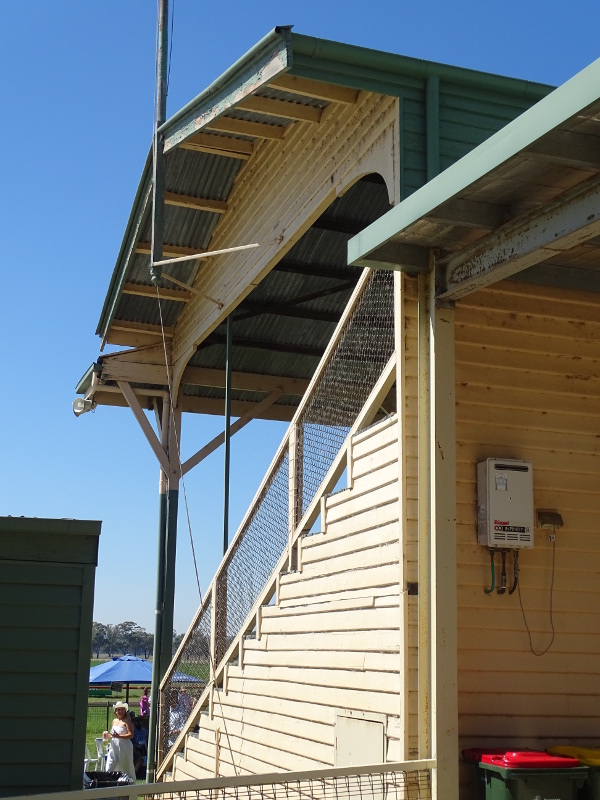 I had guessed that the grandstand in place today must be the one built in the 1920s. The only doubt I have is whether my Trove search suggesting it was built in 1927 is correct, or the racecourse board picture, which dates the grandstand to 1920. I think I'm actually right on this one, as confirmed on a heritage document I later found, and link to below.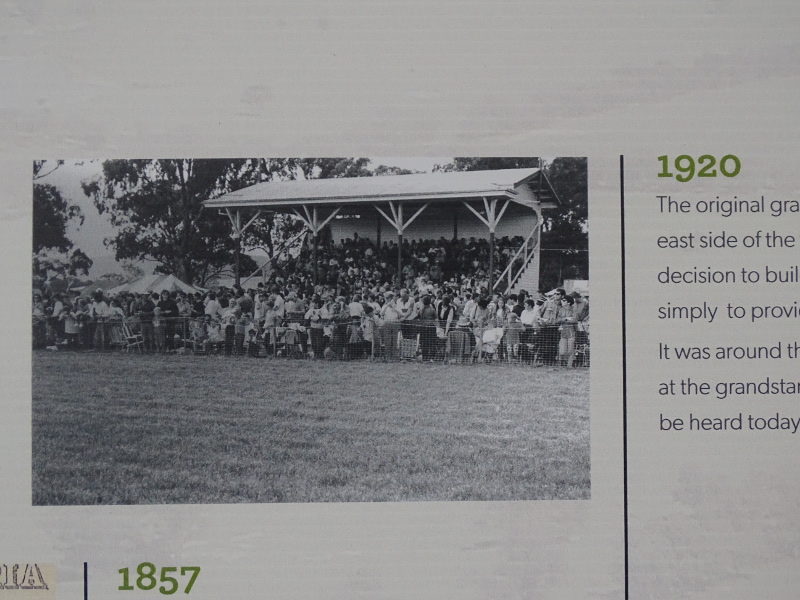 I loved the photo of it absolutely packed back in those heydays of 100 years ago, and it was nowhere near as busy on my day at the races, but still fairly well-used, with 50-100 taking their seat there through most of the day.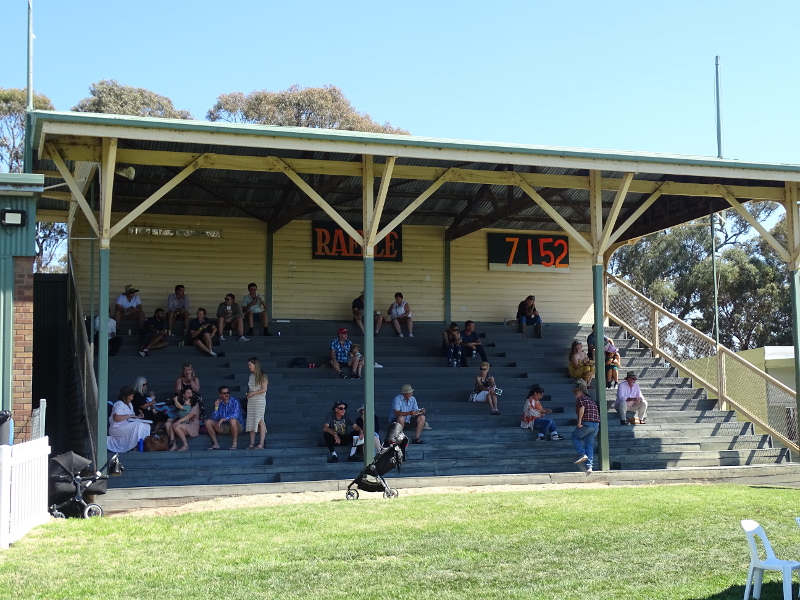 Mind you, I say 'taking their seat,' but Avoca doesn't have seats – or even benches – as such. It is so simple a structure that it is merely a set of a dozen or so levels of planks to sit on, with a couple of 'staircases' making it easier to climb to the very back for the best views of the races.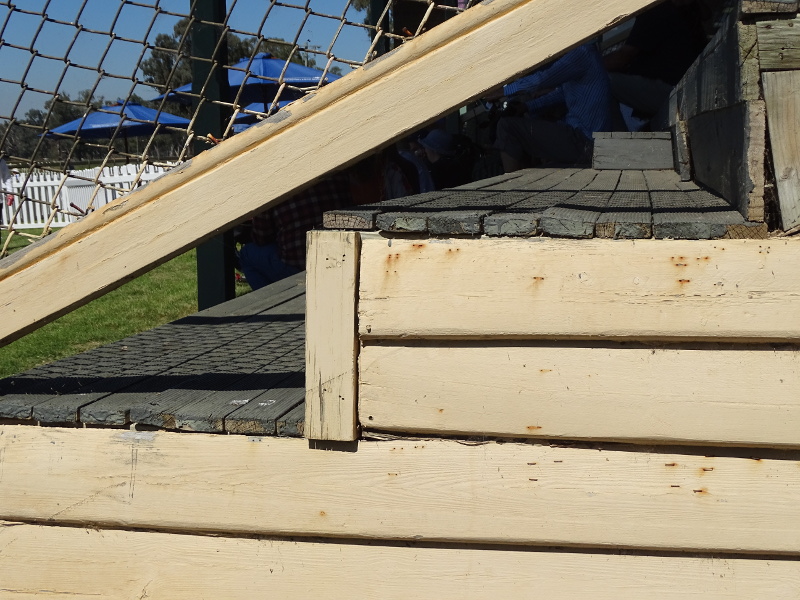 It has a simple corrugated iron roof.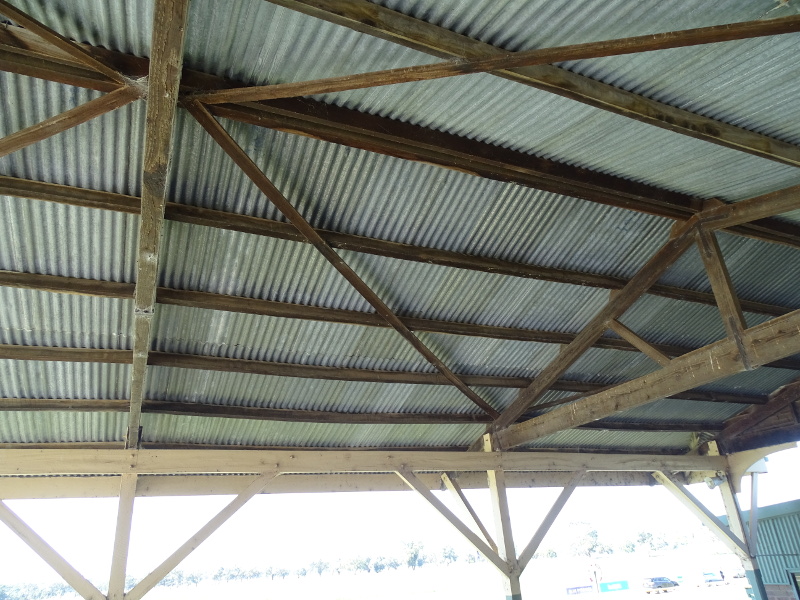 And a series of solid enough beams to hold it all together, as well as providing a resting place for the many birds there are here for the 363 days of the year when there isn't racing to be seen. Those birds have left their marks on many of the planks, forcing people to avoid the whole stretch of 'seating' under the beams.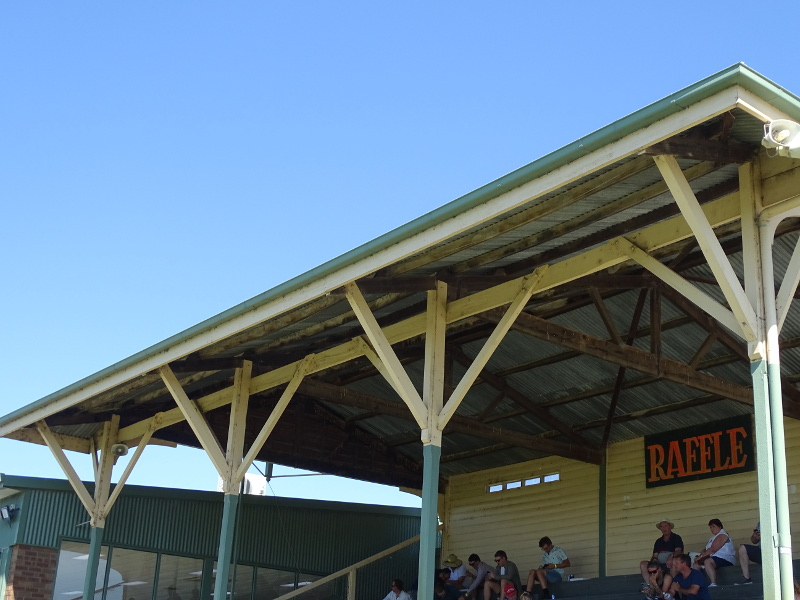 There may not have been record crowds at this autumn meeting (the history board records 7,700 attending in 2003 as the top attendance ever), but this was the most 'normal' raceday I have been to since Covid hit 2 years ago.
There was a decent duo out of Ballarat (called 'Untapped) providing background tunes in between races, a kiddies obstacle course, rowdy groups of blokes on some sort of stag do (or maybe end of cricket season celebration), a dapper gent dressed as a colonial Scotsman and a whole crowd of very elegant women (though no sign of a Fashion in the Fields, sadly).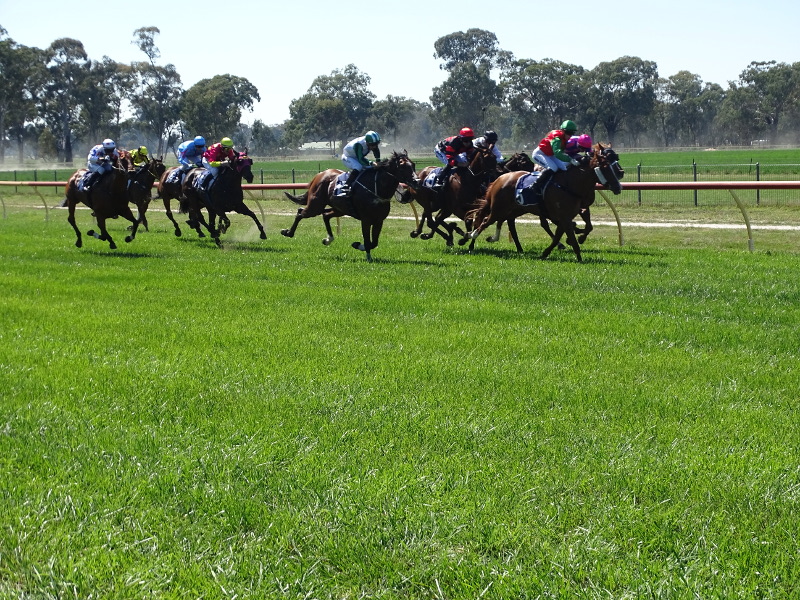 It was a good day at the races – I even came close to breaking even on my bets – and no untoward incidents for the five races I stayed to watch.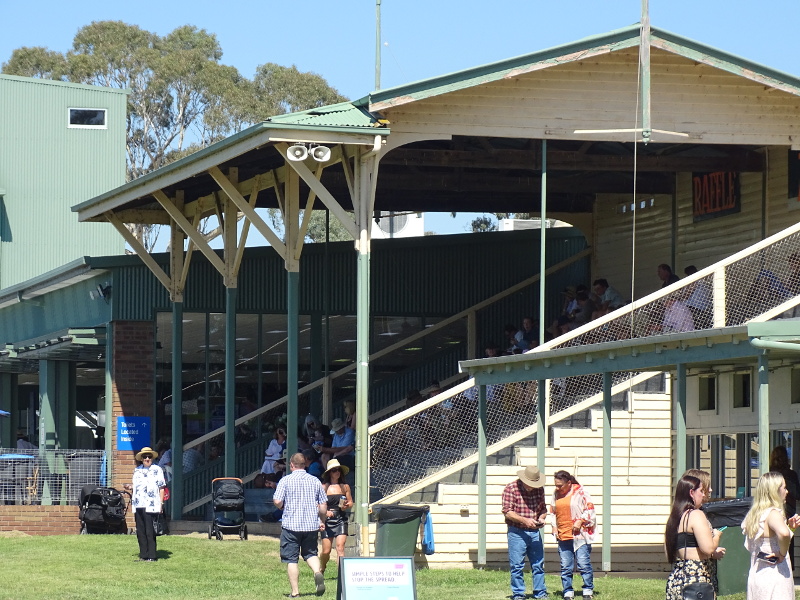 So thanks to Avoca for preserving their vintage grandstand in all its simplicity, and for paying tribute to their own history in a way many other courses could learn from.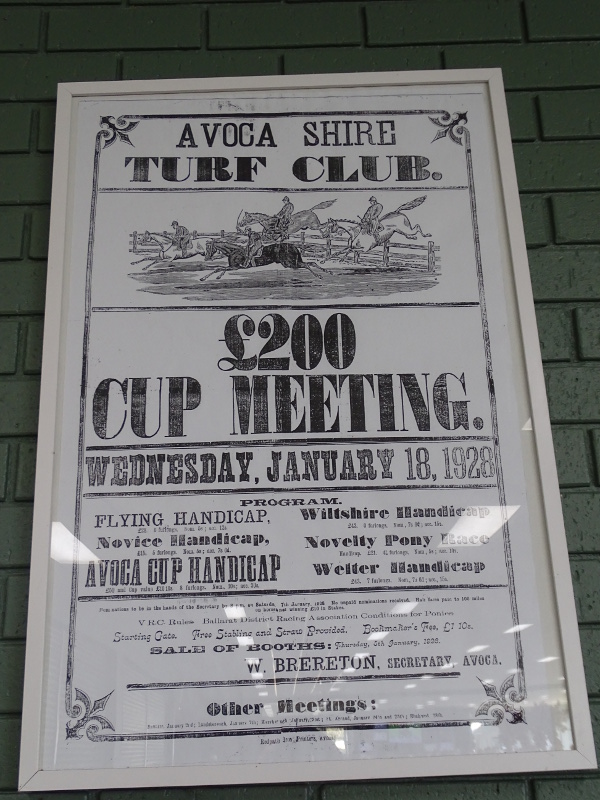 Oh, and by the way, since I have driven past Avoca Racecourse many times over the years, and stopped once to check on the age of the grandstand, it's even worth checking out on a non-race day if you fancy a stroll under beautiful gum trees, whose scent of eucalyptus even out-performed the beer and wood-fired pizza on raceday. And those gum trees are usually full of screeching birds, cockatoos, parrots, galahs and kookaburras (though I have no idea which of all those take a pew on the beams in the grandstand).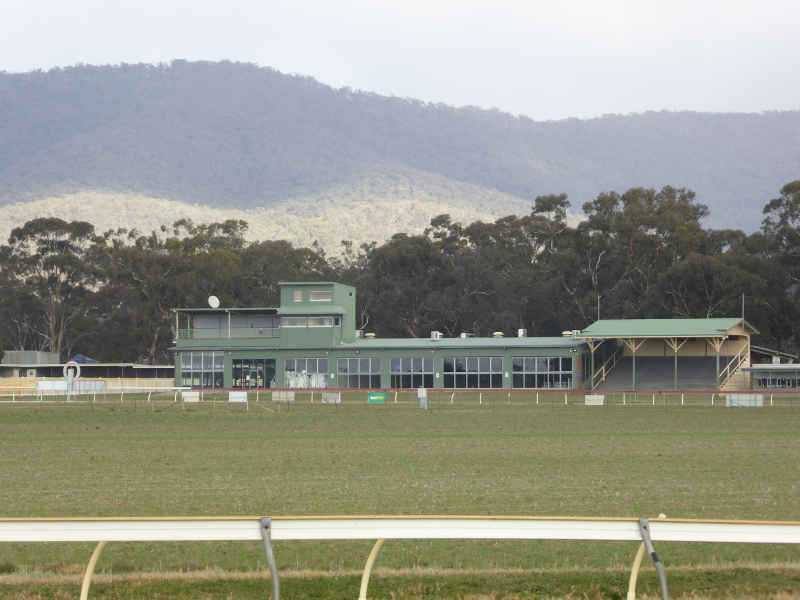 The Pyrenees also provide a majestic backdrop to the course and grandstand, though the best perspective on this is from the far side of the track.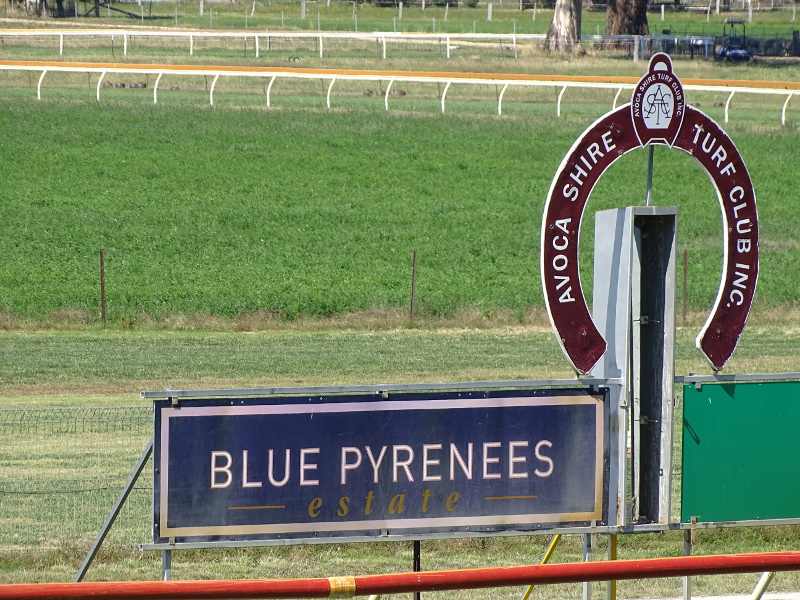 A final mention also to the Blue Pyrenees estate, with its sparkling wines on full show at Avoca.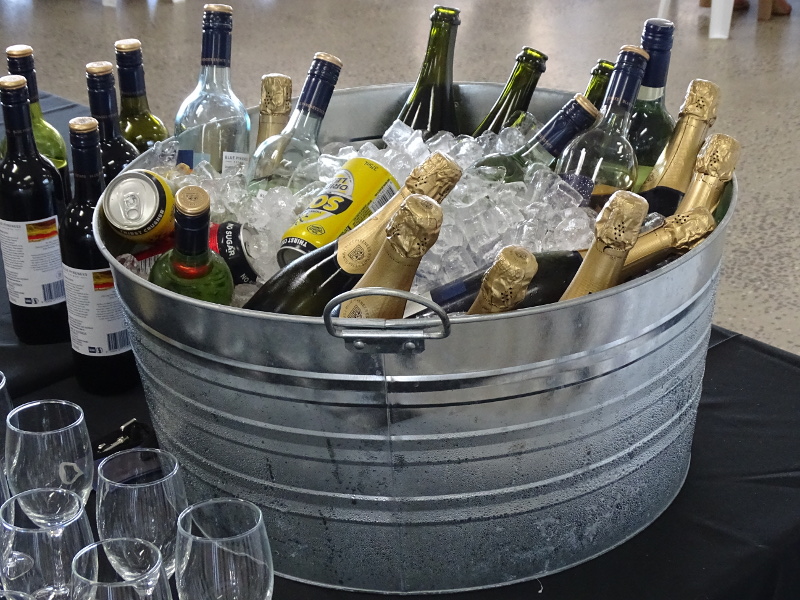 They even created this rather clever cork mural on the wall of the main bar. Nice work….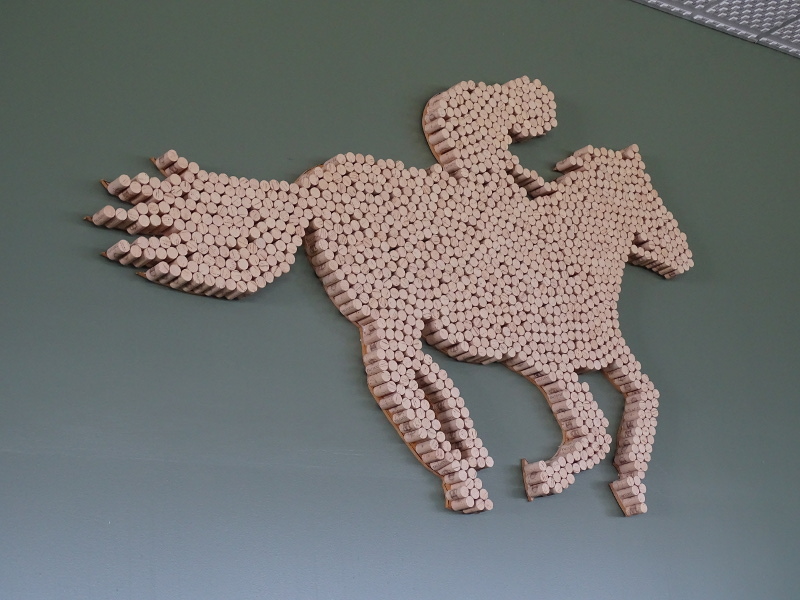 I'm glad I made it to Avoca before this period of Vintage Victoria comes to an end with my departure from Australia. I know I still need to see the vintage grandstands at Murtoa and Towong, and the metropolitan courses at Flemington and Caulfield, but they'll have to wait for a future visit.
If anyone knows of another vintage grandstand at a Victorian racecourse not listed here or already reviewed, do get in touch.
History and stories from Avoca racecourse
According to the racecourse history bord, racing began at Avoca on 1 April 1857.
The first press cutting in the Trove National Library database referring to the Avoca Racecourse dates from 20 May 1859, the day after a Steeplechase match had taken place on the course, so there has been racing at Avoca since then at least. An article from 1860 on the 'amusements' on show for New Year's Day, included a few horse races along with pigeon shooting and something they called a 'foot race' (walking?), but the same article referred to the 'Old Racecourse', so there may well have been another race track in Avoca before this one, probably on the road heading north towards Moonambel.
This was the time of the Goldrush, of course, but a small press clipping said that the gold prospectors in the creek a mile and a half west of Avoca Racecourse, were barely getting a 'pennyweight' of gold in each tub they mined.
There was scandal at Avoca Racecourse in 1868, which resulted in a jockey and owner being banned for life, and details of the incident were sent to every Turf Club in the then Colony. Basically, it was found that in a hurdle race, one of the horses, by the name of Young Dutchman, jumped the first fence but then fell back and pursued the mount which was probably favourite on the day, deliberately causing it to fall at the last. The stewards had the race re-run the following day, but my that must have been a black mark against those involved in the skulduggery in what must then have been quite a close-knit community. The story then made the Melbourne newspapers a fortnight later, when the owner of the horse that did win that day was fined for abusing one of the stewards in a bar in town. The abusive words were deleted from the newspaper, but I'm guessing it might have been "You bloody dog". And the fine in today's money? About $1000!
The first real race 'meeting' I found, with a proper organised list of races through the afternoon, came in 1874, but the race names and types were very much of their period: the Hurdle Race was orthodox enough for modern-day readers, and maybe even the Maiden Hack Race, but what of: the 'Puddlers' Race', for horses which have spent at least 3 months employed in 'puddling' or carting wash waste to the 'machines', whatever they were; the cigar race, where the jockeys were all given a lighted cigar and had to finish the race with the cigar still lit; the 'Farmers' Race', for genuine farm horses; and then the New Year's Day Handicap, which sounded more like a conventional 21st century race.
By the 1880s, with gold findings falling and therefore money available for prizes dropping too, Avoca Races went through a difficult period, especially as Melbourne suburban courses began to grow.
I loved the Avoca Mail's description of the 1887 races, though, with a crowd of between 500 and 1000, making it a relative success locally. There were snake charmers out behind the grandstand, and the Avoca Brass Band playing tunes to keep everyone entertained. The grandstand in place at that time needed a new staircase – said the newspaper – but overall the facilities were commended and the atmosphere a positive one.
An innovation in February 1914 was that a Mr A C Summers was offering lifts to the racecourse in his 'fine Ford motor car', and as he was described as a 'proficient driver', it was expected that the idea might catch on. An early taxi ride to the races, then.
Avoca Racecourse's 'new' grandstand was built in 1927, and it is still there today almost 100 years on, though it is now sandwiched between more modern buildings, so is less prominent than it once was.
1927 was also the year that 'urgers' were found to be a menace on Avoca Racecourse. It took me a while to find out what an 'urger' was in racing jargon. Fortunately the Sydney Morning Herald published a piece a few years ago giving a few examples of these conmen who would spin a tale to get people to place bets. The 1927 problem at Avoca appeared to include a horse which had ten different fictitious owners, but I'm not sure what the details were of that incident.  The Turf Club managed to get a plain-clothes policeman along to try to arrest anyone trying to 'urge'.
Check out this Sydney Morning Herald piece from 2010 explaining what 'urgers' once were.
There were also some awful incidents at the racecourse in the 1930s. In 1935 two horses fell over each other, one dying instantly, the other bolting off the course and jumping several field fences before being found later three miles away – it also lost its life that afternoon. In 1936 a fire raged through Avoca Racecourse, the grandstand being saved by the work of the local fire brigade.
During WW2, Avoca Racecourse was made available as a landing ground for aircraft, and the trustees of the course offered the space as a training area for the RAAF, though I saw no reports on this actually happening in the end.
One Charlie Hartnup rode the card at Avoca in 1956 (thanks again to the racecourse history board for that story).
Trove stories dried up after the War, except for one from 1993 – in French, no less – on that year's Anzac Day meeting, at which the Chateau Remy wine merchants were holding a special banquet, presumably with tastings of their wines, produced in the nearby Pyrenees region. Chateau Remy has now rebranded to Blue Pyrenees, and they are just as visible on course – and off course today as they were 30 years ago.
What are your experiences and stories from a day at Avoca Races?
Anybody got nice memories of days out at Avoca races?
Is anyone still around who can remember Charlie Hartnup winning every race in 1956?
Any other stories from your own days out at Avoca Races, just leave them in the box below and we can add them to the post.
Other links and writings on Avoca racecourse
I didn't find any other blog post about Avoca Racecourse. If anybody reading this has any links to share, please add a comment below.
There is a pdf of a historical survey done for the Pyrenees local council some years ago – it confirms 1927 as the year the grandstand was built. It can be found on the https://www.pyrenees.gov.au site, with the document under avoca_volume3