Originally a lighthouse at Gellibrand Point, this timeball tower ended up helping ships keep their timepieces accurate for many decades. Ceased work in 1926 but had a makeover recently.
---
My experience at the tower
This was my second visit to Williamstown's Time-Ball, which did once work as a lighthouse – hence its inclusion in this category of Vintage Victoria.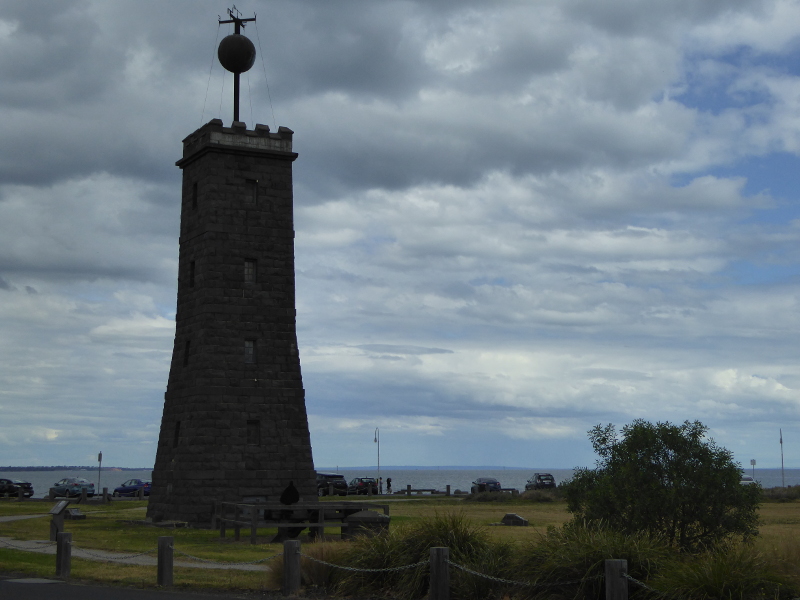 The first time I came was a grey day, which meant the tower blended in perfectly with the slate grey skies. I had also done absolutely no research, so had no idea that if it was to get into action on any given day, you needed to be here just before 1pm to see the ball drop.
So this bright but breezy day in January I thought I was well-prepared. Blue skies overhead, a stiff wind off the bay keeping things cool, and we arrived at just before 12.45pm, which is the moment when some accounts say the ball is lifted into place.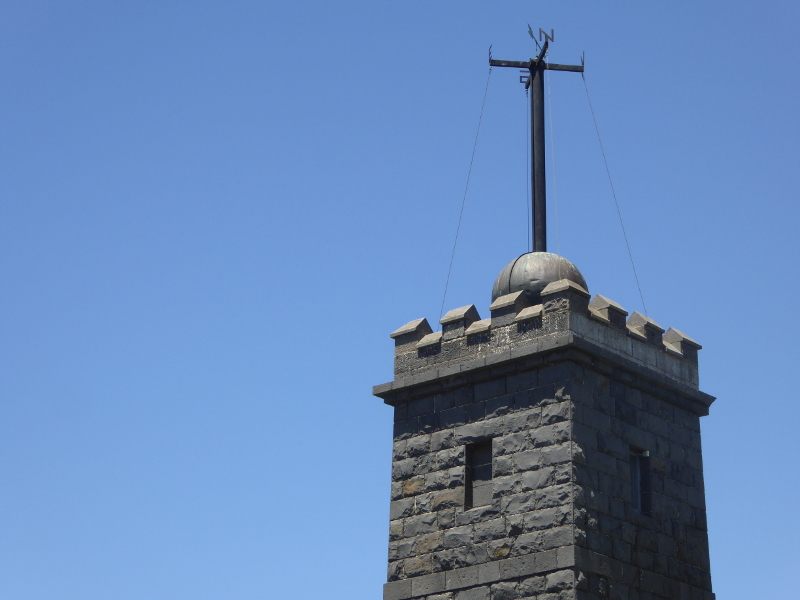 There was no sign of movement as I wandered round taking photos, and not really any hint of a crowd turning up to see the timepiece at work. I got more hopeful around five to one, when another couple got out of their car, with cameras at the ready and asked us if anything had happened yet.
You see, at two minutes to one, according to some reports, the time ball is lowered half way, so we lived in hope that this was still to happen.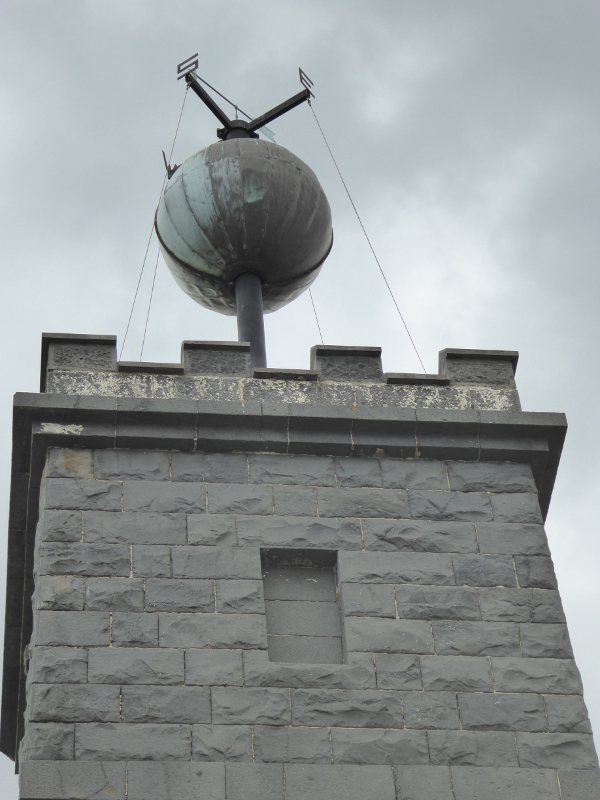 But 1pm went by without a twitch of the ropes and wires holding the ball down, and at 1.05pm, we all figured that nothing was going to happen, since the very point of a Time Ball is to mark precisely 1pm for passing ships. I mean, I know there aren't any passing ships needing such help with their watches anymore, and most passers-by sped on past – on foot or on bikes, with some also behind the wheel – as if they knew very well that the Williamstown Time Ball was not going to drop.
But how did they know?
I'm none the wiser as to whether it ever operates these days, although the other pair waiting insisted that one website they had seen spoke of it functioning daily even today.
Since the whole thing is now computerised, it needs nothing more than the flick of a switch, which could actually be pressed anywhere in the world, for the time ball to operate. And since there are so few of them left in the world (60, I read somewhere, though not many of those are still operational), this is surely something Williamstown could pride itself on and publicise more.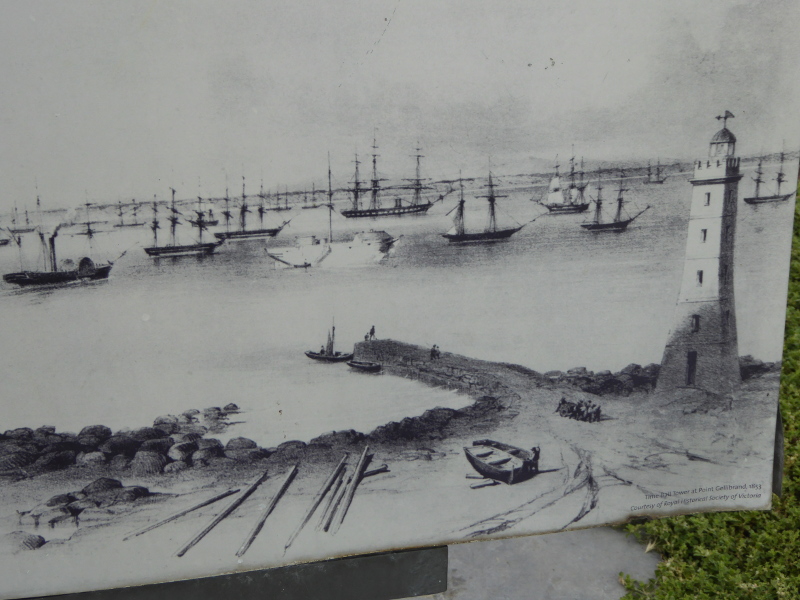 I liked the old painting on the information board, showing the time ball lighthouse in its original position at the landward end of the Breakwater Pier at Gellibrand Point. I know the pier is now part of some big corporate mooring point so not open to the public, but they have kept the Time Ball Tower and placed it just over the road from the sea walls, standing proudly on an open reserve area, with great views out to sea – and consequently, great views for passing ships of the tower, should they need it.
So we have various local groups to thank for the fact that the tower is still there at all, and that slate grey paintwork on the stone looks pretty fresh so someone cares about the place.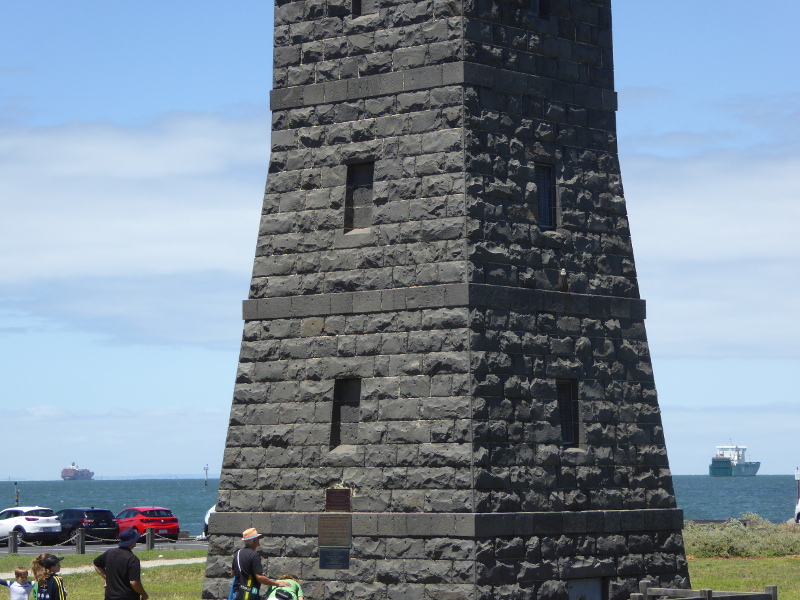 But I'd be looking for organised groups being brought down here every day from the tourist office (especially on a holiday weekend in January); I'd see the tide gauge hut, currently placed in the reserve neat the Gem Pier, moved back to its spot up here by Gellibrand Point (it is now a rubbish filled wooden structure with little to explain how it was used in the past). After all, not only did it also have a fascinating function as a guard house for prisoners coming off the hulks out to sea here once upon a time, but it was used by the very keeper of the Time Ball who I speak about below, Mr RT Vaughan, who would gauge the tides and lower the time ball every day for 37 years.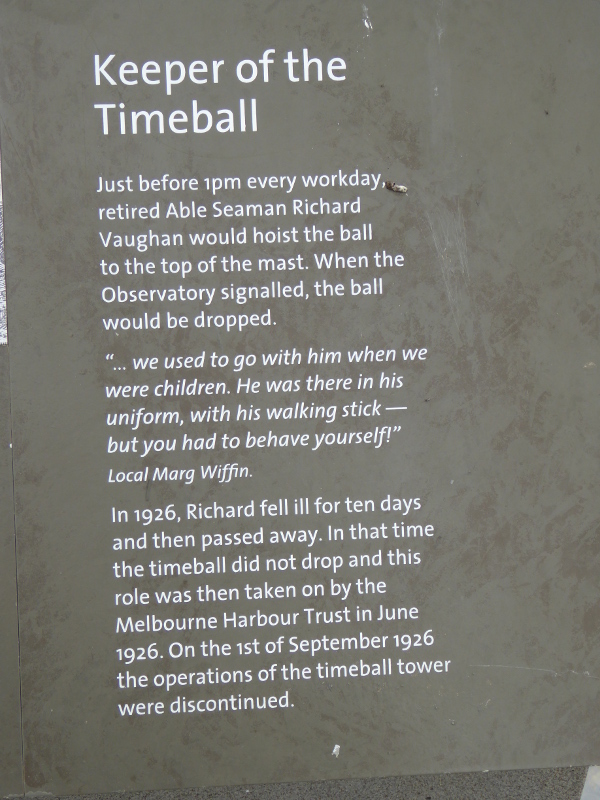 They could make so much more of this bit of history.
I think Gellibrand Point itself will survive as a vaguely historical precinct – at least the reserve on which the tower stands today – but already looming up a few hundred metres away are big ten storey blocks of flats, which suggest that Williamstown is focusing more on luxury housing than its raggedy seafaring past down at this place which will always be the initial point of white settlement in Victoria.
Well, it's a lovely spot, and if someone will tell me when the ball drops (is there a schedule of working days?), and maybe even a chance to step inside and climb up the tower (as one blogger I found did), we'll certainly be back. We might even come on our bikes next time as the coastal bike paths look lovely and the ride from Williamstown station easy.
Practicalities
No entry day-to-day – let me know if you know when it is possible to go inside.
In theory the ball drops every day at 1pm – again let me know if you have any idea of a schedule for this?
No toilets anywhere nearby, so it's back to the centre of Williamstown for that.
Not much shelter either, from sun or rain, if you're waiting for the ball to drop.
History and stories
The original tower was built in bluestone by convict labour, it is said, though I have also seen some suggestions that that may not be totally accurate. It was first used as a lighthouse, then an observatory. According to The Age of 6 December 1928, the time ball was placed on the lighthouse in 1860, but the lighthouse itself seems to have been opened in either 1849 or 1852.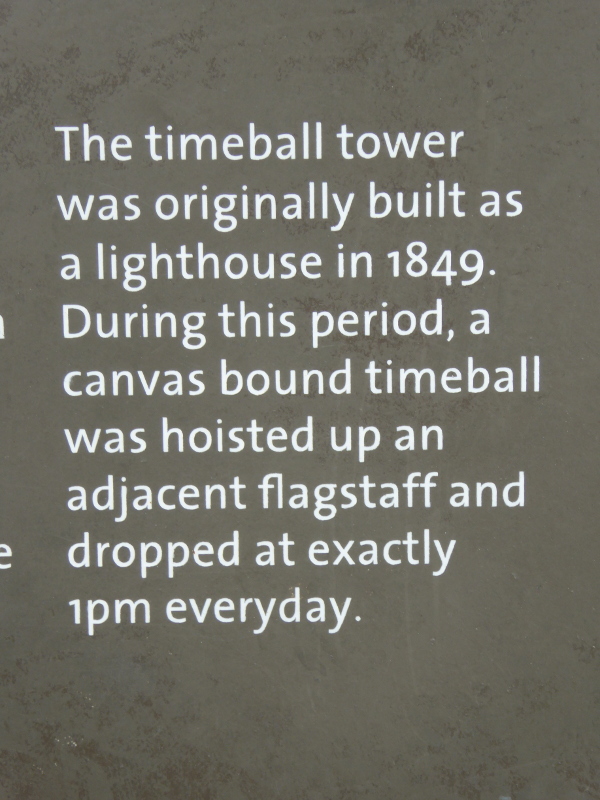 A brief item in The Herald of 19 May 1905 explains how the time ball worked: "At a quarter to one each afternoon an attendant arrives at the Williamstown tower on the breakwater pier (where the tower once stood) and hoists the time-ball by means of a mechanical connivance…" The link-up to the Observatory is made by 'electric relay' and at one minute to one, after checks have been made that the timing is synchronised, the ball dropped half way down the pole, the final drop completing at exactly one o'clock every day.
The Argus of 23 March 1954 claims it was quite common for 20 boats to be anchored nearby waiting for the time check of the ball dropping at the tower. With the onset of wireless and radio after WW1, the time ball became obsolete, though it was still activated every day until the death of the keeper Mr R T Vaughan in 1926.
At the time of a 1928 article, the building was abandoned and there were calls in some quarters for it to be demolished, with others concerned at potential vandalism of the empty disused tower.
Then, in 1934, a new light was added to the time-ball tower. At that time it was at the foot of the Breakwater Pier, and 30 ft was added to the height of the tower for greater visibility. It was needed because ships couldn't see the Point Gellibrand pile light against the background of city lights.
In 1987, the time ball was restored, with the first timeball drop since restoration happening in 1990. The tower is now computerised, so why is the timeball now dropped every day?
People linked to this place
For 37 years Mr R T Vaughan dropped the time ball at Williamstown – he died in 1926, aged 76, after a bout of pneumonia, lasting ten days, from which he never recovered, and during which the time ball was neglected for the first time in decades.
The Herald interviewed Mr Vaughan for a feature in 1922. He remembered the Williamstown foreshore as a 'working ground for criminals.' He recalls the prison hulks moored off the shore at Williamstown, from which gangs would be taken every morning to work. Mr Vaughan had a very low opinion of these types, even those with a ticket-of-leave. He points out the spot where a ship captain was murdered by prisoners in the 1850s, within sight of the tower (which was then on the Gellibrand Pier of course). What's interesting about his views on convicts was that his own parents were apparently convicts, as well, so I wonder what made him have such a negative view of the folk coming off those hulks.
This fascinating guy had an extraordinary life. Seafarer from age 10, his first job being a 'powder monkey', to carry explosives to the guns on a warship. He almost drowned when falling into stormy seas off the Cape of Good Hope. He had never learnt to swim but managed to stay afloat long enough to be rescued. He then ended up in Goole, not far from my home town in East Yorkshire, boarding trading vessels to Germany and Russia, before doing work crossing the Atlantic. A return to Australia followed in 1864.
As well as such drama and colour, there was tragedy also in Mr Vaughan's life. He lost one son to drowning at sea (though there were also more joyous press clippings of his other son marrying). But saddest of all was the letter he wrote to The Herald of 18 February 1903 about his wife who had been detained as a danger to herself and her family, and it looked as though Mr Vaughan rather hoped she would be committed to an asylum for her own safety, but the red tape of the day seemed to see her repeatedly arrested then discharged because of differing medical views on her state of mind. That must have been a traumatic time for the poor man, who would have turned 50 by then; not to mention his wife, who may well have been traumatised at the news of the death of her son (though that is pure speculation on my part, as no dates are given for that tragic event in Mr Vaughan's remarkable life).
I loved one of the obituaries for this gentleman, which included comments on his character: his zeal was frequently commended by navigators and shipping companies.
We tracked down his grave in Williamstown Cemetery and although his name appears on a list of ex-Naval officers on an anchor sculpture in the cemetery, there is no marked gravestone for RT Vaughan and no special mention on the historical boards dotted around the cemetery. Well, we paid our respects at his graveside, and I like to think others might want to do the same on their visits to Williamstown…So maybe one day there might be a noticeboard by his resting place.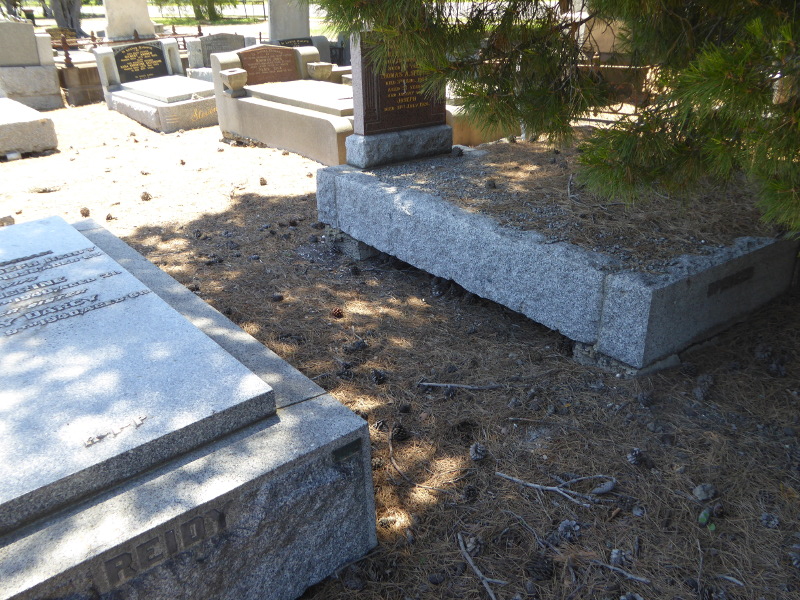 What are your experiences at Williamstown Timeball Tower?
Does anybody else have stories to tell of their own visits in and around Gellibrand Point and the Timeball Tower? If so, I'd love to hear them, so send a comment in below.
Has anyone seen the timeball drop? If so, tell us about it – loud thump? or a clatter? Was there a crowd to watch?
And has anyone been lucky enough to get inside and climb to the top of the tower?
Other links and writings on the Timeball Tower, Williamstown
Nick in 2011 got inside the tower and has some shots of interior, staircase and saw the ball drop, lucky man! Looks as if he may be connected to a museum website, so may have got special permission. Glad he did, though.
This website claims the timeball tower is haunted by a former resident (though I'm not sure anyone ever actually lived in it)
Cup of coffee before or after the 1pm drop?
An ice cream van turned up just before 1pm, making us wonder if the driver also thought the ball might drop. But otherwise, you need to go back to Williamstown for really good coffee. We chose Crowded House in Ferguson Street as our first port of all for coffee in Williamstown. Friendly with good smooth coffee and some nice spots to sit both inside and out.